The JSE fell on Friday as it followed the trend in other global markets which resumed their slump led by tech stocks.
Amazon and Alphabet fell in after-market trading in the USA despite reporting good earnings in their results. The sell-off was triggered by growth forecast warnings from the two giants as their reported revenues missed analysts' estimates. In Hong Kong, Tencent Holdings fell to a new 52-week low as Chinese regulators are looking to implement more stringent measures to verify the age of online game users.
The US dollar rallied in today's session as the markets anticipated US GDP data. GDP QoQ for the 3rd quarter fell from a prior recording of 4.2% to 3.5%, however this was better than the consensus forecast of 3.3%. The stronger US dollar saw the rand retreat to a session low of R14.75 against the greenback. The rand rebounded marginally to trade at R14.64/$ at 17.00 CAT.
The JSE opened lower and remained weaker for the entirety of today's session. Famous Brands [JSE:FBR] could not catch a break as it lost another 4.41% to close at R100.65, while Lewis Group [JSE:LEW] closed at R29.00 after dropping 3.65%. Massmart [JSE:MSM] pulled back to close at R91.70 after shedding 4.05%, and Pepkor Holdings [JSE:PPH] fell by 0.99% to close at R17.06 per share.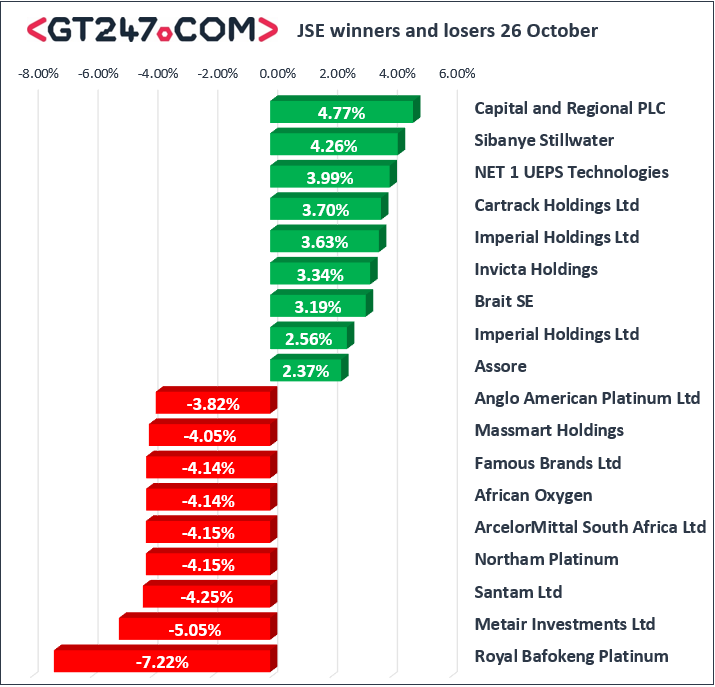 Rand hedge, Bid Corporation [JSE:BID] dropped 3.48% as the stock ended the day at R263.08, while Sappi [JSE:SAP] lost 1.02% to close at R80.57. Naspers [JSE:NPN] fell by 3.27% to close at R2559.00, while oil and gas producer, Sasol [JSE:SOL] closed 2.84% weaker at R477.61 per share.
Gains were relatively modest on the blue-chip index with Richemont [JSE:CFR] gaining 0.43% to close at R102.97 after the announcement of a partnership with Chinese online retail giant Alibaba. MTN [JSE:MTN] inched up 0.86% to R84.00, while Mediclinic [JSE:MEI] bucked its recent trend to close at R65.39 after gaining 1.29%. Brait [JSE;BAT] rose to R37.15 after picking up 3.19%, while Imperial Holdings [JSE:IMP] closed the day up 2.56% at R167.95.
The JSE All-Share index closed the day 1.53% lower, while the JSE Top-40 index dropped 1.68%. The Financials index came under significant pressure as it fell by 1.82%, while the Industrials and Resources lost 1.67% and 1.27% respectively.
At 17.00 CAT, Gold was up 0.79% to trade at $11242.93/Oz, Platinum was 0.83% firmer at $834.50/Oz and Palladium had lost 0.58% to trade at $1097.88/Oz.
Brent crude was mostly softer as it slumped to a session low of $75.77/barrel, before it rebounded to trade at $76.63/barrel just after the JSE close.
At 17.00 CAT, Bitcoin was trading 0.13% weaker at $6/coin, and Ethereum was flat at $204.42/coin.