Local bourse erases earlier gains as risk aversion returns
The JSE erased earlier gains to close softer on Thursday as pressure mounted on European stocks.
The local bourse had managed to get off to a firmer start before the declines in Europe weighed in the afternoon session. The firmer open could be attributed to the gains recorded on the Shanghai Composite Index which rallied 2.3%, as well as the Nikkei which added 0.34%. The Hang Seng closed 0.17% softer. US stocks also opened marginally softer on Thursday which aided the maintaining the weaker market sentiment.
The greenback remained in favor with investors as it continued to soar against a basket of major currencies as well as emerging market currencies. The rand slipped by more than a percent to a session low of R15.14/$ before it was recorded trading 0.88% weaker at R15.10/$ at 17.00 CAT.
On the JSE, Tsogo Sun Hotels [JSE:TGO] came under significant pressure as it plummeted 5.98% to close at R3.30, while Steinhoff International [JSE:SNH] slipped further by another 4.32% to close at R1.55. Imperial Logistics [JSE:IPL] flagged that it is expecting a drop in earnings in its half-year trading statement which saw the stock retreat 5.04% to close at R49.59. Bidvest [JSE:BVT] also flagged that it is expecting lower earnings in its trading statement which caused the share to fall 5.16% to close at R199.41. Adcock Ingram [JSE:AIP] reported marginal increases in revenue and earnings in its half-year results which saw the share fall 4.76% to close at R44.99. Woolworths [JSE:WHL] reported lower earnings in its half-year results as it had guided in its trading statement. The share lost 4.42% to close at R42.40. Significant losses were also recorded Massmart [JSE:MSM] which lost 3.37% to close at R50.25, as well as Liberty Holdings [JSE:LBH] which closed at R103.56 after dropping 2.46%.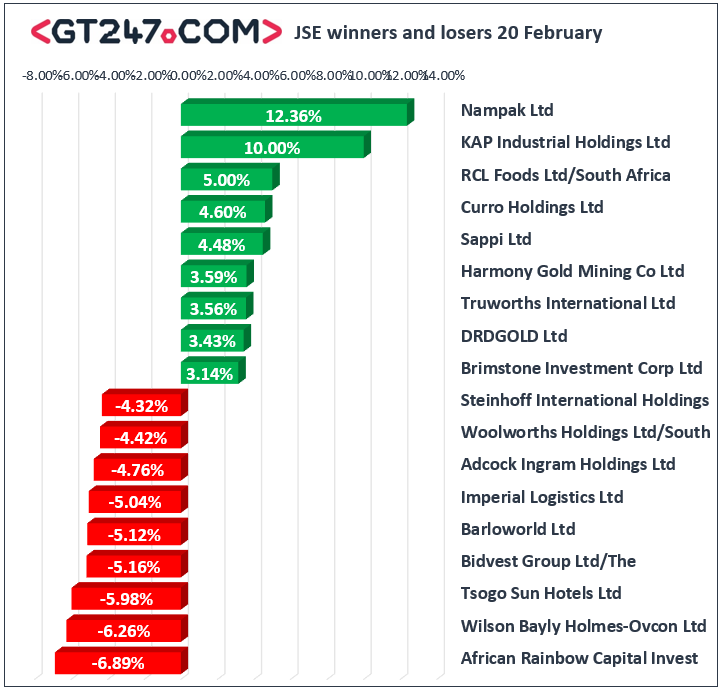 Nampak [JSE:NPK] closed amongst the day's biggest gainers after it rallied 12.36% to close at R5.00, while KAP Industrial Holdings [JSE:KAP] managed to record gains after sessions of significant losses as it closed 10% higher at R3.52. Truworths [JSE:TRU] posted gains of 3.56% to close at R45.64 mainly attributable to the release of its half-year results. Diversified mining giant Anglo American PLC [JSE:AGL] released a solid set of full-year results which saw the share gain 2.49% to close at R414.79, while its sector peer BHP Group [JSE:BHP] added 0.95% to close at R317.19. Losses were also recorded for Mondi PLC [JSE:MNP] which added 1.74% to close at R329.00, as well as Sasol [JSE:SOL] which closed at R226.15 after gaining 1.41%.
The JSE Top-40 index eventually closed 0.13% softer while the broader JSE All-Share index shed 0.21%. The Resources index was the only major index to close firmer as it gained 0.82%, while the Industrials and Financials indices lost 0.23% and 1.73% respectively.
At 17.00 CAT, Gold was up 0.4% at $1617.81/Oz, Palladium was down 0.17% at $2708.99/oz, and Platinum was 1.65% lower at $988.83/Oz.
Brent crude continues to creep up and today it was recorded trading 0.63% firmer at $59.52/barrel just after the JSE close.
---
Disclaimer:
Any opinions, news, research, reports, analyses, prices, or other information contained within this research is provided by GT247.com at GT247 (Pty) Ltd t/a GT247.com ("GT247.com") as general market commentary, and does not constitute investment advice for the purposes of the Financial Advisory and Intermediary Services Act, 2002. GT247.com does not warrant the correctness, accuracy, timeliness, reliability or completeness of any information which we receive from third party data providers. You must rely solely upon your own judgment in all aspects of your trading decisions and all trades are made at your own risk. GT247.com and any of its employees will not accept any liability for any direct or indirect loss or damage, including without limitation, any loss of profit, which may arise directly or indirectly from use of or reliance on the market commentary. The content contained within is subject to change at any time without notice.