The JSE erased earlier gains to close softer on Tuesday as broad-based weakness swept global stocks.
Locally, investors eagerly awaited South Africa's 4th quarter GDP numbers which were released on Tuesday morning by Statistics SA. GDP annualized QoQ came in slightly better than the forecast of 1.2%, as it was recorded at 1.4%. GDP YoY was recorded at 1.1% which was better than the anticipated 0.6% expansion. There was no significant reaction in the rand however it was trading mostly firmer on the day. At 17.00 CAT, it was trading at R14.14/$.
Delta Property Fund [JSE:DLT] endured another tough trading session as it fell 9.18% to close at R1.78. Accelerate Property Fund [JSE:APF] dropped 8.43% to close at R3.15, Texton Property Fund [JSE:TEX] lost 5.56% to close at R4.25, and Hyprop Investments [JSE:HYP] weakened to R80.05 after shedding 2.5%. Royal Bafokeng Platinum [JSE:RBP] came under pressure despite returning to profitability as indicated in its full-year results. The stock closed 6.34% lower at R30.90. Rand hedge, Richemont [JSE:CFR] weakened by 4.37% to end the day at R104.69, and Bidvest [JSE:BVT] lost 2.76% to close at R206.00. Exxaro Resources [JSE:EXX] came under pressure despite releasing a positive trading update for its financial year. The share fell 4.11% to close at R143.36.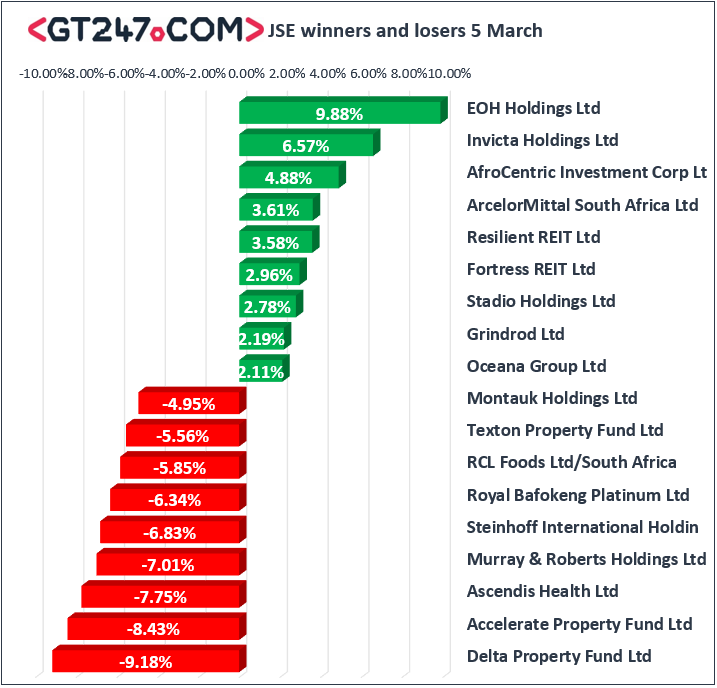 EOH Holdings [JSE:EOH] closed amongst the day's biggest gainers as it advanced 9.88% to close at R19.90. Resilient [JSE:RES] gained 3.58% to close at R62.56, while its industry peer, Fortress REIT [JSE:FFB] climbed 2.96% to close at R13.55. Remgro [JSE:REM] managed to add 1.65% to close at R204.50, while Imperial Logistics [JSE:IPL] rose 1.73% to end the day at R64.19. Nedbank [JSE:NED] was buoyant on the back of positive earnings indicated in its full-year results as well as a firmer rand. The share added 0.22% to close at R272.00, while Standard Bank [JSE:SBK] gained 0.97% to close at R190.26.
The JSE All-Share index closed 0.81% weaker while the blue-chip JSE Top-40 index lost 0.72%. All the major indices closed in the red with the biggest loser being the Industrials index which dropped 1.15%. The Financials and Resources indices shed 0.21% and 0.51% respectively.
Brent crude gained some traction as today's session went on after a minor slump overnight. The commodity was trading 0.26% firmer at $65.84/barrel just after the JSE close.
At 17.00 CAT, Palladium was down 0.66% to trade at $1523.70/Oz, Gold was 0.07% weaker at $1285.89/Oz, and Platinum was down 0.05% at $837.43/Oz.