The JSE closed weaker on Thursday as investors sort for clues on the implication of the latest world economic outlook report from the International Monetary Fund, which painted a rather gloomy picture for both local and global growth.
Further fueling these concerns locally was the release of manufacturing and mining production data for February which came out worse than forecasted. Mining production MoM contracted by 1.5%, widely missing the forecasted expansion of 0.3%, while mining production YoY was recorded at -7.5% which was worse than the estimated -3.0%. Manufacturing production YoY came in marginally better than the expectation of 0.1% as it was recorded at 0.6%, while manufacturing production MoM contracted by 1.8% which was slightly worse than the anticipated -1.7%.
A volatile trading session ensued for the rand which managed to strengthen to a session high of R13.87/$ before slumping to a session low of R14.05/$. At 17.00 CAT the rand was trading 0.92% weaker at R14.00/$.
The resources index endured another tough session as it traded mostly under pressure. Anglo American Platinum [JSE:AMS] fell 4.54% to close at R775.62, AngloGold Ashanti [JSE:ANG] lost 3.55% to close at R184.92, and Glencore [JSE:GLN] dropped 1.87% to close at R59.15. The weaker rand saw some of the retailers erase some of the prior session's gains. Massmart [JSE:MSM] lost 3.05% to close at R79.50, while Truworths [JSE:TRU] closed 2.18% weaker at R71.90. Naspers [JSE:NPN] also struggled on the day as it eventually closed 0.74% lower at R3574.97, while Multichoice Group [JSE:MCG] lost 0.84% to close at R130.00. Diversified miner, BHP Group [JSE:BHP] lost 0.84% to end the day at R350.65, while coal miner Exxaro Resources [JSE:EXX] closed at R171.40 after also losing 0.84%.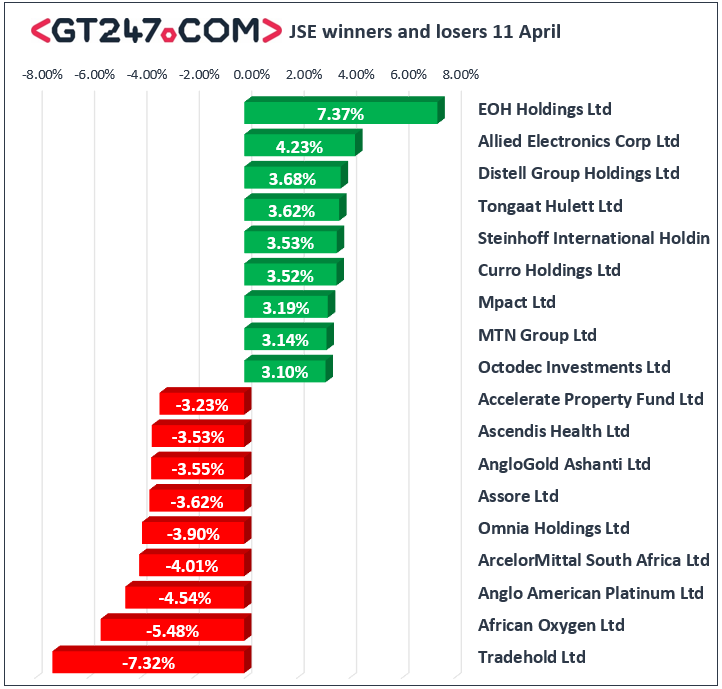 EOH Holdings [JSE:EOH] rebounded in today's session as it rallied 7.37% to end the day at R11.22. Listed property stock SA Corporate Real Estate [JSE:SAC] climbed 2.66% to close at R3.47, while Investec Property Fund [JSE:IPF] added 1.96% to close at R15.60. Rand hedge Richemont [JSE:CFR] managed to post gains of 2.27% to close at R100.14, while telecoms provider MTN Group [JSE:MTN] gained 3.14% to close at R96.28. Other notable moves on the day were recorded for Tongaat Hulett [JSE:TON] which gained 3.62% to close at R22.90, Blue Label Telecoms [JSE:BLU] which gained 2.56% to close at R3.60, as well as Tsogo Sun [JSE:TSH] which added 3.09% to finish at R20.33.
The JSE All-Share index closed 0.49% weaker while the blue-chip JSE Top-40 index lost 0.53%. The Industrials index barely closed 0.06% firmer, while the Resources and Financials indices dropped 1.05% and 0.69% respectively.
At 17.00 CAT, Platinum was down 0.42% at $899.10/Oz, Palladium was 1.15% weaker at $1374.00/Oz, and Gold was down 0.93% weaker at $1295.88/Oz.
Brent crude traded mostly weaker on the day as it fell to a session low of $70.85/barrel before rebounding to trade 0.64% weaker at $71.24/barrel just after the JSE close.