The JSE closed softer on Tuesday as it took a leaf from Asian counters which took heavy losses in earlier trading.
The risk-aversion was high in Asia and particularly in Hong Kong where there are ongoing protests taking place. This unrest coupled with sentiment towards the trade war saw the Hang Seng close 2.1% lower while in mainland China the Shanghai Composite Index lost 0.9%. In Japan the Nikkei lost 1.11%.
However, sentiment shifted drastically after the US market open as the US Trade Representative announced further steps to the proposed 10% tariff on Chinese goods. The department announced that certain products would be removed from the tariff based on health, safety, national security and other factors. Furthermore, it was also announced that the tariff implementation would be delayed to 15 December for certain items. US markets rebounded spectacularly following this announcement to trade more than 1% firmer on the day.
On the JSE, sentiment was relatively bearish with losses being recorded for gold miners which cooled off following consecutive sessions of gains. Sibanye Stillwater [JSE:SGL] was one of the day's biggest losers after it tumbled 10.79% to close at R19.09, while Gold Fields [JSE:GFI] fell 10.1% to close at R84.28. Other significant losses were recorded for AngloGold Ashanti [JSE;ANG] which lost 7.89% to close at R292.54, Harmony Gold [JSE:HAR] which fell 7.96% to R43.00, and DRD Gold [JSE:DRD] which dropped 5.21% to close at R6.00. Volatility ensued for Blue Label Telecoms [JSE:BLU] which closed at R3.69 after falling 6.58%, while platinum miner Anglo American Platinum [JSE:AMS] lost 4.56% to close at R829.78.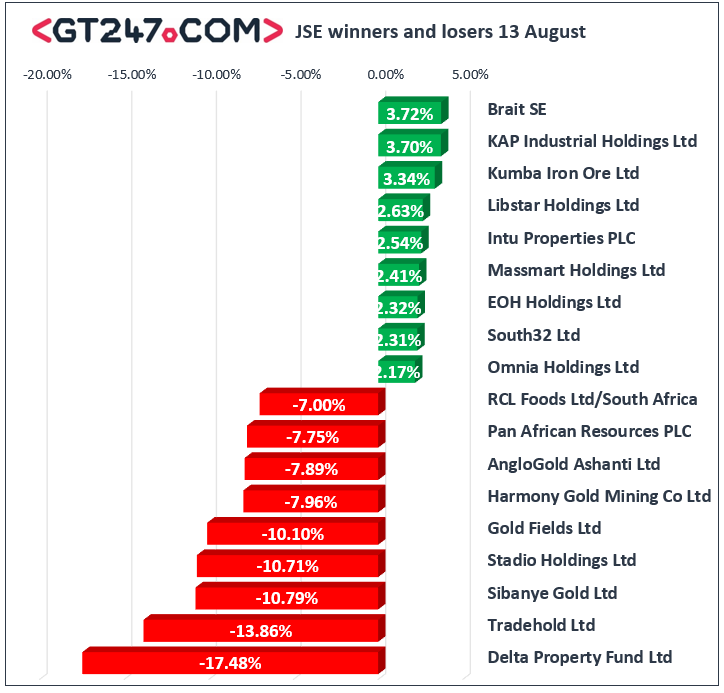 Brait [JSE:BAT] found some reprieve in today's session as it rebounded to close 3.72% higher at R13.10, while KAP Industrial Holdings [JSE:KAP] surged 3.7% to end the day at R5.04 following the release of a positive half-year trading statement. ABSA Group [JSE:ABG] was buoyed by the release of its earning results which indicated decent increases in earnings which saw the stock close 1.13% firmer at R149.97. Retailers were lifted by the firmer rand which saw stocks such as Massmart Holdings [JSE:MSM] gain 2.41% to close at R45.87, while Truworths [JSE:TRU] gained 1.49% to close at R57.85. Index giant Naspers [JSE:NPN] closed 1.44% firmer at R3492.45.
The blue-chip JSE Top-40 index eventually closed flat as it closed 0.13% weaker, while the broader JSE All-Share index lost 0.2%. Gains were recorded for the Industrials and Financials indices which gained 0.49% and 0.17% respectively, however the Resources index fell 1.41%.
The rand rebounded in today's session to peak at a session high of R15.08/$ before it was recorded trading R0.7% firmer at $15.17/$ at 17.00 CAT.
Brent crude also rallied as the news about the extension of the US tariff deadline broke out. This saw the commodity trading 3.57% firmer at $60.66/barrel just after the JSE close.
At 17.00 CAT, Gold was 0.43% weaker at $1504.59/Oz, Platinum was down 0.39% at $854.40/Oz, and Palladium had rallied 1.71% to trade at $1456.20/Oz.
---
Disclaimer:
Any opinions, news, research, reports, analyses, prices, or other information contained within this research is provided by GT247.com at GT247 (Pty) Ltd t/a GT247.com ("GT247.com") as general market commentary, and does not constitute investment advice for the purposes of the Financial Advisory and Intermediary Services Act, 2002. GT247.com does not warrant the correctness, accuracy, timeliness, reliability or completeness of any information which we receive from third party data providers. You must rely solely upon your own judgment in all aspects of your trading decisions and all trades are made at your own risk. GT247.com and any of its employees will not accept any liability for any direct or indirect loss or damage, including without limitation, any loss of profit, which may arise directly or indirectly from use of or reliance on the market commentary. The content contained within is subject to change at any time without notice.