The JSE traded mostly mixed on Thursday as it struggled to gain significant direction in either direction.
Locally, market participants were still digesting the drop in the South African business confidence data which was released on Wednesday. In today's session focus was on South African mining and manufacturing data for the month of January. Mining production YoY contracted by 3.3% which was better than the forecasted contraction of 5.2%, while MoM Mining Production beat estimates of -5.4% to be recorded at 0.2%. However, Manufacturing production MoM was the biggest disappointment as it contracted by 2% from a prior recording of 1%, while YoY it only expanded by 0.3% which was lower than the forecasted 1.4%.
The rand retreated against the greenback after it clawed back some of its losses against a basket of major currencies. The rand fell to a session low of R14.51/$ before it retraced to trade at R14.48/$ at 17.00 CAT.
On the JSE, Tongaat Hulett [JSE:TON] found a reprieve as it climbed 5% to close at R16.80. The local mining production data inspired JSE listed miners as most of them advanced on the day. Northam Platinum [JSE:NHM] gained 4.54% to close at R60.79, Kumba Iron Ore [JSE:KIO] surged 3.79% to R379.00, and Gold Fields [JSE:GFI] added 1.55% to close at R56.51. Coronation Fund Managers [JSE:CML] was one of the day's biggest gainers after the stock managed to close 5.16% higher at R45.65. Exxaro Resources [JSE:EXX] was buoyed by the release of its full-year financial results which indicated decent increases in earnings and record production volumes. The stock closed 4.33% firmer at R156.49. Oil and gas producer, Sasol [JSE:SOL] gained 3.13% to close at R436.75.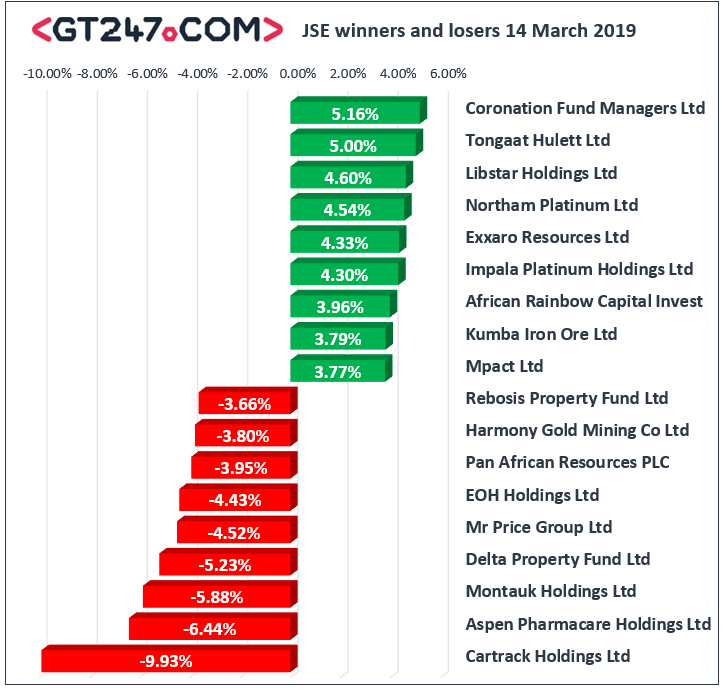 Off the day's losers, Aspen Pharmacare [JSE:APN] came under significant pressure as it fell 6.44% to close at R101.50. Listed property stock, Delta Property [JSE:DLT] struggled eventually closing the day 5.23% lower t R1.63, while its industry peer, Rebosis Property Fund [JSE:REB] lost 3.66% to close at R1.84. Mr Price [JSE:MRP] slumped 4.52% to close at R192.84, Shoprite [JSE:SHP] dropped 2.32% to 166.95, and The Spar Group [JSE:SPP] closed 1.62% weaker at R196.00. Pan African Resources [JSE:PAN] lost 3.95% to close at R1.70, while Harmony Gold [JSE:HAR] weakened by 3.8% to close at R28.58.
The JSE Top-40 index lost momentum towards the JSE close eventually ending the day 0.2% weaker while the broader JSE All-Share index closed 0.07% softer. The Resources index eked out gains of 0.38% however the Industrials and Financials indices dropped 0.45% and 0.12% respectively.
A mixed session also ensued for brent crude as it struggled to gain significant momentum. It was trading at $67.60/barrel just after the JSE close, only up 0.07% on the day.
At 17.00 CAT, Platinum was down 1.86% to trade at $828.01/Oz, Gold was 1.07% weaker at $1295.05/Oz, and Palladium was 0.47% weaker at $1547.07/Oz