The JSE eventually closed firmer following a mixed session in which the all-share index swung between gains and losses.
The local bourse shrugged off the downward trend recorded in most global markets which reeled following the release of news that there were more cases of the coronavirus infection than what had been initially reported. The US Fed has indicated that it is closely assessing the potential impact to growth that could stem from the epidemic, while in China measures such as reserve requirement cuts have been taken to bump up liquidity in the markets.
Statistics SA released mining production data for the month of December, with a marked improvement being recorded in gold production YoY which expanded by 24.9% from a prior recording of 4.5%. Mining production YoY advanced 1.8% from a previous recording of -1%, however mining production MoM was recorded at -2.4% from a prior recording of -1.8%.
The rand had a mixed session which saw it trade mostly weaker before briefly swinging into positive territory against the greenback towards the JSE close. At 17.00 CAT, the rand was trading 0.17% weaker at R14.87/$.
On the local bourse, gains were relatively modest with miners leading the earlier surge. Impala Platinum [JSE:IMP] climbed 5.34% to close at R159.43, Sibanye Gold [JSE:SGL] climbed 5.18% to close at R39.39, while Kumba Iron Ore [JSE:KIO] gained 3.15% to end the day at R361.69. Super Group [JSE:SPG] closed amongst the day's biggest movers after it surged 5.67% to close at R23.86, while KAP Industrial Holdings [JSE:KAP] gained 5.14% to close at R3.68. Assore [JSE:ASR] rallied 7.45% to end the day at R236.20, while African Rainbow Minerals [JSE:ARI] added 2.77% to close at R162.41. Significant gains were also recorded for index giant Naspers [JSE:NPN] which rose 1.2% to close at R2694.42, as well as Woolworths [JSE:WHL] which closed at R44.67 after gaining 1.71%.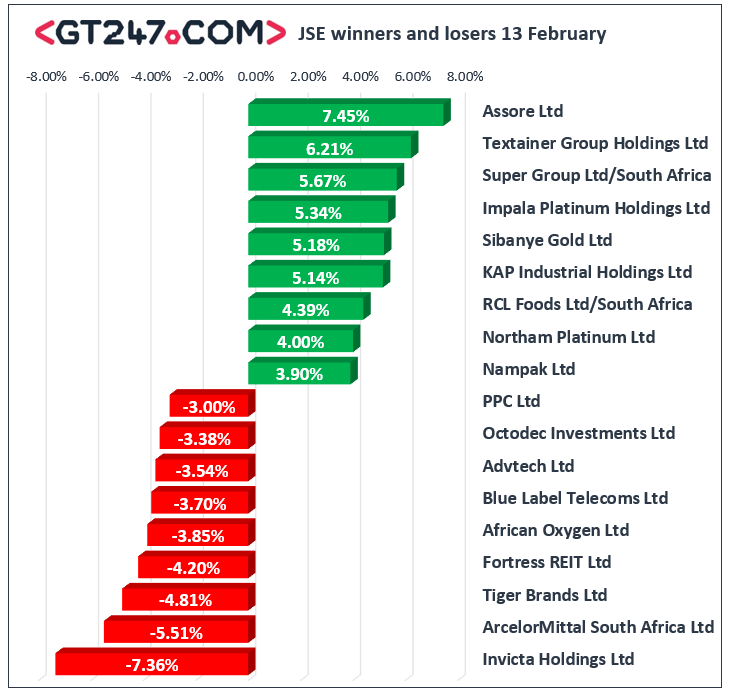 Listed property stocks struggled on the day which saw declines being recorded for Fortress REIT [JSE:FFB] which fell 4.2% to close at R6.16, Investec Property Fund [JSE:IPF] which retreated 2.4% to close at R12.20, and Vukile Property Fund [JSE:VKE] which closed at R16.10 after dropping 1.89%. Tiger Brands [JSE:TBS] could not catch a reprieve as it fell 4.81% to close at R178.95, while Famous Brands [JSE:FBR] weakened by 1.52% to end the day at R62.66. Most rand sensitives weakened on the day with declines being recorded for Shoprite Holdings [JSE:SHP] which lost 1.04% to close at R113.10, while Standard Bank [JSE:SBK] also lost 1.04% to close at R166.75.
The JSE Top-40 index eventually closed 0.08% firmer while the JSE All-Share index inched up 0.12%. The Financials slipped to close 0.27% softer, however the Industrials and Resources indices managed to gain 0.09% and 0.36% respectively.
At 17.00 CAT, Platinum was up 1.01% to trade at $970.57/Oz, Gold was 0.62% firmer at $1575.07/Oz, and Palladium was only 0.26% higher at $2411.04/Oz.
Brent crude remained resurgent as it was recorded trading 0.93% higher at $56.31/barrel just after the JSE close.
---
Disclaimer:
Any opinions, news, research, reports, analyses, prices, or other information contained within this research is provided by GT247.com at GT247 (Pty) Ltd t/a GT247.com ("GT247.com") as general market commentary, and does not constitute investment advice for the purposes of the Financial Advisory and Intermediary Services Act, 2002. GT247.com does not warrant the correctness, accuracy, timeliness, reliability or completeness of any information which we receive from third party data providers. You must rely solely upon your own judgment in all aspects of your trading decisions and all trades are made at your own risk. GT247.com and any of its employees will not accept any liability for any direct or indirect loss or damage, including without limitation, any loss of profit, which may arise directly or indirectly from use of or reliance on the market commentary. The content contained within is subject to change at any time without notice.