The JSE closed weaker on Thursday as it tracked other global markets lower as the equity sell-off deepened after the US Fed hiked rates.
Markets were spooked by the Fed's chair's comments over the unwinding of quantitative easing which has been in place since the end of the financial crisis in 2009. With the ECB having effectively ended its own version of quantitative easing, this could be the end of what has been deemed cheap money in the global economy. The fall in US Treasury yields has further ignited investors' concerns about the high probability of a recession should the yield curve invert.
Locally, the JSE continues to dance to the tune of the major global financial markets as sentiment remains mostly bearish. In today's session Murray and Roberts [JSE:MUR] came under significant pressure as it fell 17.16% to close at R12.26. Miners pulled back following the mild rally on Wednesday with stocks such as Lonmin [JSE:LON] dropping 9.28% to close at R7.92, while Sibanye Stillwater [JSE:SGL] lost 3.81% to close at R9.60. Blue Label Telecoms slipped by 4.12% to close at R4.89, while its sector peer Vodacom [JSE:VOD] weakened by 2.37% to R127.52. RCL Foods [JSE:RCL] also struggled as it lost 1.37% to R14.40, while retailer, Shoprite [JSE:SHP] closed at R180.65 after dropping 3.1%.
A limited number of blue-chip stocks managed to record significant gains on the day. Retailers were some of the day's biggest gainers. Truworths [JSE:TRU] managed to firm by 3.18% as it closed at R87.00, while Massmart [JSE:MSM] gained 3% to R103.00. The Foschini Group [JSE:TFG] was also buoyant as it climbed 3.78% to R166.05, and Mr Price [JSE:MRP] added 2.49% to close at R242.89. Rand hedge, British American Tobacco [JSE:BTI] had a reprieve as it inched up 0.87% to R464.50, while Sappi [JSE:SAP] closed at R78.54 after adding 2.21%.\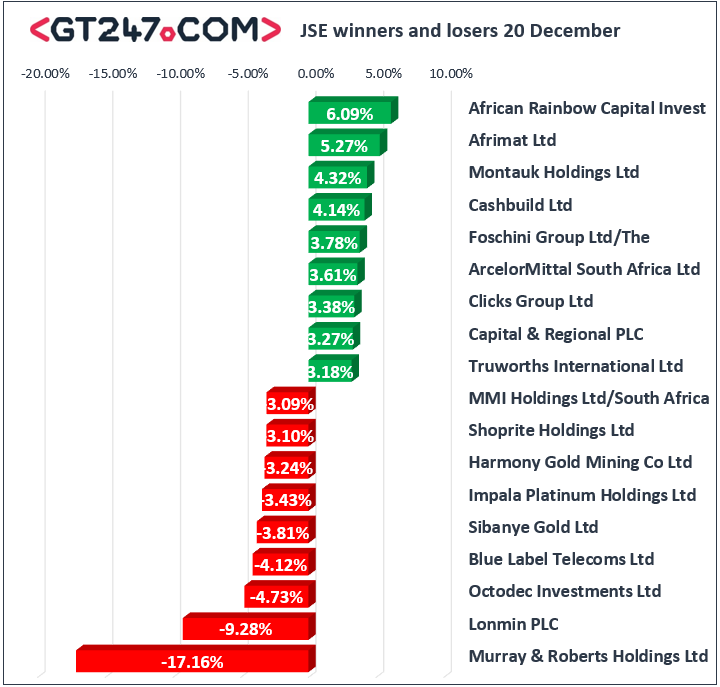 The JSE All-Share index closed the day 0.43% softer, while the JSE Top-40 index weakened by 0.4%. The Financials index only managed to close flat, however the Industrials and Resources indices weakened by 0.41% and 0.72% respectively.
After weakened significantly overnight, the rand recovered in today's session as the US dollar eased. The rand peaked at a session high R14.17/$ before retracing to trade at R14.21/$ at 17.00 CAT.
Brent crude prices continue to slip and in today's session the liquid fell to a session low of $64.64/barrel. The commodity rebounded to trade 2.8% weaker at $55.64/barrel just after the JSE close.
At 17.00 CAT, Gold was up 1.33% to trade at $1259.61/Oz, Platinum was 1.24% firmer at $796.11/Oz and Palladium had gained 1.17% to trade at $1272.07/Oz.
Bitcoin was up 7.2% at $4189.60/coin while Ethereum was 6.06% higher at $113.15/coin.