The JSE shrugged off the pessimism in other global indices as it surged higher on Monday.
Bearishness crept up in most global markets following the attack on a Saudi Arabian oil pipeline over the weekend which is estimated to affect at least 5% of global oil supply. In a world economic climate which is currently being shrouded by trade war concerns, this latest development saw investors shun riskier assets such as stocks on Monday.
In Asia, the Shanghai Composite Index and the Hang Seng fell 0.37% and 0.83% respectively, while the Nikkei was closed for a holiday. In Europe, equities tracked mostly lower while major US indices also opened softer.
Emerging market currencies fell put of favour as investors sort stronger currencies such as the greenback. The rand fell to a session low of R14.71/$ before it was recorded trading 0.18% weaker at R14.58/$ at 17.00 CAT.
Oil and gas producer Sasol [JSE:SOL] was buoyed by the surge in energy commodity prices which subsequently saw the stock close 9.85% higher at R306.00. RCL Foods [JSE:RCL] also recorded significant gains as it rallied 8.11% to close at R10.00. Aspen Pharmacare [JSE:APN] advanced 5.68% to close at R99.99, while African Oxygen [JSE:AFX] rose 4.91% to close at R20.72 primarily on the back of a decent set of half-year results. Desppite the softer rand financials advanced on the day which saw stocks such as Nedbank [JSE:NED] gain 5.32% to close at R251.24, while FirstRand [JSE:FSR] climbed 4.6% to close at R67.75. Retailer, Pick n Pay [JSE:PIK] advanced 4.88% to end the day at R64.50, while The Spar Group [JSE:SPP] closed at R196.74 after adding 5%.
Diverisified miners struggled on the day which saw South32 [JSE:S32] drop 1.72% to close at R28.00, while Anglo American PLC [JSE:AGL] retreated 2.02% to close at R351.39. Intu Properties [JSE:ITU] closed amongst the day's losers after it fell 4.65% to close at R7.79, while Hammerson PLC [JSE:HMN] lost 2.58% to close at R48.67. Other significant losers on the day included Richemont [JSE:CFR] which lost 1.92% to close at R116.57, Brait [JSE:BAT] which dropped 1.57% to close at R15.01, and Sun International [JSE:SUI] closed at R45.85 after dropping 3%.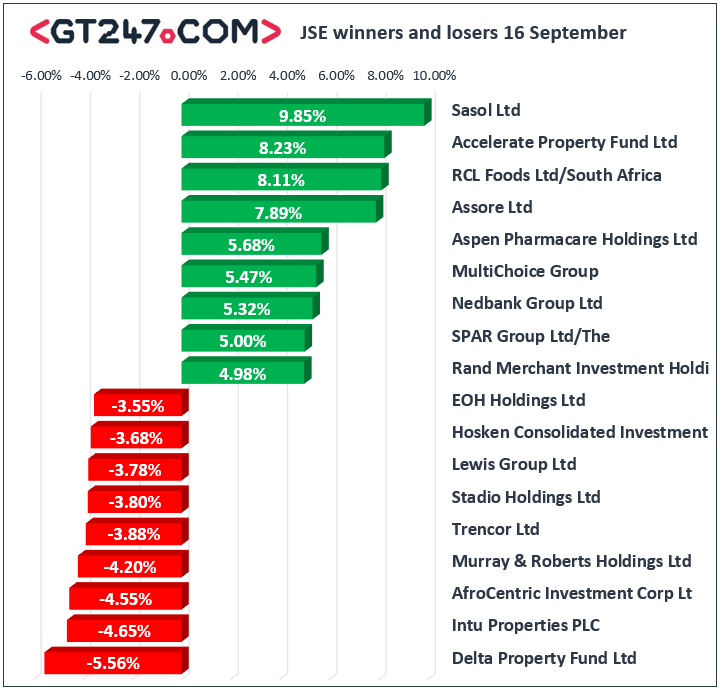 The JSE Top-40 index advanced 1.03% while the broader JSE All-Share index also gained 1.03%. All the major indices recorded gains on the day. The Financials index was the biggest gainer on the day after it rallied 2.8%, while the Industrials and Resources gained 0.64% and 0.52% respectively.
Brent crude surged by more than 20% when global markets opened on Monday as traders reacted to the attack on the Saudi pipeline. After having closed at $60.22/barrel on Friday, the commodity surged as much as $71.62/barrel before retreating to be recorded trading 11.53% higher at $67.22/barrel just after the JSE close.
At 17.00 CAT, Gold was 0.74% firmer at $1499.87/Oz, Platinum was down 1.65% at $932.80/Oz, and Palladium was 0.72% softer at $1598.70/Oz.
---
Disclaimer:
Any opinions, news, research, reports, analyses, prices, or other information contained within this research is provided by GT247.com at GT247 (Pty) Ltd t/a GT247.com ("GT247.com") as general market commentary, and does not constitute investment advice for the purposes of the Financial Advisory and Intermediary Services Act, 2002. GT247.com does not warrant the correctness, accuracy, timeliness, reliability or completeness of any information which we receive from third party data providers. You must rely solely upon your own judgment in all aspects of your trading decisions and all trades are made at your own risk. GT247.com and any of its employees will not accept any liability for any direct or indirect loss or damage, including without limitation, any loss of profit, which may arise directly or indirectly from use of or reliance on the market commentary. The content contained within is subject to change at any time without notice.