The JSE advanced on Wednesday led by gains recorded in the resources index where miners continue to soar on the back of firmer commodity prices.
Locally, market participants were anticipating the 2019 budget speech which was delivered by the finance minister this afternoon. Initial reactions to the budget speech were seen in the rand which fell dramatically to a session low of R14.37/$ as it reacted to the widening budget deficit highlighted in the statement. These losses were short-lived as the speech went on because the rand recouped all of its losses to eventually trade at R14.05/$ at 17.00 CAT.
There was some positive news from Statistics SA which released South Africa's inflation data for the month of January. CPI YoY fell to 4% from a prior recording of 4.5%, while CPI MoM was recorded at -0.2% which was better than the forecast of 0.2%.
On the JSE, the day's top gainers were not only confined to the miners as Stadio Holdings [JSE:SDO] managed to rally 14.55% to end the day at R3.78, while EOH Holdings [JSE:EOH] had a significantly volatile session which saw the stock eventually close 12.73% higher at R16.47. AngloGold Ashanti [JSE:ANG] rocketed 11.18% to close at R221.00, while Blue Label Telecoms [JSE:BLU] advanced 10.34% to close at R5.23. Gold Fields [JSE:GFI] added 6.88% to close at R60.00, Harmony Gold [JSE:HAR] gained 6.31% to R30.83, and Impala Platinum [JSE:IMP] firmed by 3.67% to close at R52.85. Tiger Brands [JSE:TBS] gained 5.26% to close at R279.75 mainly on the back of a voluntary trading update for the 4 months up to the end of January which highlighted improved operating conditions.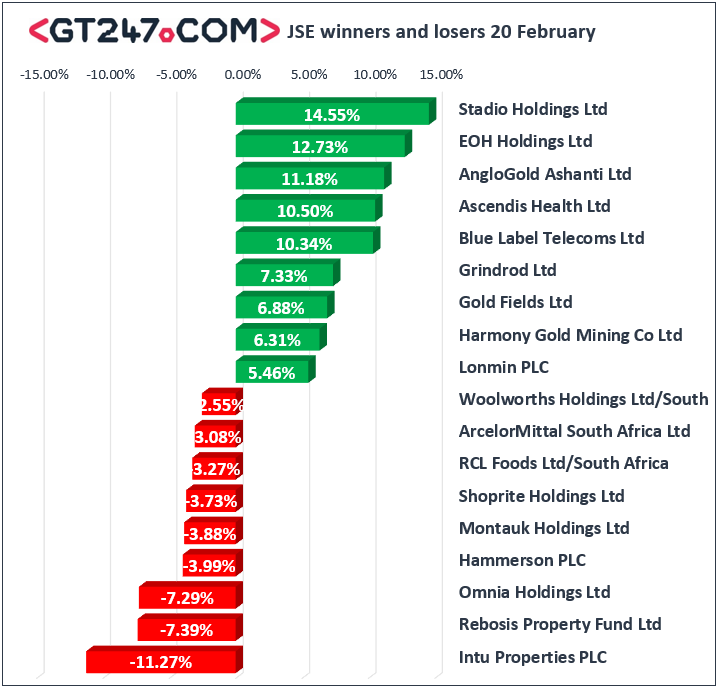 Intu Properties [JSE:ITU] closed amongst the day's biggest losers after the stock fell 11.27% to close at R19.52 following the release of its full-year results which indicated a decrease in Net Asset Value, and an increase in the debt to assets ratio to 53.1%. Other listed property stocks also traded softer on the back of the sentiment. Rebosis Property Fund [JSE:REB] lost 7.39% to close at R2.13, Hammerson PLC [JSE:HMN] dropped 3.99% to R66.97 and Capital & Counties [JSE:CCO] weakened by 1.48% to R45.96. Retailer, Shoprite [JSE:SHP] also struggled as it lost 3.73% to close at R160.77, while Woolworths [JSE:WHL] fell 2.55% to end the day at R44.34.
The JSE Top-40 index closed 0.78% firmer while the broader JSE All-Share index firmed by 0.8%. All the major indices advanced on the day with the Resources index standing out as it gained 1.13%. The Industrials and Financials indices added 0.87% and 0.64% respectively.
At 17.00 CAT, Gold was up 0.24% at $1344.14/Oz, Platinum had gained 1.03% to trade at $828.10/Oz, and Palladium was up 0.84% at $1493.36/Oz.
Brent crude traded softer on the day as weakened to a session low of $65.63/barrel before it was recorded trading 0.38% softer at $66.20/barrel just after the JSE close.
At 17.00 CAT, Ethereum was down 0.66% at $148.96/coin while Bitcoin was 0.32% weaker at $4023.30/coin.