The JSE closed softer on Wednesday following a session where the index was trading mostly in the red.
The All-Share index was set for some significant volatility as Tencent Holdings released its 3rd quarter earnings earlier on. The earnings numbers from Tencent Holdings beat analysts' expectations which resulted in Naspers reversing its losses to trade firmer on the day. The All-Share index also surged on the back of these earnings, but the rebound came up short as the index closed weaker.
Naspers [JSE:NPN] had slumped to a session low of R2520.02 in earlier trading however, the stock rebounded to end the day 4.25% firmer at R2710.41. Steinhoff International [JSE:SNH] was amongst the day's biggest gainers after it added 13.02% to close at R1.91, while Ascendis Health [JSE:ASC] bounced to close 8.14% higher at R4.25. Blue Label Telecoms [JSE:BLU] managed to post gains of 5.3% to end the day at R5.36, and cement maker, PPC Limited [JSE:PPC] gained 3.98% to close at R6.53.
Of the day's losers, Stadio Holdings [JSE:SDO] came under significant pressure as it dropped 6.58% to close at R3.55. Oil and gas producer, Sasol [JSE:SOL] slumped even further to close at R437.50 after it lost 6.13%. This is mainly on the back of weaker oil commodity prices which have shed over 20% from their most recent highs. Platinum miner, Anglo American Platinum [JSE:AMS] lost 6.58% to close at R447.06, while BHP Billiton [JSE:BIL] fell 2.76% to end the day at R287.99. Coronation Fund Managers [JSE:CML] failed to find a reprieve as it lost another 5.79% to close at R43.30.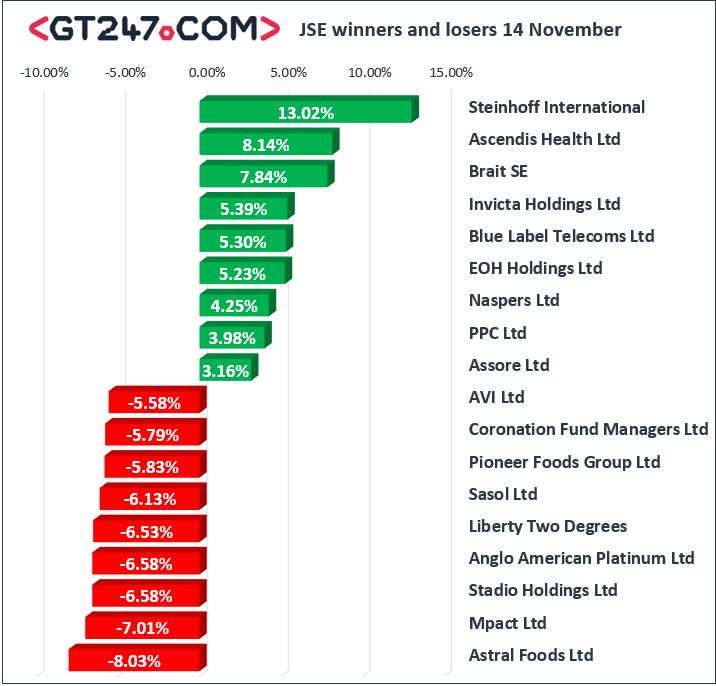 The JSE All-Share index eventually closed the day 0.21% weaker, while the JSE All-Share index lost 0.06%. The Industrials index surged 1.19% as a result of the rebound in Naspers, however the Resources and Financials indices dropped 2.35% and 0.85% respectively.
On the currency market the rand gained over a percent against the greenback as it peaked at R14.27/$. The rand was up 1.14% against the US dollar at 17.00 CAT to trade at R14.28/$.
Following the shockwaves sent by the oil price free fall on Tuesday, the commodity inched higher in Wednesday's session. The commodity was trading 2.09% firmer at $66.84/barrel just after the JSE close.
At 17.00 CAT, Gold was up 0.04% at $1202.66/Oz, Platinum was up 0.09% at $840.09/Oz, and Palladium was 1.62% firmer at $1131.37/Oz.
Bitcoin was down 2.38% at $6312.40/coin, and Ethereum had lost 5.17% to trade at $200.67/coin.