The JSE started the week on the backfoot as it followed the trend in global equities which traded mostly weaker due to concerns over the US-China trade war.
Sentiment remained fragile as concerns over weak Chinese and US economic data signalled a possible slowdown in the two of the world's biggest economies. The arrest of one of Huawei executives by the USA in Canada has also ignited worries of potential cracks on the possibility of a deal between the two global powers. This in conjunction with falling US Treasury yields is resulting in investors shunning riskier assets in favour of assets considered to be safe-havens.
The US dollar remained buoyant which did not bode well for the rand as it slumped to a session low of R14.37 against the greenback. The local currency was trading 1.22% weaker at R14.33/$ at 17.00 CAT.
In Asia, the Nikkei fell 2.12% while the Shanghai Composite Index and the Hang Seng dropped 1.16% and 1.19% respectively. There was weakness across all of Europe's major equity indices while US futures were also pointing lower before the cash market opened.
On the JSE, the weakness across most of the blue-chip constituents weighed down on the All-Share index. Aspen Pharmacare [JSE:APN] fell 4.31% to close at R138.32, while Bidvest [JSE:BVT] lost 3.34% to close at R193.22. Banks weakened on the back of the softer rand which saw stocks such as ABSA Group [JSE:ABG] drop 2.89% to end the day at R150.44, while Standard Bank [JSE:SBK] lost 2.27% to close at R167.70. Mr Price [JSE:MRP] closed at R236.67 after shedding 4.69%, and Shoprite [JSE:SHP] closed 3.21% weaker at R183.00. Telecoms giant, MTN Group [JSE:MTN] fell 2.89% to close at R83.89, while Vodacom [JSE:VOD] dropped 2.57% to R120.00.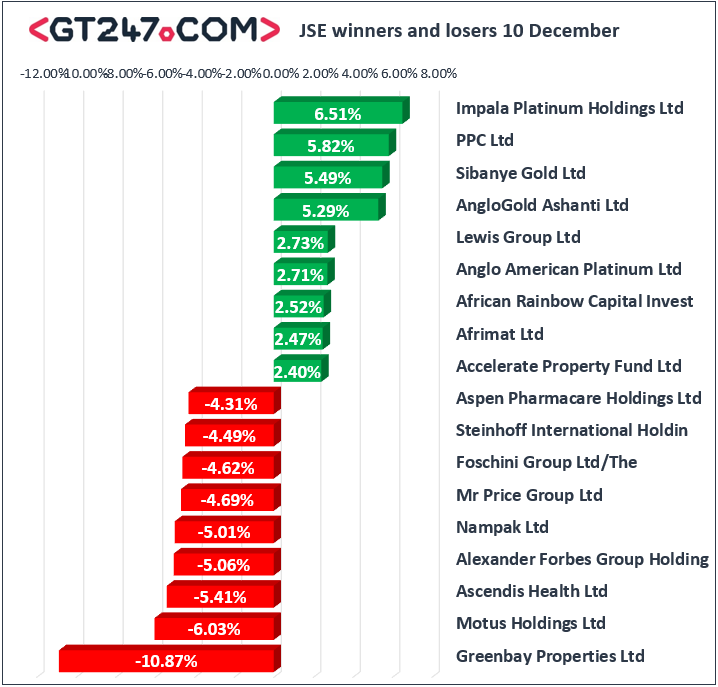 Impala Platinum [JSE:IMP] managed to close amongst the day's biggest gainers after it added 6.51% to close at R37.28. Fellow platinum miner, Anglo American Platinum [JSE:AMS] rose 2.71% to close at R496.47, while Sibanye Stillwater [JSE:SGL] gained 5.49% to close at R9.99. Index heavyweight, British American Tobacco [JSE:BTI] managed to post gains of 1.96% to close at R490.95, while Reinet Investments [JSE:RNI] closed 1.6% higher at R215.60.
The JSE Top-40 index eventually closed the day 1.24% weaker, while the broader JSE All-Share index dropped 1.15%. The Resources index was the only index which closed firmer after it gained 0.14%. The Industrials and Financials indices fell 1.68% and 1.62% respectively.
Brent crude retreated in today's session which saw it trading 1.67% weaker at $60.64/barrel just after the JSE close.
At 17.00 CAT, Platinum was down 1.08% to trade at $784.71/Oz, Palladium was 0.09% weaker at $1224.09/Oz and Gold had lost 0.21% to trade at $1246.66/Oz.
Bitcoin was down 5.14% at $3505.00/coin, while Ethereum had lost 7.77% to close at $90.83/coin.