The JSE fell on Tuesday after data released by Statistics SA showed that South Africa's GDP contracted for a second consecutive quarter.
This contraction effectively puts South Africa in a recession for the first time since 2009. Q2 GDP annualized QoQ contracted for by 0.7% which was worse than the forecasted growth of 0.6%. The Q1 GDP numbers which were initially recorded at -2.2% were revised downwards to -2.6%.
The rand took the biggest knock on the day as it slumped by more than 3% to reach a session low of R15.37 against the greenback. This weakness was worsened by the US dollar which advanced against a basket of major currencies following the release of better than expected US economic data. The rand was down 2.53% to trade at R15.21/$ at 17.00 CAT.
MTN [JSE:MTN] tumbled in today's session even after the company issued an announcement with regards to the letter that they received from the Central Bank of Nigeria. The stock nose-dived to a session low of R70.58 per share before it closed at R72.00 after dropping 17.05%. Aspen [JSE:APN] also struggled despite the release of a trading statement which indicated an improvement in the company's earnings for the full-year ended June 2018. The share lost 7.49% to close at R270.86 per share.
Retailers were dragged by the weaker rand which saw stocks such as The Foschini Group [JSE:TFG] dropping 6.6% to close at R167.23, while Truworths [JSE:TRU] closed 5.34% weaker at R83.11 per share. Banker, FirstRand [JSE:FSR] pulled back to R67.05 after losing 5%, while its sector peer, ABSA Group [JSE:ABG] fell to R163.90 after shedding 4.2%. Imperial Holdings [JSE:IPL] traded under pressure eventually closing at R207.04 per share after dropping 8.04%.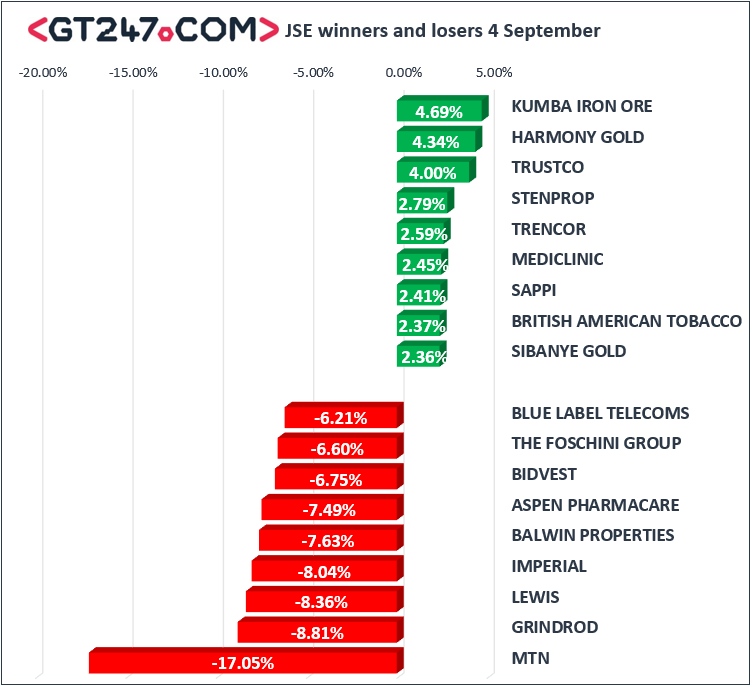 Resources were buoyed by the weaker rand, which translates to a higher rand-denominated metal price for the JSE listed miners. Kumba Iron Ore [JSE:KIO] rose by 4.69% to close at R289.10, while Harmony Gold [JSE:HAR] picked up 4.34% which saw the stock close at R24.98 per share. African Rainbow Minerals [JSE:ARM] managed to firm to R130.69 after adding 2.14%.
Rand hedge, British American Tobacco [JSE:BTI] firmed to R732.49 after adding 2.37%, while Sappi [JSE:SAP] posted gains of 2.41% to close at R103.79 per share. Mediclinic [JSE:MEI] added 2.45% to close at R97.99 and Richemont [JSE:CFR] eventually closed the day up 1.65% to close at R132.31 per share.
The JSE All-Share index eventually closed the day down 1.4%, while the JSE Top-40 index lost 1.42%. The Resources index was the only major index to record gains as it closed 0.55% higher. The Industrials and Financials indices lost 1.76% and 3.1% respectively.
Gold fell as the US dollar advanced to eventually trade 0.76% weaker at $1191.96/Oz at 17.00 CAT. Platinum was down 1.78% to trade at $774.73/Oz while Palladium was 0.17% weaker at $980.99/Oz.
Brent crude erased of its earlier gains to trade flat at $78.30/barrel just after the JSE close.
At 17.00 CAT, Bitcoin was up 1.31% to trade at $7387.10/coin, while Ethereum was trading 0.45% firmer at $290.67/coin.