The JSE retreated on Monday as global markets traded mostly mixed as markets sort a catalyst for direction.
In Asia, the Shanghai Composite Index lost 0.33% while the Hang Seng also dropped 0.33%. The Japanese Nikkei stood out as it rallied 1.37%. Equity indices in Europe traded mostly flat while US futures pointed lower after less than impressive earnings from Wall Street giants Goldman Sachs and Citigroup.The US dollar remained under mild pressure mainly on the back of the firmer euro. The rand did manage to firm to a session high of R13.89/$ before it relinquished those gains to trade 0.52% weaker at R14.02/$ at 17.00 CAT.
Rebosis Property Fund [JSE:REB] came under significant pressure as it lost 7.55% to end the day at R1.47, while Multichoice Group [JSE:MCG] closed 3.76% weaker at R125.00. Miners also struggled on the day with Sibanye Stillwater [JSE:SGL] falling 3.38% to close at R13.43, Anglo American PLC [JSE;AGL] dropped 0.86% to end the day at R398.84, and Harmony Gold [JSE:HAR] lost 1.69% to close at R26.13. Index giant Naspers [JSE:NPN] weakened to R3510.00 losing 2.23%, while Imperial Logistics [JSE:IPL] dropped 3.27% to close at R61.79. Retailer Truworths [JSE:TRU] was dragged by the weaker rand which saw it close 1.9% lower at R69.56, while Mr Price [JSE:MRP] lost 1.71% to close at R204.10.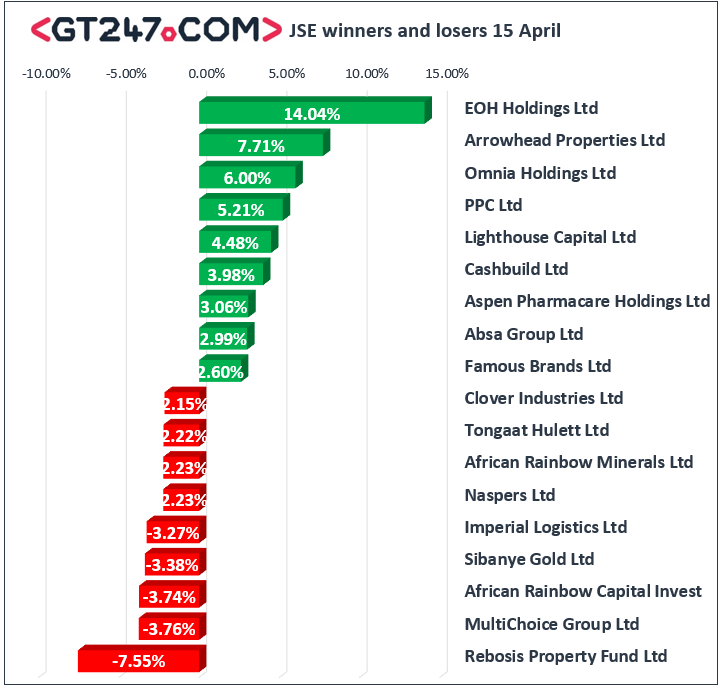 EOH Holdings [JSE:EOH] finished on the biggest movers list after it rallied 14.045 to close at R13.00. Listed property stock, Arrowhead Properties [JSE:AWA] advanced 7.71% to end the day at R4.05, while Lighthouse Capital [JSE:LTE] gained 4.48% to close at R7.00. Aspen Pharmacare [JSE:APN] climbed 3.06% to close at R101.00 and Libstar Holdings [JSE:LBR] managed to add 2.31% as it closed at R7.98. Some of the bankers recorded decent gains on the day. ABSA Group [JSE;ABG] gained 2.99% to close at R163.58, while FirstRand [JSE:FSR] added 2.03% to close at R67.21.
The JSE All-Share index eventually closed 0.27% weaker while the blue-chip JSE Top-40 index dropped 0.35%. The Financials index managed to gain 1.14% however the Industrials and Resources indices fell 0.68% and 0.53% respectively.
At 17.00 CAT, Platinum was down 1.02% at $882.30, Gold was 0.25% weaker at $1287.39/Oz, and Palladium was down 0.71% at $1364.35/Oz.
Brent crude fell to a session low of $70.79/barrel before it rebounded to trade 0.64% weaker at $71.08/barrel just after the JSE close.