The JSE closed weaker on Thursday as emerging markets retreated ahead of the US Fed interest rate decision.
JSE-listed heavyweights dragged the All-Share index as profit taking kicked in following the rallies recorded recently. There was also disappointment in terms of local economic data following the release Mining Production data for the month of September. YoY Mining Production fell by 1.8% but this was slightly better than the forecasted slump of -3.4%, however there was an improvement MoM as production increased by 1.2% from a prior contraction of 1.2%.
Manufacturing Production YoY was forecasted to advance by 1.9% but it only expanded by 0.1%, while MoM Manufacturing Production MoM contracted by 1% from a prior recording of 0.1%.
On the JSE, Ascendis Health [JSE:ASC] was the day's biggest loser after it fell dramatically to close at R4.60 after dropping 25.81%. MTN Group [JSE:MTN] lost 2.93% to end the day at R86.88, while its sector peer, Vodacom [JSE:VOD] dropped 2.34% to close at R129.13. Banker, Standard Bank [JSE:SBK] closed 3.43% weaker at R175.01, whilst Discovery Limited [JSE:DSY] retreated to close at R170.07 after shedding 2.13%.Naspers [JSE:NPN] lost 2.86% to close at R2796.09, while Woolworths [JSE:WHL] and Spar Group [JSE:SPP] lost 2.31% and 2.62%, to close at R54.91 and R184.21 respectively.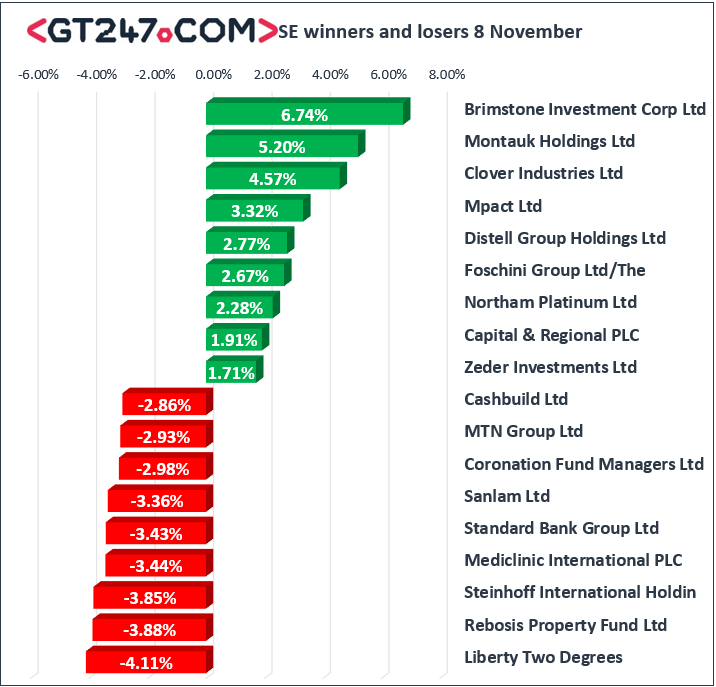 Gains were relatively modest on the JSE with miners accounting for the bulk of the day's gains. Northam Platinum [JSE:NHM] added 2.28% to close at R41.72, while Sibanye Stillwater [JSE:SGL] firmed by 1.5% to close at R8.78. BHP Billiton [JSE:BIL] gained 0.89% to end the day at R299.26, and Glencore [JSE:GLN] was 0.67% firmer at R58.40. The Foschini Group [JSE:TFG] was buoyed by the release of its half-year results which resulted in the stock gaining 2.77% at R170.95.
The JSE All-Share index fell by 1.16% while the blue-chip Top-40 index closed 1.36% weaker. The Resources index managed to eke out gains of 0.07% however, the Financials and Industrials indices lost 1.7% and 1.69% respectively.
At 17.00 CAT, Gold was down 0.14% to trade at $1224.82/Oz, Platinum was 0.07% weaker at $872.31/Oz and Palladium had lost 0.42% to trade at $1131.11/Oz.
Brent crude retreated overnight after the release of US crude oil inventories data. The commodity was trading 0.85% weaker at $71.46/barrel.