The JSE surged on Friday in line with other global markets which were buoyed by easing trade tensions and good corporate earnings.
The surge started off in Asia where GDP numbers for China came in line with expectations at 6.0% which was also unchanged from the prior recording. Most impressive was Chinese industrial production data YoY which surged 6.9% from a prior recording of 5.9%. This data is significant as it signals that the world's second largest economy and biggest consumer of raw commodities is still sufficiently productive. In the United Kingdom, retail sales contracted 0.6% from a prior recording of 0.5%. This does not come as a surprise as some of the major UK retailers have highlighted a difficult trading environment.
The rand lost some momentum in the afternoon session due to a stronger US dollar. The local unit was recorded trading 0.26% softer at R14.44/$ at 17.00 CAT.
On the local bourse, Coronation Fund Managers [JSE:CML] surged following the release of assets under management update which saw the stock surge 6.6% to close at R44.39. Richemont [JSE:CFR] rallied 5.82% to close at R121.25 following the release its trading update for the 3rd quarter which showed decent increases in volumes across most the geographical areas. Sibanye Gold [JSE:SGL] climbed 5.32% to close at R39.20, while Kumba Iron Ore [JSE:KIO] rose 5.31% to close at R432.00. BHP Group [JSE:BHP] advanced 3% to close at R351.09, while its sector peer Anglo American PLC [JSE:AGL] gained 3.29% to close at R424.17. Significant gains were also recorded Naspers [JSE:NPN] which surged 2.45% to close at R2510.51, and Mondi PLC [JSE:MNP] which closed at R301.39 after adding 1.28%.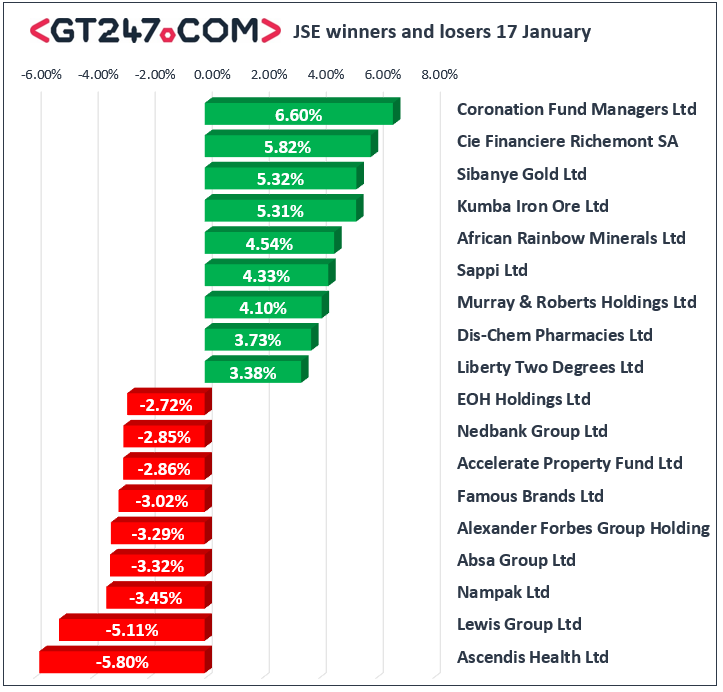 Ascendis Health [JSE:ASC] struggled on the day as it closed 5.8% lower at R1.30. Financials weakened on the back of the softer rand which saw stocks such as ABSA Group [JSE:ABG] which lost 3.32% to close at R139.50, Nedbank [JSE:NED] which fell 2.85% to close at R207.54, and Standard Bank [JSE:SBK] which closed at R164.43 after losing 2.39%. Mr Price [JSE:MRP] which released a relatively modest trading update today came under pressure as it lost 1.91% to close at R188.73, while Woolworths [JSE:WHL] closed 2.35% lower at R49.42. Losses were also recorded for Sasol [JSE:SOL] which lost 2.22% to close at R273.06, as well as Famous Brands [JSE:FBR] which closed at R80.01 after dropping 3.02%.
The JSE All-Share index closed 1.35% higher while the JSE Top-40 index gained 1.48%. The Financials index struggled as it lost 1%, however the Resources and Industrials managed to gain 2.26% and 1.87% respectively.
At 17.00 CAT, Gold was up 0.36% at $1557.86/Oz, Platinum was 2.28% higher at $1026.99/Oz, and Palladium had rocketed 6.9% to trade at $2475.00/Oz.
Brent crude was trading 0.48% firmer at $64.89/barrel just after the JSE close.
---
Disclaimer:
Any opinions, news, research, reports, analyses, prices, or other information contained within this research is provided by GT247.com at GT247 (Pty) Ltd t/a GT247.com ("GT247.com") as general market commentary, and does not constitute investment advice for the purposes of the Financial Advisory and Intermediary Services Act, 2002. GT247.com does not warrant the correctness, accuracy, timeliness, reliability or completeness of any information which we receive from third party data providers. You must rely solely upon your own judgment in all aspects of your trading decisions and all trades are made at your own risk. GT247.com and any of its employees will not accept any liability for any direct or indirect loss or damage, including without limitation, any loss of profit, which may arise directly or indirectly from use of or reliance on the market commentary. The content contained within is subject to change at any time without notice.