The JSE barely closed firmer on Friday as it struggled to maintain earlier gains.
The rand weakened significantly against a basket of major currencies which saw it climb above R15/$. The local currency slipped to a session low of R15/02 against the greenback before it retraced to trade at R14.77/$ at 17.00 CAT.
Rand hedges were aided by the weaker currency which saw them trading mostly firmer. British American Tobacco [JSE:BTI] posted gains of 1.84% to close at R788.21, while Mondi PLC [JSE:MNP] managed to add 1.68% to close at R392.45 per share. Oil and gas producer, Sasol [JSE:SOL] which is expected to release its earnings results on Monday, gained 1.32% to close at R528.50 per share.
More pronounced gains were recorded on the broader index were Rhodes Food Group [JSE:RFG] firmed to R19.60 after adding 3.05%. Exxaro Resources [JSE:EXX] continued to rally as it gained another 3.44% to close at R144.81 per share, while Anglo American Platinum [JSE:AMS] rose 2.26% to close at R410.83 per share. Steinhoff International [JSE:SNH] rallied towards the close which saw the stock jump 18.78% to close at R2.34 per share.
Tiger Brands [JSE:TBS] continued to stumble as it lost 7.6% to close at R275.65, while Astral Foods [JSE:ARL] slipped by 5.86% to close at R275.44 per share. Gold Fields [JSE:GFI] retreated by another 4.91% to end the day at R35.66 per share, whilst Pioneer Foods [JSE:PNR] closed at R100.72 after dropping 4.08%. Retailers retreated due to the weaker rand with Pick n Pay [JSE:PIK] shedding 1.74% to close at R71.12 per share while Woolworths [JSE:WHL] closed 1.14% weaker at R50.40 per share.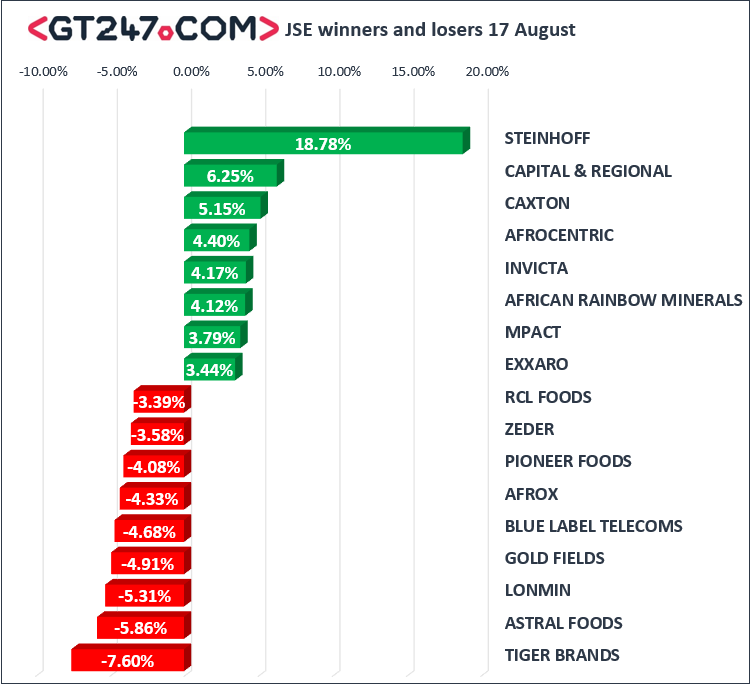 Following a relatively muted session the JSE All-Share index eventually closed 0.24% firmer, while the JSE Top-40 index was up 0.27%. The Industrials and Resources indices managed to add 0.42% and 0.79% respectively, however the Financials index lost 0.84%.
Gold traded mildly firmer on the day as it only managed to peak at a session high of $1180.00/Oz. It retraced marginally to trade at $1179.12/Oz at 17.00 CAT. Platinum was trading 0.32% firmer at $782.26/Oz and Palladium was up 1.96% at $904.19/Oz.
Brent crude rose in the afternoon session following a weaker open. The commodity rose to a session high of $72.49/barrel before retracing to trade at $71.96/barrel just after the JSE close.
Bitcoin struggled to gain any significant momentum which saw it trading only 0.9% firmer at $6467.60/coin at 17.00 CAT, whilst Ethereum was up 0.3% to trade at $294.77/coin.