Local
JSE strengthens as global equity markets attempt to recover, giving investors a break from the volatility-driven selloff.
The local All-Share was up 0.54%, with the blue-chip Top40 following suit, up 0.52%, industrials up by 0.82% and financials up 0.67%.
Elsewhere, the major winners on the day were Raubex [JSE:RBX] and Afrocentric [JSE:ACT] up 7.05% and 5.58% respectively.
While the selloff of companies within the Resilient [JSE:] group continued, following the release of two negative research reports. Fortress B [JSE:FFB] was down 9.75%, Greenbay Properties [JSE:GRP] down 8.89% and Nepi Rockcastle [JSE:NRP] down 8.67%.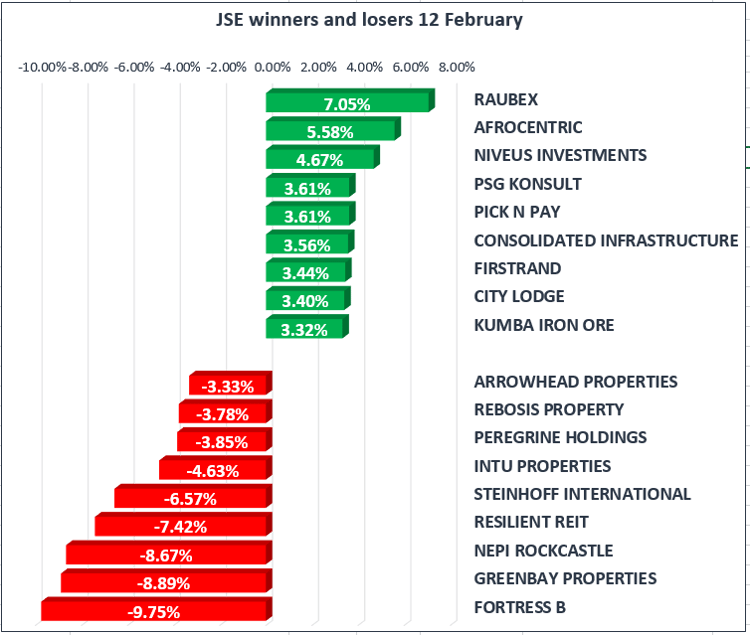 We saw the rand start the week on a positive footing, strengthening against major currencies, as investors awaited the outcome of the ANC's NEC meeting. The rand was trading at R11.93 to the dollar, R16.47 to the pound and R14.61 to the euro.
Commodities
A weaker dollar helped boost commodities across the board, as we saw Gold trading higher, at $1325.30 per ounce, silver up at $16.48 per troy ounce and platinum trading at $965.30 per troy ounce.
Oil prices recouped some of last week's losses, as OPEC and partners continue to cut their supply amid growing US production. Brent Crude is currently trading at $63.13/bbl and WTI trading at $59.70/bbl.
Global Stocks
Today saw Asian markets close mixed, with Japan's Nikkei close down by 2.32%, while China's Shanghai Composite managed edge up by 0.76%.
European equities managed to bounce back from last week's multi-week lows, closing higher. The DAX was up by 1.36%, the CAC-40 by 1.11%, and the FTSE by 1.04%.
Elsewhere, after a volatile week for U.S. equities, the Dow rose 189 points, while the S&P 500 and Nasdaq gained 0.6 percent and looked to continue from Fridays gains. Investors will look towards Wednesdays US consumer price inflation data for an indication on inflation and how aggressively the Fed can raise rates.
Cryptocurrencies
Bitcoin seems to have found support near the $6,000, moving off a four-month low as the world's largest cryptocurrency made its way back toward the $9,000-level, up roughly 8%. While Ethereum, the world's second largest cryptocurrency, was up roughly 7%.