Local equities got off to a slow start for the week as they closed softer on Monday on the back broad-based losses led primarily by the resources index.
The latest escalation with regards to the trade war between China and the USA was triggered on Sunday as tariffs of at least $110 billion worth of Chinese goods came into effect. The retaliation for these tariffs from China also kicked into effect. Stocks on the Shanghai Composite Index brushed off this latest development as they closed 1.28% firmer on Monday mainly on the back of better than expected Caixin Manufacturing PMI data. The Nikkei and Hang Seng fell 0.41% and 0.38% respectively.
The US dollar surged to climb back above 99 index points which put pressure on most emerging market currencies including the rand. The rand pulled back from its Friday's highs as it dropped to a session low of R15.24/$. At 17.00 CAT, the rand was trading 0.03% weaker at R15.18/$.
Pan African Resources [JSE:PAN] led the losses amongst the miners as it fell 7.92% to close at R2.44. Diversified mining giant BHP Group [JSE:BHP] lost 1.02% to close at R323.93 while Anglo American PLC [JSE:AGL] only dropped a modest 0.11%. Oil and gas producer, Sasol [JSE:SOL] tumbled 6.47% to close at R269.32, while platinum miner Anglo American Platinum [JSE:AMS] retreated 3.37% to close at R899.37. Other significant losses on the day were recorded for Imperial Logistics [JSE:IPL] which lost 5% to close at R52.30, Massmart [JSE:MSM] which fell 4.56% to close at R42.94 and Intu Properties [JSE:ITU] which closed at R7.12 after falling 4.04%.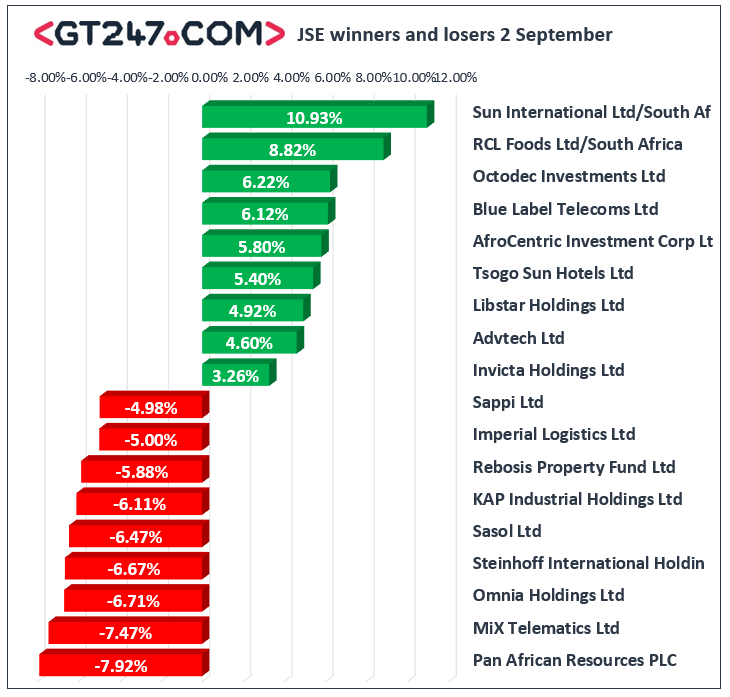 Sun International [JSE:SUI] was buoyed by the release of its of half-year results which indicated marginal increases in revenue and earnings. The stock subsequently closed 10.93% higher at R43.15. Full-year results from RCL Foods [JSE:RCL] highlighted tough operating conditions for the business, however the stock rallied 8.82% to close at R11.10. Single digit percentage point increases in trading profit were highlighted in Bidvest's [JSE:BVT] full-year earnings results, which saw the stock advance 2.38% to close at R182.96. Other significant gainers on the day included Kumba Iron Ore [JSE:KIO] which climbed 3.06% to close at R405.00, as well as Shoprite [JSE:SHP] which closed at R114.40 after advancing 1.25%.
The JSE All-Share index eventually closed 0.77% weaker while the JSE Top-40 index lost 0.76%. All the major indices eventually closed weaker as the Industrials index lost momentum towards the close to close 0.24% softer. The Resources and Financials indices lost 1.56% and 1.22% respectively.
At 17.00 CAT, Gold was 0.42% firmer at $1526.99/Oz, Palladium had gained 0.47% to trade at $1540.20/Oz, and Platinum was 0.14% softer at $932.20/Oz.
Brent crude was trading mostly weaker on the day, and it was recorded trading 0.93% weaker at $58.74/barrel just after the JSE close.
---
Disclaimer:
Any opinions, news, research, reports, analyses, prices, or other information contained within this research is provided by GT247.com at GT247 (Pty) Ltd t/a GT247.com ("GT247.com") as general market commentary, and does not constitute investment advice for the purposes of the Financial Advisory and Intermediary Services Act, 2002. GT247.com does not warrant the correctness, accuracy, timeliness, reliability or completeness of any information which we receive from third party data providers. You must rely solely upon your own judgment in all aspects of your trading decisions and all trades are made at your own risk. GT247.com and any of its employees will not accept any liability for any direct or indirect loss or damage, including without limitation, any loss of profit, which may arise directly or indirectly from use of or reliance on the market commentary. The content contained within is subject to change at any time without notice.