Global markets pulled back on Thursday as trade concerns were reignited following news that the Trump administration was looking to raise tariffs on $200 billion worth of Chinese imports to 25 percent.
Benchmark indices in China and Hong Kong slumped by 2.22% and 2.21% respectively, while the Japanese Nikkei slid 1.03%. European benchmarks opened weaker and continued to trade mostly under pressure as investors fled to safety.
Most of the market's attention on Thursday was on the interest rate decision out of the United Kingdom. The Bank of England raised rates only for the second time since the financial crisis by 25 basis points to 0.75%. Despite the rate hike, the Sterling Pound traded softer on the day as the bank flagged the potential risks arising from Brexit.
The rand slipped along with other emerging market currencies as the US dollar extended its gains on the back of the trade war spat. The rand lost over 2% to reach a session low of R13.50 against the greenback, before retracing to trade at R13.39/$ at 17.00 CAT.
The JSE traded under pressure as it took a leaf from its global peers. Pressure mounted particularly for the blue-chip index were a handful of stocks managed to close in the green. Vodacom [JSE:VOD] lost 4.27% to close at R130.70 per share while retailer, Truworths [JSE:TRU] pulled back to R79.02 after shedding 3.1%.
Standard Bank [JSE:SBK] was 3.17% weaker to close at R196.64, while its sector peer, FirstRand [JSE:FSR] lost 2.08% to close at R67.34 per share. Index heavyweight, Naspers [JSE:NPN] was dragged down by the softer close in Tencent Holdings on the Hang Seng, and subsequently the stock lost 2.87% to close at R3175.32 per share.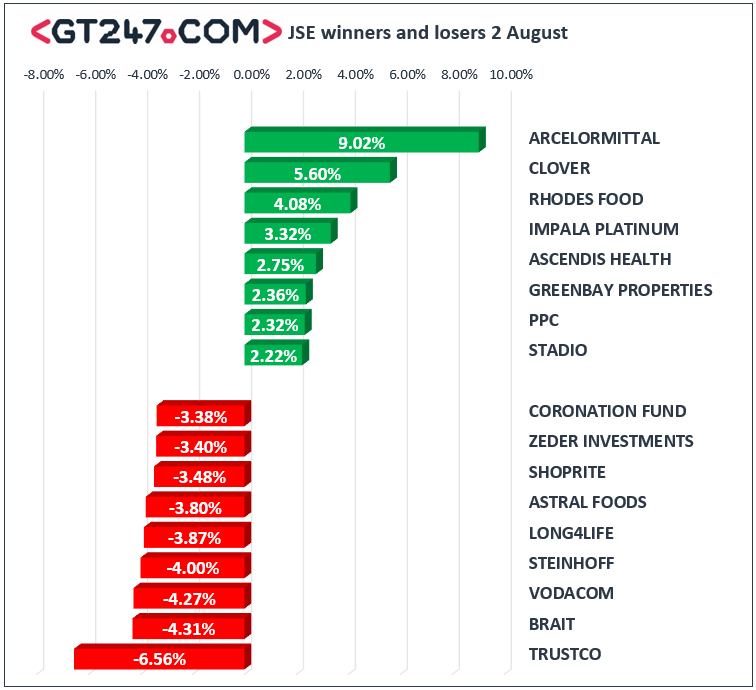 ArcelorMittal [JSE:ACL] continued with its rally following the release of its half-year financial statements on Wednesday. The stock added 9.02% to close at R3.99 per share. Impala Platinum [JSE:IMP] rose 3.32% to close at R19.89 following the announcement that the miner intends to cut at least 13 000 jobs in order to cut costs.
On the blue-chip index, AngloGold Ashanti [JSE:AGL] was the index's biggest gainer after adding 1.4% to close at R116.96 per share. Rand hedges, Sappi [JSE:SAP] and Richemont [JSE:CFR] firmed by 0.48% and 0.36%, to close at R95.90 and R116.15 per share respectively.
The JSE All-Share index eventually closed 1.62% weaker, while the blue-chip Top-40 index lost 1.83%. The weaker rand weighed on the Financials index which saw it drop 2.03%. The Industrials and Resources indices lost 1.69% and 1.46% respectively.
Despite trading softer earlier on, Gold relinquished its gains to trade at $1214.43/Oz at 17.00 CAT. This was after the precious metal had managed to reach a session high of $1221.17/Oz in earlier trade. Platinum was up 2.01% at $833.75/Oz, while Palladium was unchanged at $919.99/Oz.
Brent crude briefly traded softer in the afternoon before it paired its losses to trade 0.43% firmer at $72.70/barrel just after the JSE close.
At 17.00 CAT, Bitcoin was trading 1.03% softer at $7548.70/coin, while Ethereum was down 2.17% to trade at $414.18/coin.