The JSE edged higher on Monday as it brushed off earlier market jitters from Asia.
Asian markets buckled as concerns over trade wars and the upcoming US Fed meeting were reignited. In mainland China, the Shanghai Composite Index fell by 0.83% while the Hang Seng dropped 2.08%. In Japan, the Nikkei closed 1.55% weaker. In Europe, trading was relatively mixed as the major counters struggled for direction. With US markets opening an hour later due to daylight savings, more attention was on the upcoming mid-term elections which are taking place on Tuesday.
The rand opened weaker against the US dollar as it slipped to a session low of R14.41/$. However, with US elections looming the greenback fell from its session highs which resulted in the rand rallying to a session high of R14.20/$. At 17.00 CAT, the rand was trading 0.54% firmer at R14.23/$.
Local equities opened firmer and continued to inch higher as resources counters advanced. Royal Bafokeng Platinum [JSE:RBP] climbed to R29.20 after the stock gained 5.23%, AngloGold Ashanti [JSE:ANG] closed 3.99% firmer at R146.67, Northam Platinum gained 4.31% to R41.83, and BHP Billiton [JSE:BIL] gained 1.7% to end the day at R303.19. RCL Foods [JSE:RCL] managed to post gains of 4.24% to close at R17.20, and Tiger Brands [JSE:TBS] rose by 3.8% to close at R281.90.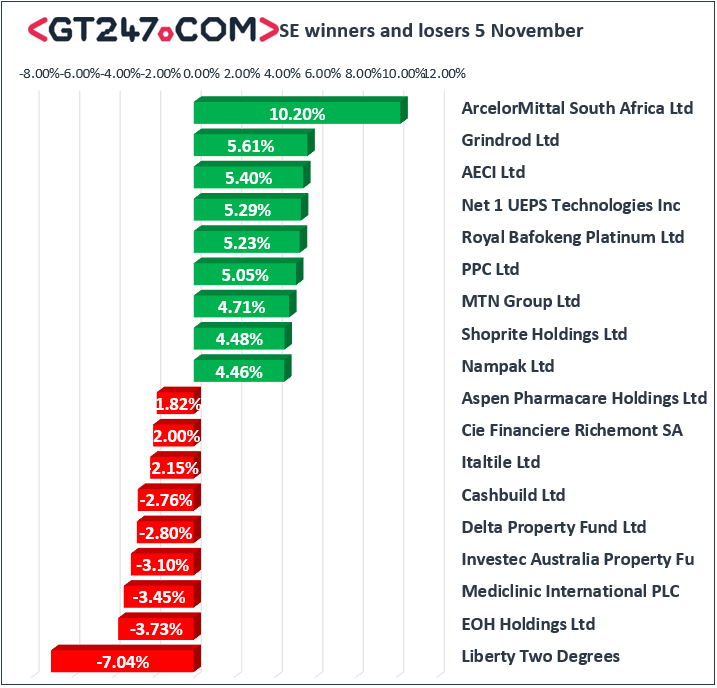 Mediclinic [JSE:MEI] traded softer on the day which saw it amongst the day's biggest losers after the stock fell by 3.45% to close at R73.78. EOH Holdings [JSE:EOH] retreated by 3.73% to close at R32.22, while Aspen Pharmacare [JSE:APN] lost 1.82% to close at R164.11. Listed property firm, NEPI Rockcastle [JSE:NRP] fell by 0.9% to close at R131.95, while its industry peer Delta Properties lost 2.8% to close at R5.91 following the release of its half-year results. Contrary to the trend in other miners, Sibanye Stillwater [JSE:SGL] lost 1.18% to close at R9.19, while Impala Platinum [JSE:IMP] dropped 1.58% to end the day at R28.00.
The JSE All-Share index closed the day up 1.19% while the JSE Top-40 index gained 1.24%. All the major indices closed in the green with the Resources index being the biggest gainer after adding 1.48%. The Industrials and Financials indices gained 1% and 1.45% respectively.
Brent crude advanced in the afternoon session as details of the USA's sanctions on Iran were revealed. The commodity rose from a session low of $72.26/barrel to trade at $73.69/barrel just after the JSE close.
At 17.00 CAT, Gold was flat to trade at $1231.77/Oz, Platinum was up 0.13% at $869.36/Oz and Palladium had gained 0.98% to trade at $1129.82/Oz.
Bitcoin was up 0.78% at $6465.20/coin, and Ethereum had rallied 3.29% to trade at $211.15/coin.