Local
JSE roars, as increased optimism surrounding South Africa's political economy boosted the local market and investors acquired recently sold-down stocks.
The local All-Share was up 1.78%, with the blue-chip Top40 following suit, up 1.74%, industrials up by 1.90% and financials up 1.14%.
Resource and gold shares were the major winners up by 2.10% and 4.31% respectively, buoyed by good results from Harmony Gold [JSE:HAR] and Kumba Iron Ore [JSE:KIO] both up 3.68% and 2.29% respectively, while Lonmin [JSE:LON] was up 11.91% and Sibanye Stillwater [JSE:SGL] up 6.45%.
Elsewhere, Net1 UEP Technologies [JSE:NT1] dropped by 7.60%, Arcelormittal South Africa [JSE:ACL] down by 4.13% and Mpact [JSE:MPT] by 3.54%.
It was a see-saw day for the rand, after it strengthen in early trade on the rumours that the ANC had decided to recall President Jacob Zuma. However, the local currency could not hold onto these gains when the ANC confirmed it had not given Zuma a deadline to resign. The rand was trading weaker against major currencies, at R11.93 to the dollar, R16.47 to the pound and R14.61 to the euro.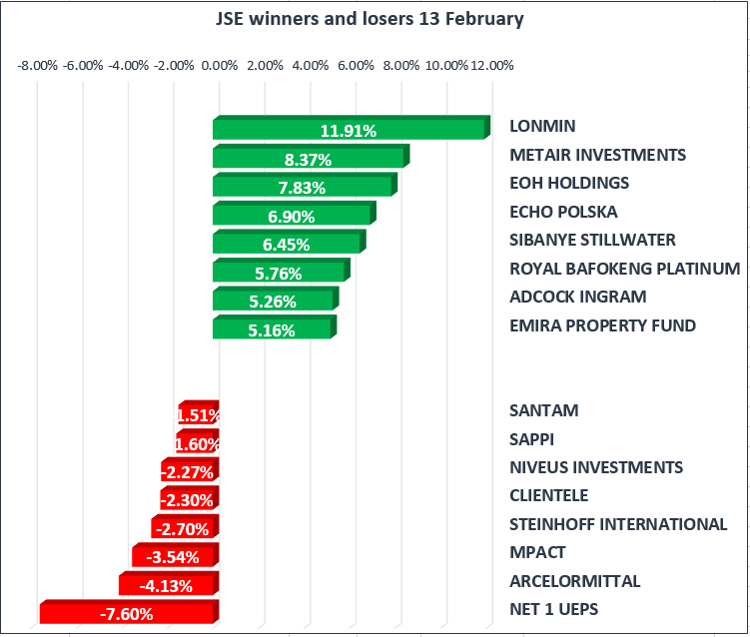 Commodities
Commodity prices rose, as caution ahead of this week's U.S. inflation data weighed on demand for the dollar.
Gold trading higher, at $1326.80 per ounce, silver up at $16.49 per troy ounce and platinum trading at $974.10 per troy ounce.
Oil prices continued to push lower, after the International Energy Agency forecast world crude supply could overtake demand this year. Brent Crude is currently trading at $62.08/bbl and WTI trading at $58.70/bbl.
Global Stocks
Global markets remained on edge, as most Asian markets traded higher following last night's gains in the U.S. China's Shanghai Composite led the recovery, with Hong Kong's Hang Seng also up by 1.00% and 1.29% respectively, while Japan's Nikkei reversed early gains to close down by 0.65%.
European equities were trading softer at the time of writing, the DAX was down by 0.46% and the CAC-40 down by 0.36%.
While in the U.K., the FTSE was down by 0.04% after the U.K. inflation data beat expectations at 3.00% year-on-year, increasing the probability of a rate hike by the BOE by May and the possibility of an additional rate hike later this year.
U.S. equities opened lower, giving back some of the gains made in the previous session, as volatility persisted. The Dow fell by more than 100 points, while the S&P 500 and Nasdaq pulled back by roughly 0.50%. Investors are looking ahead to tomorrows much anticipated U.S. inflation data as a key indicator of what's next for markets.
Cryptocurrencies
Bitcoin has been trading sideways since bouncing off lows amid fears over a regulatory crackdown following the $500 million hack last month on Coincheck Inc. In the wake of the cyber-theft, users withdrew $373 million from the cryptocurrency exchange.
Bitcoin is currently down 1.02%, trading at $8,512 while, Ethereum, was down roughly 1.12% trading at $837.