The JSE rebounded to close firmer on Wednesday as the market recovered from the previous session's slump.
There was a minor disappointment on the economic data front as the SACCI business confidence indicator fell to 94.0 for the month of May. This was on the back of a prior recording of 96.0.
Stadio Holdings [JSE:SDO] closed at R4.91 per share after jumping 10.59%. Impala Platinum [JSE:IMP] and Sibanye-Stillwater [JSE:SGL] climbed 5.44% and 2.58% to close at R21.72 and R8.74 per share respectively. Exxaro [JSE:EXX] added 3.13% to close at R132.55 per share, while African Rainbow Minerals [JSE:ARM] also firmed by 3.13% to close at R115.39 per share.
On the blue-chip index Sappi [JSE:SAP] was buoyed by the softer Rand which saw the stock adding 2.05% to close at R86.62 per share. Index giant, Naspers [JSE:NPN], closed at R3385.56 per share after adding 2.69%, whilst BHP Billiton [JSE:BIL] and Anglo American PLC [JSE:AGL] closed at R301.29 and R322.34 per share after gaining 1.9% and 1.38% respectively.
Sanlam [JSE:SLM] came under pressure following the release of their operational update, and resultantly the stock ended the day 6.25% weaker at R75.96 per share. Harmony Gold [JSE:HAR] traded softer following the successful placing of new shares in order to raise capital. The stock closed at R19.80 per share after dropping 8.59%.
Investment holding firm, Reinet Investments [JSE:RNI] lost 2.5% to close at R235.48 per share, and Discovery Limited [JSE:DSY] weakened by 2.21% to end the day at R151.50 per share. Other top losers on the day included Lewis [JSE:LEW], Lonmin [JSE:LON] and Dis-Chem [JSE:DCP] which lost 7.64%, 4.19% and 3.15% respectively.
The JSE All-Share index closed in positive territory after gaining 0.52%, and the JSE Top-40 index closed 0.63% firmer. The weaker Rand saw the Financials index close softer for a second consecutive session as it lost 0.77%. The Industrials and Resources indices managed to add 0.82% and 1.16% respectively.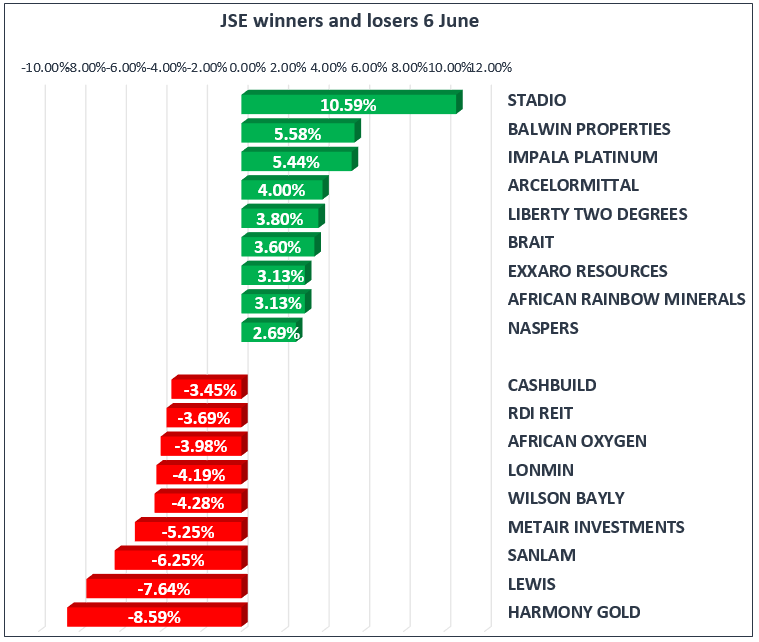 The Rand weakened even more from its overnight close to peak at a session high of R12.87/$. However it retraced to trade firmer on the day as the US dollar relinquished its earlier gains. At 17.00 CAT the Rand was trading at R12.69/$, up 0.5% for the day.
Following Tuesday's slump, metal commodities bounced to trade mostly in the green. Gold briefly broke above $1300/Oz to reach a session high of $1301.84/Oz, however it was trading below that level at 17.00 CAT as it was recorded at $1299.15/Oz. Platinum was trading 0.5% firmer at $906.40/Oz and Palladium was trading at $1015.90/Oz, 2.19% firmer on the day.
Brent crude slid even further following the increase in US crude inventories as indicated by data released today. The commodity slipped to session low of $74.46/barrel and it was trading marginally firmer at $74.61/barrel just after the JSE close.
Ethereum inched up 2.12% to trade at $608.12/coin at 17.00 CAT, whilst Bitcoin was trading 1.9% firmer at $7629.50/coin.