The JSE rose for a third consecutive session on Wednesday as emerging markets remained buoyant.
In the currency markets, the greenback weakened for a fifth consecutive session against a basket of major currencies. The US dollar index briefly traded below 95 index points to reach a session low of 94.93 index points. This supported most emerging market currencies including the rand, which traded mostly firmer on the day.
Locally, Statistics SA released inflation numbers for the month of July which came in higher as widely estimated. CPI YoY increased to 5.1% from a prior recording of 4.6%, while CPI MoM increased to 0.8% from a prior recorded level of 0.4%. The rand strengthened to a session high of R14.26 against the greenback before getting wobbly after the release of inflation data. At 17.00 CAT, the rand had recovered to trade at R14.27/$.
On the JSE, pharmaceutical giant, Aspen [JSE:APN] jumped 5.95% to close at R282.88 to end amongst the blue-chip index's top gainers, while healthcare provider, Mediclinic [JSE:MEI] gained 4.77% to close at R91.98 per share. Bidvest [JSE:BVT] added 3.59% to close at R203.35 following the release of a trading statement which highlighted an increase normalised earnings per share. Index heavyweight, Naspers [JSE:NPN] climbed to R3430.00 after gaining 3.8%.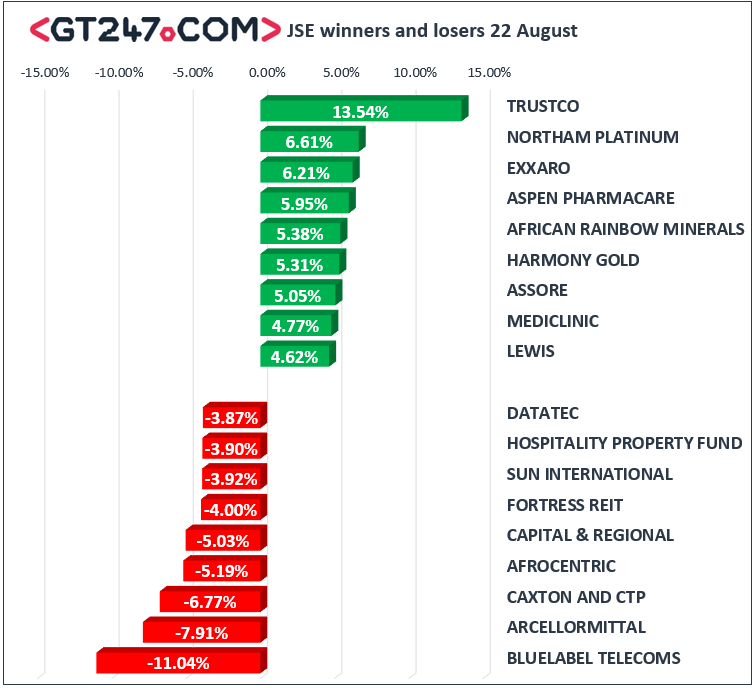 African Rainbow Minerals [JSE:ARM] is expecting a significant jump in earnings as indicated by the trading statement released today. Resultantly, the stock rose 5.38% to close at R129.18 per share. Platinum miner, Northam Platinum [JSE:NHM] gained 6.61% to close at R36.30, and coal miner Exxaro [JSE:EXX] managed to post gains of 6.21% to close at R156.39 per share.
Blue Label Telecoms [JSE:BLU] slumped further following the release of its full-year results which indicated the losses from its subsidiary Cell C. The stock lost 11.04% to close at R6.85 per share. Fortress B [JSE:FFB] retreated by 4% to close at R16.55, while Resilient [JSE:RES] lost 2.16% to close at R58.31 per share.
Gold miner, Gold Fields [JSE:GFI] pulled back to close at R34.62 after dropping 2.48%. Bid Corporation [JSE:BID] released a relatively decent set of full-year results however the stock retreated to close 2.19% weaker at R290.00 per share.
The JSE All-Share index eventually closed 1.64% higher, while the blue-chip Top-40 index managed to gain 1.83%. All the major indices managed to close in positive territory with the biggest gainer being the Industrials index which gained 1.99%. The Financials and Resources indices added 1.22% and 1.54% respectively.
Gold rallied in the afternoon session to briefly trade above $1200/Oz, however it quickly retreated to trade at $1195.10/Oz at 17.00 CAT. Platinum was trading 0.32% weaker at $793.49/Oz and Palladium was trading 0.75% firmer at $924.40/Oz.
Brent crude rallied following a big draw in US crude inventories data released this afternoon. The commodity was trading 2.3% higher at $74.30/barrel just after the JSE close.
Bitcoin spiked sharply in the afternoon session which saw it trade 3.69% firmer at $6658.75/coin at 17.00 CAT. Ethereum was up 2.81% to trade at $283.88/coin.