Local
JSE responds positively to the new President of the Republic, Cyril Ramaphosa, who was sworn in earlier today following the late-night resignation by former President Jacob Zuma.
The All-Share soared, up 3.72%, its biggest gain since June, 2016, with the blue-chip Top40 up 3.97%, industrials up by 3.96% and resources up 3.14%.
Financials gained 3.72%, as local banks benefited from a stronger rand and renewed optimism, Barclays Africa [JSE:BGA] rose 7.78%, FirstRand [JSE:FSR] 6.43%, Nedbank [JSE:NED] 5.37% and Standard Bank [JSE:SBK] 5.13%.
Elsewhere, Discovery [JSE:DSY] and Aspen Pharmacare [JSE:APN] closed higher, after strong trading updates, up 9.13% and 7.91% respectively, while market heavyweight, Naspers gained 6.98%.
Resilient [JSE:RES], Fortress B [JSE:FFB], Greenbay Properties [JSE:GRP] and Nepi Rockcastle [JSE:NRP] rout continued, as the property index closed down 0.13%, 2.00% from the intraday high.
The local currency powered to three-year highs and continues to trade stronger against major currencies, buoyed by the renewed political optimism, trading at R11.62 to the dollar, R16.35 to the pound and R14.51 to the euro.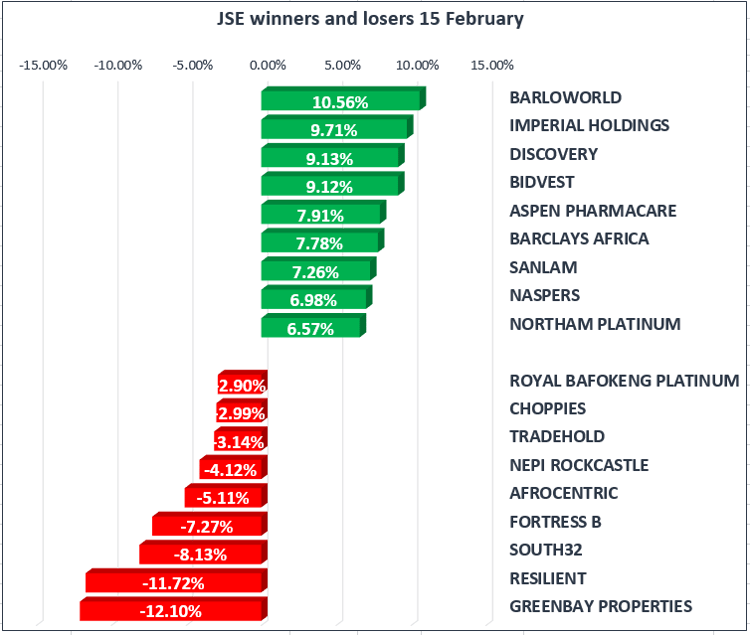 Commodities
Commodity prices rally, as the U.S. dollar continues to come under pressure as expectations for a faster pace of rate hikes by the Federal Reserve drove the benchmark 10-Year Treasury yield to a four-year high of 2.92%.
Gold was trading higher, at $1352.26 per ounce, silver up at $16.81 per troy ounce and platinum trading at $999.78 per troy ounce.
Oil climbed on Saudi commitment to curb output by the OPEC-led deal to cut output by 1.8 million barrels per day, almost 2% of global supply. Brent Crude is currently trading at $63.70/bbl and WTI trading at $59.99/bbl.
Global Stocks
Global equity markets continued their recovery, ignoring the robust inflation figures out of the U.S. overnight. In Asian markets, Hong Kong's Hang Seng led the way up by 1.97%, with Japan's Nikkei up 1.47%, while markets in China, South Korea, Taiwan and Vietnam were closed for the Lunar New Year holiday.
European stocks followed suit, with better-than-expected earnings released by Airbus SE and Aegon driving markets. The DAX was higher by 1.22%, the CAC-40 by 1.10% and the FTSE by 0.39% at the time of writing.
Meanwhile, U.S. equities opened up sharply, as the Dow, the S&P 500 and Nasdaq tried to extend their winning streak to five days in a row.
Cryptocurrencies
Bitcoin eyes a key psychological level at $10,000, as the world's largest cryptocurrency is up 6.25% on the day, trading at $9,820 while, Ethereum, was down roughly 4.52% trading at $934.