The JSE struggled to maintain its momentum on Thursday as losses in rand hedges and miners weighed on the bourse.
Global markets were still reacting to the US Fed's decision to keep rates unchanged as well as the change in its tone from a hiking cycle. The Fed indicated a rather dovish tone on future rate hikes which saw the US dollar weaken significantly against a basket of major currencies. The rand was buoyant on the back of this dollar weakness as it rallied to a session high of R13.23 against the greenback. At 17.00 CAT, the rand was trading 0.32% firmer at R13.28/$.
Rand sensitives were supported by the firmer rand which saw retailers and financials recording gains on the day. Astral Foods [JSE:ARL] closed amongst the day's biggest gainers as it added 7.71% to close at R162.64, while coal miner, Exxaro Resources [JSE:EXX] also gained significant traction is it gained 6.16% to close at R153.93. Shoprite [JSE:SHP] recorded gains of 6.87% to close at R163.65, Truworths [JSE:TRU] added 3.35% to R80.10, and Mr Price [JSE:MRP] managed to post gains of 2.53% to end the day at R223.00. Anglo American Platinum [JSE:AMS] climbed 2.41% to close at R638.00, while Discovery Limited [JSE:DSY] closed 1.89% stronger at R159.22.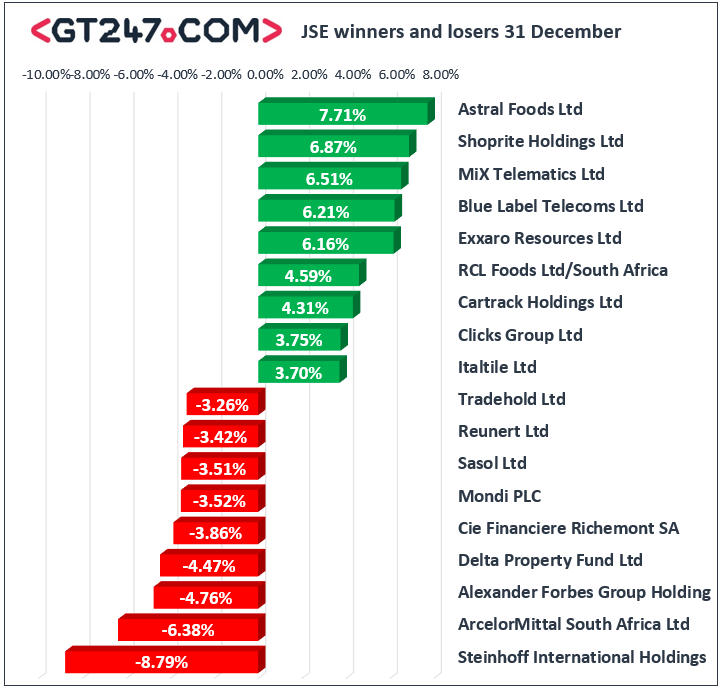 Of the day's losers, Steinhoff International [JSE:SNH] struggled as it lost 8.79% to close at R1.66, while Alexander Forbes Holdings [JSE:AFH] fell 4.76% to R4.60. Luxury goods retailer, Richemont [JSE:CFR] pulled back 3.86% to close at R90.81, oil and gas producer Sasol [JSE:SOL] closed 3.51% weaker at R400.42, and Mondi PLC [JSE:MNP] closed at R322.99 after dropping 3.52. Investec PLC [JSE:INP] also traded softer on the day as it pulled back 2.37% to end the day at R86.69, while BHP Group [JSE:BHP] lost 1.39% to close at R295.48.
The JSE All-Share index eventually closed flat as it shed 0.03% while the JSE Top-40 index lost 0.13%. The Resources index struggled in today's session as it lost 1.47%. The Industrials and Financials indices managed to post gains of 0.22% and 0.88% respectively.
At 17.00 CAT, Gold was up 0.24% to trade at $1323.03/Oz, Platinum had gained 0.82% to trade at $823.76/Oz, and Palladium was trading 1.12% firmer at $1378.49/Oz.
Brent crude traded mostly firmer on the day and it was trading 0.68% firmer at $62.07/barrel just after the JSE close.
At 17.00 CAT, Ethereum was down 3.06% at $107.36/coin, while Bitcoin was 0.83% weaker at $3499.00/coin.