The attempted rebound on the JSE fell just short as the index slipped into the red right before the close.
There was no rebound recorded for the major Asian benchmarks as the Nikkei tumbled 6.08%, while the Hang Seng and Shanghai Composite Index fell 1.14% and 1.41% respectively. The recovery had stronger momentum in Europe where equity benchmarks tracked higher on the day. The gains were mainly attributed to the measures being taken by governments and central banks to minimize the adverse impact of the economic stagnation being caused by the virus. US equity markets also opened sharply higher on the day as momentum from the equity futures surge was maintained.
The rand also staged a rebound as it peaked at a session high of R16.02/$. At 17.00 CAT, the rand was trading 1.96% lower at R16.20/$.
On the JSE, the volatility in Sasol [JSE:SOL] remained high as it traded as low as R38.50 and as high as R55.84 before settling 36.36% higher at R50.78. Diversified miner South32 [JSE:S32] rallied 13.85% to close at R18.82, while BHP Group [JSE:BHP] gained 4.6% to close at R213.29. Kumba Iron Ore [JSE:KIO] recorded gains of 5.32% to end the day at R235.44, while African Rainbow Minerals [JSE:ARI] surged 4.88% to close at R96.50. Sappi [JSE:SAP] added 7.08% to close at R26.00, while heavy-duty equipment maker Barloworld [JSE:BAW] closed at R81.71 after adding 4.13%. Gains were also recorded for Discovery Ltd [JSE:DSY] which added 5.03% to close at R97.35, Pick n Pay [JSE:PIK] rose 2.74% to close at R51.00, while Richemont [JSE:CFR] closed at R91.43 after adding 1.91%.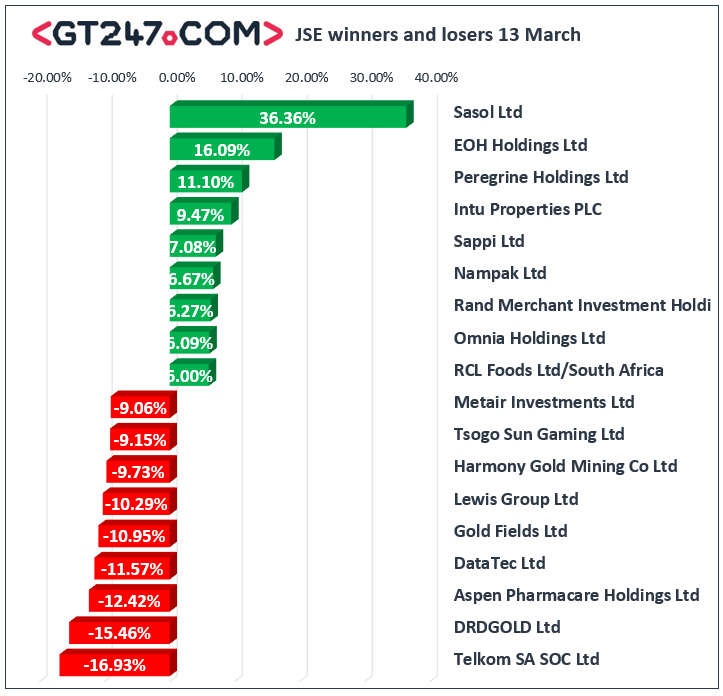 Telkom [JSE:TKG] closed amongst the day's biggest losers after it fell 16.93% to close at R19.43, Aspen Pharmacare [JSE:APN] fell sharply in the afternoon session to close 12.42% lower at R87.00. Gold miners had another tough session as losses were recorded for DRD Gold [JSE:DRD] which plummeted 15.46% to close at R7.60, while Gold Fields [JSE:GFI] slipped 10.95% to close at R79.50. Tsogo Sun Gaming [JSE:TSG] lost 9.15% as it closed at R7.25, while City Lodge Hotels [JSE:CLH] dropped 7.6% to close at R36.00. Losses were also recorded for Multichoice [JSE:MCG] which lost 3.68% to close at R77.76, Massmart [JSE:MSM] fell 3.28% to close at R34.54, and Naspers [JSE:NPN] closed at R2222.00 after losing 2.68%.
The JSE All-Share eventually closed 0.28% lower while the JSE Top-40 index shed 0.15%. The Resources index maintained its momentum as it closed 2.22% firmer, while the Industrials and Financials lost 1.37% and 0.57% respectively.
Brent crude was trading 2.11% higher at 33.90/barrel just after the JSE close as it also recovered with other global stocks.
At 17.00 CAT, Gold was 0.93% softer at $1563.12/Oz, Palladium had slumped 3.47% to trade at $1787.88/Oz, and Platinum was 0.2% weaker at $765.13/Oz.
---
Disclaimer:
Any opinions, news, research, reports, analyses, prices, or other information contained within this research is provided by GT247.com at GT247 (Pty) Ltd t/a GT247.com ("GT247.com") as general market commentary, and does not constitute investment advice for the purposes of the Financial Advisory and Intermediary Services Act, 2002. GT247.com does not warrant the correctness, accuracy, timeliness, reliability or completeness of any information which we receive from third party data providers. You must rely solely upon your own judgment in all aspects of your trading decisions and all trades are made at your own risk. GT247.com and any of its employees will not accept any liability for any direct or indirect loss or damage, including without limitation, any loss of profit, which may arise directly or indirectly from use of or reliance on the market commentary. The content contained within is subject to change at any time without notice.