The JSE pulled back on Monday as emerging markets came under pressure following Donald Trump's comments about Chinese and European currencies.
The US president made comments implying that China was artificially devaluing its currency to boost its exports in response to the current trade war between the two countries. This resulted in the US dollar advancing following the significant weakness recorded towards the end of last week. The US dollar index rebounded to reach a session high of 94.607 index points.
Locally, the rand slipped to a session low of R13.57 against the greenback as a broad-based emerging market currency sell-off ensued. The rand recovered marginally to trade at R13.49/$ at 17.00 CAT.
Naspers [JSE:NPN] fell after its Hang Seng listed associate, Tencent Holdings, closed 1.49% weaker. Subsequently, Naspers traded under pressure and it dragged the All-Share index with it. The share lost 1.68% to close at R3370.20 per share. Healthcare stocks, Life Healthcare [JSE:LHC] and Mediclinic [JSE:MEI] lost 2.31% and 2.85%, to close at R24.12 and R90.66 per share respectively.
Vodacom [JSE:VOD] slowed down to R128.86 after shedding 1.87%, whilst its industry peer, MTN Group [JSE:MTN] lost 2.46% to close at R104.90 per share. On the broader index, Steinhoff International [JSE:SNH] slipped by 14.24% to close at R2.77 per share, while BlueTel Communications [JSE:BLU] pulled back to R8.45 after shedding 6.94%. PPC Limited [JSE:PPC] traded under pressure to end the day down 4.12% at R6.82 per share.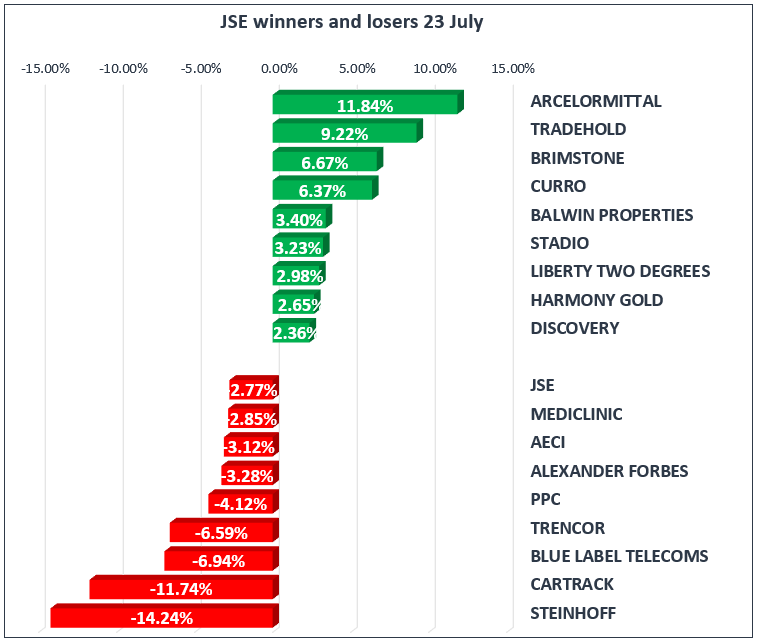 Gains were limited on the blue-chip index were Discovery Limited [JSE:DSY] managed to add 2.36% to close at R162.00, while Old Mutual [JSE:OMU] strengthened by 2.13% to close at R28.50 per share. Listed property stock, NEPI Rockcastle [JSE:NRP] closed 1.47% firmer at R118.02, while Capitec Holdings [JSE:CPI] closed at R957.40 after adding 0.87%.
On the broader index, ArcelorMittal [JSE:ACL] jumped 12.83% to end the day at R3.43, and Curro Holdings [JSE:COH] added 6.37% to close at R31.39 per share. Balwin Properties [JSE:BWN] gained 3.4% to close at R4.86 per share while Stadio Holdings [JSE:SDO] clawed to R4.15 after adding 3.23%. Harmony Gold [JSE:HAR] was lifted by the release of a positive guidance in their operational update which saw the stock close at R21.66 after adding 2.65%.
The JSE All-Share index eventually closed 0.76% weaker while the JSE Top-40 index lost 0.83%. The Resources index barely managed to close positive after only adding 0.03%. The Industrials and Financials indices lost 1.29% and 0.35% respectively.
Gold pulled back towards the JSE close despite recording gains earlier on. The precious metal was trading near its sessions lows at 17.00 CAT, to be recorded at $1224.82/Oz. Platinum was trading 0.08% weaker at $827.97/Oz and Palladium was trading 1.61% firmer at $909.20/Oz.
Following a slow start, brent crude inched higher to reach a session high of $74.50/barrel. It retraced to trade at $73.57/barrel just after the JSE close.
At 17.00 CAT, Ethereum was down 1.84% to trade at $461.53/coin, while Bitcoin was 2.11% firmer at $7704.00/coin.