The JSE eased on Thursday following a relatively muted trading session compared to the previous 3 trading sessions.
Trading on the local bourse was choppy ahead of the quarterly JSE futures close-out. There was disappointment in terms of economic data following the release of current account data by the South African reserve bank. The current account deficit as a percentage of GDP widened to 4.8% which was worse than the forecasted deficit of 3.9%.
The Rand traded softer as a result of this data which saw it slide to a session low of R13.78/$. This was also compounded by the US dollar which extended its gains as indicated by the US dollar index which peaked to a session high of 95.52 index points. The Rand recovered marginally to trade at R13.63/$ at 17.00 CAT.
Brait [JSE:BTI] which has been trading under pressure recently, jumped by 6.87% to close the day at R42.80 per share. ArcelorMittal [JSE:ACL] firmed by 3.2% to close at R2.58 per share whilst Dis-Chem [JSE:DCP] broke its recent downtrend to close the day up 2.32% at R26.25 per share. Clicks [JSE:CLS] closed at R202.15 per share after adding 1.13%.
Blue chips such as Tiger Brands [JSE:TBS] inched up 2.17% to close at R330.00 per share, and Bid Corporation [JSE:BID] was 2.33% firmer at R275.00 per share. Barclays Africa [JSE:BGA] and FirstRand [JSE:FSR] closed 1.97% and 1.44% firmer respectively.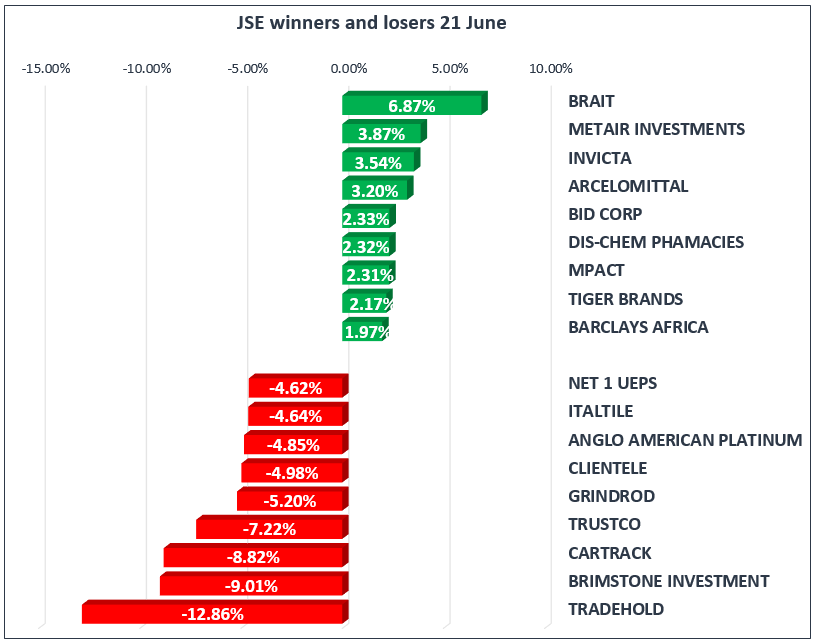 Vodacom [JSE:VOD] continued to slide as it lost another 3.6% to close at R123.15 per share. Shoprite [JSE:SHP] was 1.84% softer at R223.00 per share, while Woolworths [JSE:WHL] eased to R54.52 per share after dropping 0.93%. Index heavyweights, Naspers [JSE:NPN] and Richemont [JSE:CFR] lost 2.22% and 1.21%, to close at R3273.68 and R120.34 per share respectively.
The blue chip JSE Top-40 index eventually closed 0.74% weaker, whilst the broader JSE All-Share index also lost 0.74%. Financials were the only index to close positive after adding 0.23%. The industrials and Resources indices lost 1.17% and 0.6% respectively.
Gold slipped to a session low of $1261.50/Oz as the US dollar gained. However, it recovered to trade at $1266.87/Oz at 17.00 CAT, down 0.06% for the day. Platinum was down 0.59% at $865.21/Oz and Palladium was 0.69% weaker at $958.99/Oz.
Brent crude slipped by over 1% in today's session following its rally overnight due to a draw in US inventories. It was trading 1.36% weaker at $73.72/barrel just after the JSE close.
At 17.00 CAT Ethereum was trading 1.67% softer at $528.85/coin while Bitcoin was trading at $6721.50/coin, down 0.46% for the day.