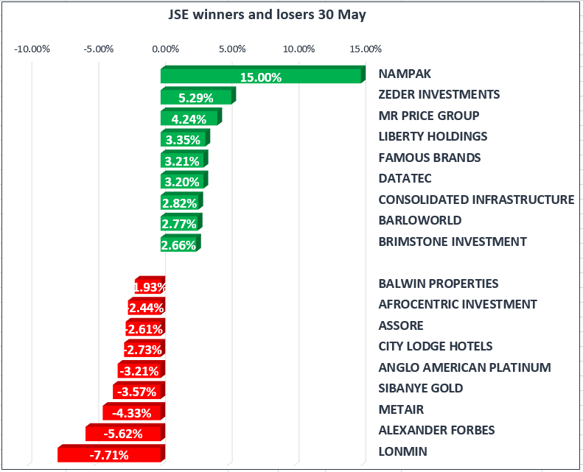 Markets edge higher as Rand loses ground
The JSE had an improved trading session on Tuesday as American and British markets were back online today, following respective holidays yesterday.
The Rand weakened 1.53% and closed the trading session at R13.27 to the greenback, the weakness follows on from yesterday after President Jacob Zuma defeated another call from inside the ruling party for him to step down. Zuma is facing mounting pressure amid allegations of corruption and following his move to axe respected, former, finance minister Pravin Gordhan in March, which triggered several credit rating downgrades.
The All Share Index closed 0.40% higher, followed by the blue-chip Top 40 which edged 0.35% higher. The market was drawn higher by resources firming 0.75%, Industrials 0.37% and Financials 0.28%. Gold Miners fell 0.8% as the price of the precious metal dropped 0.35% to $1262/Oz
Mr Price [JSE:MRP] emerged as the winner on the Top 40 gaining 3.57% and closing at R151.31 despite posting a 12% drop in earnings, the first annual profit decline in 16 years. Mr Price management have put on a brave face and have maintained a final dividend of R6.67, which has boosted the share price by R6.20 on Tuesday.
Mr Price has fallen from a high of R241 a share seen in August 2016, and has faced increasing competition in the apparel sector from foreign competition, with the likes of Cotton On, Zara, and H&M entering the South Africa market.
Nampak [JSE:NPK] share rocketed 15% to R21.85, a level last seen in August 2016, despite cutting its dividend after reporting an 8% rise in half-year earnings. The company did not declare an interim dividend, repeating 2016 strategy to focus efforts on conserving cash. The company has engaged in restructuring non-core operations and selling non-performing assets.
According to Andre de Ruyter, CEO of Nampak, the gains in earnings can be attributed to record beverage can sales in Angola, improved results from Bevcan SA and Liquid Packaging in South Africa, and a turnaround of general metal packaging in Nigeria, with Nampak seeking to repatriate $54 million from Nigeria.
The Euro slipped to $1.1108 against the Dollar and is eyeing a fourth straight day of declines as comments from Mario Draghi kept the currency under pressure. The ECB president signalled the central bank is not yet ready to unwind its fiscal stimulus, despite better economic growth across the eurozone, and is "firmly convinced" the bank should stick with its support measures, including €60B of monthly bond purchases.

Martin Harris |
Trading Specialist at
GT247.com
Want to trade CFD Equities on the most affordable online South African trading platform?