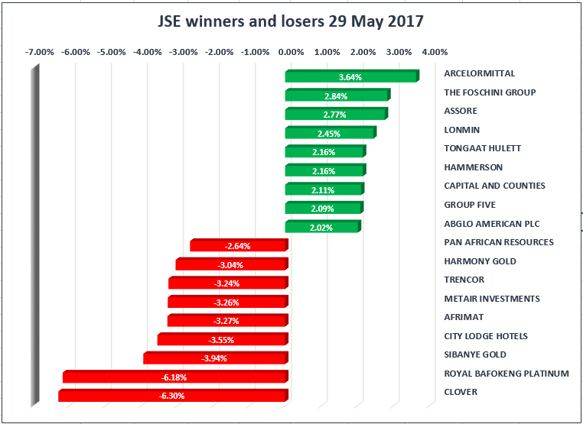 Top 40 closes flat after muted trading session
Trading on the local bourse remained subdued on Monday as there was light volume traded on the JSE as investors awaited the outcome of the ANC's NEC meeting.
President Jacob Zuma survived another challenge to his leadership, and reportedly expressed that he would not step down.
The Rand weakened over 0.87% and closed the trading session at R12.96 to the US dollar. The rand's movements have been volatile in recent days; the local currency has been particularly strong in the past week mostly on international factors including dollar weakness, and an international search for yield. Recent developments in domestic factors have forced some weakness, and markets are awaiting the outcome of Moody's credit ratings announcement.
Markets were particularly dull today, with thin volumes traded due to public holidays in the UK, US and China.
On the JSE, the All Share closed 0.10% lower, followed by the blue-chip Top40 which closed flat. Markets were pulled down by Financials -0.62%, Gold miners -1.37%, and Industrials -0.14%. Resources gained 0.70% on Monday
The big loser of the day went to Clover [JSE:CLR] closing at R16.35, down 6.3% after releasing a disappointing trading statement that reveals the impact of the prolonged drought suffered last year. Headline earnings per share is expected to be between 50% and 65% lower than that reported in June 2016.
President Donald Trump attacked media on Sunday, following reports that his son-in-law attempted to set up a secret channel of communication with Moscow before Trump took office. The White House faces mounting questions about potential ties between Russia and Trump's presidential campaign, which are also the subject of criminal and congressional investigations.
Gold edged higher on Monday, and traded at $1267 at the close of the JSE. The precious metal shrugged off the latest missile test by North Korea and drifted sideways as large international markets shut for holidays.
Last week the price of gold rose to a one month high, following reports that the U.S. economy grew faster than initial reports with the unemployment rate at 4,5%, however real GDP growth slowed in the first quarter on the back of transitory factors.
Want to trade CFD Equities on the most affordable online South African trading platform?