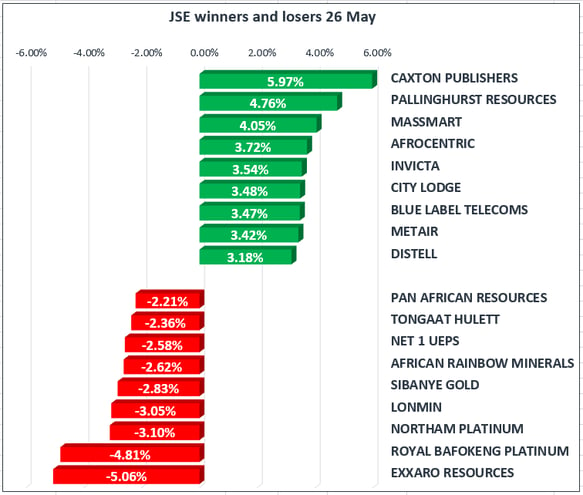 Equities softer as investors await ANC NEC meeting outcome
The downward momentum on the local market continued today, as the All-Share Index closed softer on the day and the week.
Focus now shifts to the ANC NEC meeting taking place over the course of this weekend. The interest rises from news that emanated on Wednesday, that the NEC would raise the topic of the no confidence motion which opposition parties intend to raise in parliament. It is prudent to expect some volatility in the Rand regardless of the outcome of the meeting.
Most of the indices on our local exchange closed in the red in today's trading. The JSE blue-chip Top 40 index was down 0.08%, with the All-Share Index finishing slightly lower at 0.06%. Financials traded fairly mixed during the day and eventually closed down 0.54%, as the Rand was caught in volatile trade against a basket of major currencies. The Resources index closed in negative territory despite firmer commodity prices, the index closed down 1.06%, the biggest contributor being the Platinum index which was down 1.81%. Industrials tracked higher to close 0.48% firmer, mainly led by Naspers which closed up 0.46%.
Commodities traded firmer on the day, as safe haven demand for Gold in particular saw it rally to highs of $1267.25 per ounce, a level last traded on the 1st of May. Platinum followed suit and managed to significantly break the psychological barrier of $950 per pounce, to trade at $962.82 per ounce at the JSE close.
Brent Crude stabilised in today's trading after a sharp sell-off in the overnight trading session. At the JSE close, the commodity was trading at $51.50, just a touch firmer from its opening price. With the OPEC meeting done, it will be key to see how the commodity performs in the next few trading sessions.
The US released quarter-on-quarter GDP data which beat analysts' estimates. It was recorded at 1.2% on the back of an estimate of 0.9%. As a result, we saw the US Dollar strengthen further as recorded by the move higher in the US Dollar index. Durable Goods Orders data beat estimates as well, coming in at -0.7% against a forecast of -1.7%. This also contributed to the strength recorded in the US Dollar.
Want to trade CFD Equities on the most affordable online South African trading platform?