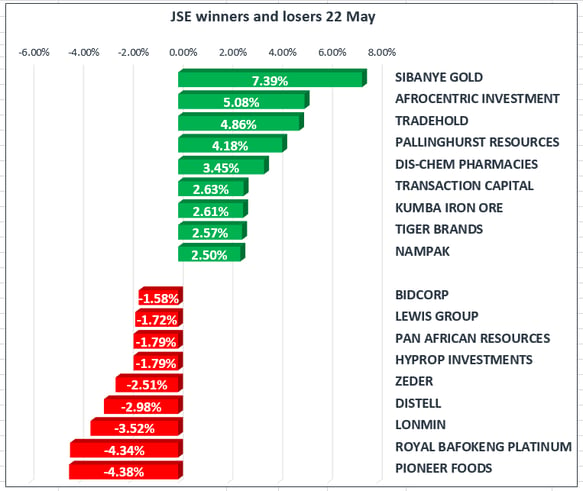 JSE Flat after firm start
The local market opened the week firmer, with the ALSI futures reaching year to date highs of 48520 points as the previous weeks momentum carried the local index higher. The Rand firmed relative to the greenback in Monday's trading session.
The JSE blue-chip top 40 index closed up 0.09%, with the JSE All Share Index closing the day up 0.16%. Industrials led by Naspers, were up 0.42% on the day, whilst Financials were closed 0.09% lower despite the relatively firmer Rand. Resources closed the day 0.50% lower despite modest gains in the underlying commodity prices.
Locally, Pioneer Food Group released a rather disappointing set of half-year results. The results indicated a decrease in earnings of 56%, earnings per share & headline earnings per share also decreased by 56%. The stock traded lower on the day as a result, and closed 4.38% lower. Naspers continued to rally mainly due to the impressive run that their Hong Kong listed associate, Tencent Holdings, had in today's trading. Tencent Holdings closed the day up 2.61%, subsequently Naspers closed the day up 0.9%. Rand hedges were mostly lower for the day on the back of firmer Rand. Richemont closed the day 0.185 lower, Sappi was down 0.43%, Mondi Ltd and Mondi Plc were down 0.46% & 0.57%, and Steinhoff ended the day 0.93% lower. However General Retailers traded higher on the day closing the day 0.91% firmer.
The US Dollar index weakened further in today's trading, reaching lows of 96.79 during the day. The German Chancellor, Angela Merkel, said the weak Euro was behind her country's huge trade surplus, and as a result the Euro soared, resultantly the US Dollar weakened. The US Dollar still hasn't recovered from the plunge it took after the dismissal of former FBI director, James Comey.
Gold was trading slightly firmer today, continuing from the bounce that we saw off its 200-day moving average on Friday. This was mainly due to the weakness that we have seen in the US Dollar which has increased demand for safe-haven assets like Gold. At the close, Gold was trading at $1260.45, up just over $8 on the day. Platinum also recorded some gains on the day to trade at $944 when the JSE closed.
Brent Crude continued its rally from the previous week, managing to reach intra-day highs of $54.37 per barrel. This was after Saudi Arabia's energy minister mentioned that all the producers participating in the production cut had agreed to prolong their initial deal into the first quarter of 2018. OPEC has failed to keep global stockpiles low mainly due to a subsequent increase in supply from shale gas producers after the initial output cuts.
Want to trade CFD Equities on the most affordable online South African trading platform?