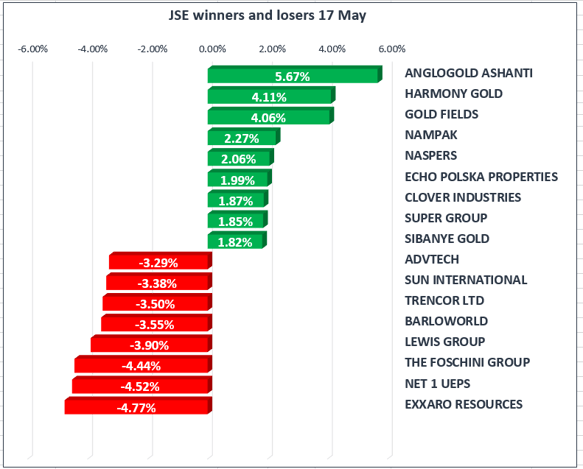 JSE slips amid poor global market outlook
The JSE joined weaker global markets and closed in the red. A rebound in gold miners supported the local market which slipped only marginally lower. Gold stocks outperformed the rest of the market after a rally in the price of gold amid political risk associated to President Donald Trump.
The Rand slipped 0.81% to R31.18 to the greenback, boosting local gold miners as well as industrial stocks. Naspers [JSE:NPN] rallied to a new all-time high before closing at R2684.04 per share.
The All share index closed 0.04% lower, whilst the blue-chip Top 40 Index firmed 0.16% thanks to Naspers trading 2.06% higher. The gold miners index led the winners, closing 4.32% higher, followed by resources 0.46% and Industrials 0.23%. Financials dragged down the index, and closed 1.02% lower, as banks slipped 1.76%
Local retail sales data released on Wednesday surprised to the upside, but the growth rate remained weak. Annual retail sales grew marginally by 0.8% in March, following two months of contractions, defying market forecasts for a 0.7% decline.
The increase was linked to higher sales in the 'food,beverages and tobacco' category, which rose by 14.8% year-on-year. Runners up included 'Household furniture & appliances' which grew by 8.2% while 'Pharmaceuticals and medical goods, cosmetics and toiletries' grew by 7.2%.
Downward pressure came from 'general dealers' and 'textiles, clothing, footwear and leather goods' dropping 5.6%.
The announcement saw an immediate boost in local retailers, however it was not enough to keep the general retailer's index dropped 1.89% amid weak consumer outlook.
Concern that President Trump's reform agenda could be slowed down is weighing on markets, with traders worried that political noise will morph into economic risk. Fears of obstruction of justice charges, with regards to former FBI director James Comey, and the possible discussion of classified information with Russia are in the spotlight. Along with a sagging dollar, The S&P 500 was down 1.08% at the close of the JSE.
The U.S. dollar index, which measures the greenback's strength against a trade-weighted basket of six major currencies, weakened for a sixth straight day, falling around 0.5% to 97.65 after the close of local markets.
Gold rallied 1.7% to $1257/Oz on the back of the political turmoil involving President Trump, after media reports accuse Trump of disclosing sensitive intelligence with Russia's foreign minister about ISIS operations.
Brent Crude remains firm, trading 1.39% higher at $52.37/bbl, as OPEC agree to extend production cuts into 2018.
Inflation in the Eurozone rebounded to 1.9% in April, in line with the ECB's target of close to, but below, 2% inflation. Higher transport, package holiday and heating oil costs were the biggest drivers of the increase. The euro ticked higher against the dollar following the figures, with the currency climbing above $1.11, its highest level since November 2016.
Unlike South Africa, Australia have kept their AAA credit rating intact - as the last of the three major agencies reaffirmed the nation's tip top investment status following last week's release of the federal budget. S&P's decision had been eagerly anticipated in financial markets, because it is the only agency to have Australia on a negative watch - meaning it sees a possible downgrade over the next couple of years.