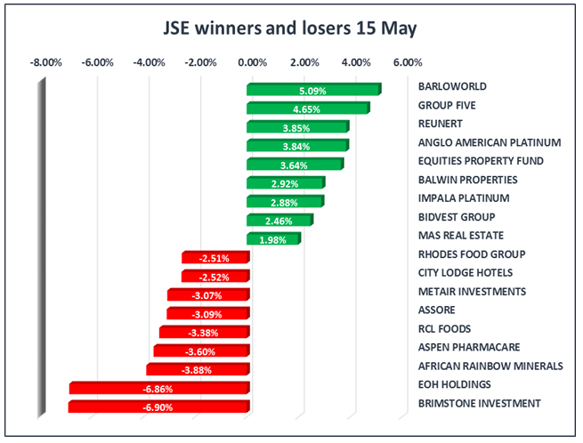 15th May 2017, JSE CLOSES FLAT AFTER GOLD MINERS SHED EARLIER GAINS
The JSE All Share Index ended the day relatively flat as gold stocks shed earlier gains, closing the day lower.
The JSE All Share Index ended the day 0.09% higher, the top 40 was up 0.01%, and surprisingly enough, Financials were down 0.17% despite the firmer Rand. Resources, in particular the Gold index, closed down 1.06%, with the overall Resources index closing up 0.74%, mainly due to platinum miners. Industrials closed the day down 0.18%.
The USD/ZAR traded firmer on the day reaching intra-day highs of R13.15. This was mainly on the back of the weaker US Dollar, which saw the US Dollar Index reaching lows of 98.78 before a very minor retracement to trade at 98.89 at JSE close.
Gold miners reversed earlier gains going into the close which saw the Gold index closing 1.06% lower. DRD Gold closed 2.74% lower, Anglogold Ashanti was down 1.50% & Sibanye Gold 1.50% lower.
The big story locally, was the announcement by Aspen Pharmacare [JSE: APN] confirming proceedings by the European Commission to investigate certain actions by the firm and some of its European subsidiaries. As a result the stock traded lower during the day and eventually closed down 3.60%. Netcare also traded significantly lower after the release of a fairly poor set of results which indicated a decrease in both group revenue and adjusted headline earnings per share. The stock was down 1.81% at close. On the gainers, Bidvest closed up 2.46%, whilst Vodacom & Sappi closed up 0.24% & 0.74% respectively, on the back of descent earnings results released today.
Gold benefitted from the weaker US Dollar, managing to reach intra-day highs of $1237.40/ounce, before trading at $1234.20/ounce at the JSE close. Brent Crude also jumped as information emerged that Saudi Arabia & Russia are in favour of a long-term production cut deal that could extend into 2018. Brent Crude reached an intra-day high of $52.63/bbl before retracing slightly to trade at $52.17 when the JSE closed. Platinum was also up just over $13 on the day, and was trading at $935.73 at JSE close. Given the consecutive weeks of pressure on commodity prices, the minor relief should work well for commodity producers.
Industrial Production data from China came in at 6.5%, which missed estimates of 7.0%. Retail Sales data from the same country also missed estimates slightly, coming in at 10.7% on the back of a 10.8% forecast. Decreasing industrial production from China, the world's biggest commodity consumer, is a worrying signal for commodity producers globally. This could put pressure on commodity prices if the slump is protracted.
From the US, the main significant set of data was the Empire State Manufacturing Index which was recorded at -1.0, against an estimate of 7.5.