The JSE advanced on Thursday despite a slow start which saw it briefly trade in the red.
Trading on the local bourse was very similar to the price action recorded on Wednesday which saw the All-Share index reverse earlier losses to close the day firmer. The JSE got off to a weaker start after a mixed trading session in Asian markets which saw the Shanghai Composite Index drop 1.03% and the Hang Seng gain 0.5%.
In terms of economic data, South Africa's PPI YoY for May hiked to 4.6% from a prior recording of 4.4%, while MoM it slowed down to 0.7% from a prior level of 1.0%. More focus was on US GDP data which was released this afternoon at 2.30pm. The US economy grew by 2.0% annualized QoQ which missed most analysts' consensus estimate of 2.2%. This resulted in the US dollar retreating from its session highs after trading significantly firmer earlier on.
The Rand weakened significantly to reach a session low of R13.99 against the greenback as the US dollar strengthened. However, at 17.00 CAT the Rand was trading 0.21% softer at R13.86/$.
On the JSE, EOH Holdings [JSE:EOH] ended amongst the day's top gainers yet again after adding 8.97% to close at R29.75 per share. British American Tobacco [JSE:BTI] advanced 4.98% to close at R691.03 while Grindrod [JSE:GND] was 3.35% firmer at R9.25.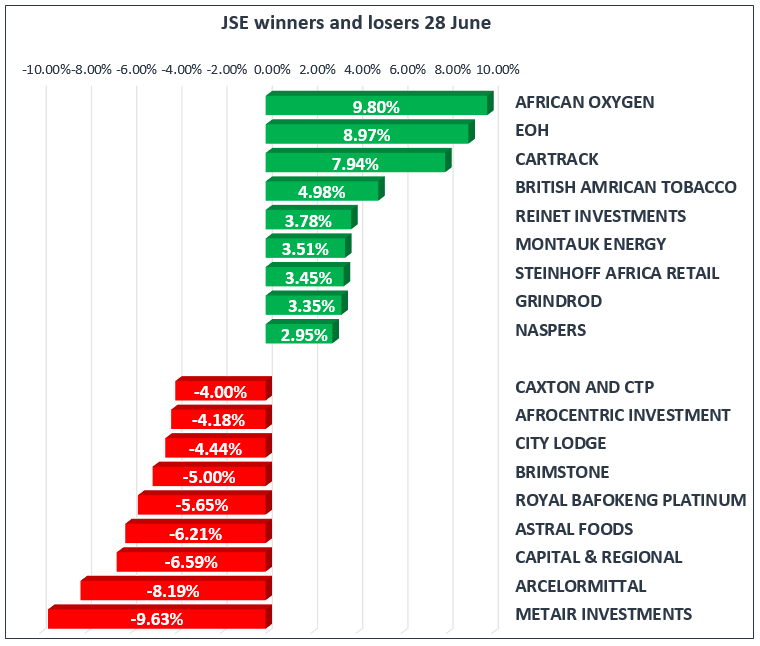 Retailer, Massmart [JSE:MSM] added 2.23% to close at R110.77, and oil and gas producer, Sasol [JSE:SOL], managed to add 2.43% to close at R484.86. Fortress B [JSE:FFB] closed at R14.51 after adding 1.9% while index heavyweight Naspers [JSE:NPN] firmed by 2.95% to close at R3271.82 per share.
Trustco Group [JSE:TTO] shed 0.82% to end the day at R10.90 as the share traded under pressure due to the trading statement released yesterday. Royal Bafokeng Platinum [JSE:RBP] lost 5.65% to close at R19.89 per share whilst Impala Platinum closed at R19.04 after dropping 3.25%. Construction firm, WBHO [JSE:WBO] eased to R149.20 after shedding 2.71%, and the new Old Mutual [JSE:OMU] listing lost 0.56% to close at R28.25 per share.
The JSE All-Share index eventually closed the day up 0.77% whilst the JSE Top-40 index gained 0.91%. All the major indices managed to close in the green with the biggest gainer being the Industrials index which gained 1.03%. The Resources and the Financials indices gained 0.32% and 0.84% respectively.
Brent crude tracked higher as supply concerns arose due to the disruption of supply through Libyan ports as well as the big draw recorded in US stockpiles data released on Wednesday. The commodity advanced to a session high of $78.29/barrel before being recorded at $78.11/barrel just after the JSE close.
At 17.00 CAT Gold was 0.15% weaker at $1249.93/Oz, Platinum was 1.31% weaker at $846.38/Oz and Palladium was 1.59% softer at $937.18/Oz.
Ethereum was 1.11% firmer at $436.68/coin and Bitcoin was 0.1% softer at $6114.10/coin.