The JSE traded mostly flat on Friday as it struggled to gain significant momentum following a tough trading session in Asia.
The Nikkei fell 1.13% while the Hang Seng and Shanghai Composite Index lost 1.87% and 1.86% respectively. European equities bared no brunt from the Asian trading session as all the major bourses advanced on the back of progress in the US-China trade talks.
On the JSE, EOH Holdings [JSE:EOH] was one of the day's biggest gainers after the stock rallied 15.23% to close at R19.60. The stock has come under significant pressure this week after the news of Microsoft terminating a contract with one of its subsidiaries earlier this week. Blue Label Telecoms [JSE:BLU] advanced 8.14% to close at R4.65, while Curro Holdings [JSE:COH] managed to firm by 3.11% to end the day at R26.50. Retailers advanced on the back of minor strength in the rand which saw stocks such as Massmart [JSE:MSM] gain 2.03% to close at R91.32, while Shoprite [JSE:SHP] added 2.26% to close at R161.34. Anglo American Platinum [JSE:AMS] firmed by 4.65% to close at R690.91, while BHP Group [JSE:BHP] climbed 1.08% to close at R324.27.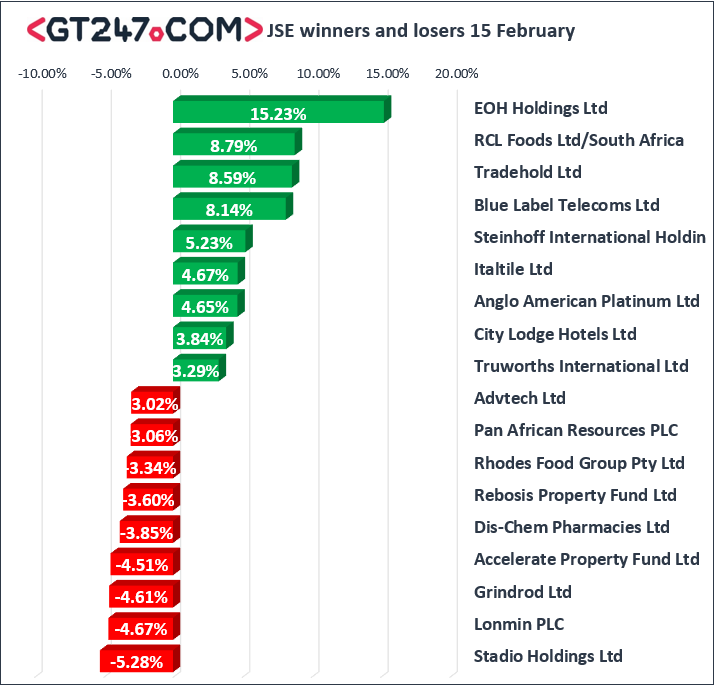 Discovery Ltd [JSE:DSY] closed weaker following the release of its trading update which highlighted a decrease in earnings due to expenditure on the launch of their bank. The stock closed the day 1.57% lower at R142.72. Gold Fields [JSE:GFI] released its full-year results which flagged a decrease in cash flow from operating activities and a bigger loss per share. The stock ended the day down 0.17% at R52.48. Harmony Gold [JSE:HAR] dropped 2.97% to close at R27.49, while Sibanye Stillwater [JSE:SGL] lost 2.66% to close at R14.26.
The JSE All-Share index eventually closed 0.24% firmer, while the JSE Top-40 index gained 0.2%. The Resources index rallied 1.12%, while the Industrials index was unchanged. The Financials index closed 0.16% weaker.
The rand firmed marginally against the US dollar as it peaked at a session high of R14.04/$. At 17.00 CAT, the rand was trading 0.07% firmer at R14.11/$.
Brent crude surged to a session high of $65.84/barrel before it retraced to trade 1.72% firmer at $65.68/barrel just after the JSE close.
At 17.00 CAT, Gold was up 0.32% at $1316.74/Oz, Platinum had gained 0.6% to trade at $792.64/Oz, and Palladium was up 1.06% at $1433.60/Oz.
Bitcoin was flat to trade at $3659.50/coin, and Ethereum was up 0.27% at $123.71/coin.