Local stocks plummeted on Thursday on the back of broad-based losses amongst global markets due to concerns over the spread of the virus which emanated in China.
With one case having been reported in the USA, there are concerns that the virus could have an impact on the movement of consumer goods, and which will subsequently have an impact on economic growth. Stocks on the Shanghai slumped which saw the benchmark Shanghai Composite Index fall 3.1% while in Hong Kong, the Hang Seng lost 1.52%. The Japanese Nikkei lost 0.98%. Losses in Europe were more moderate, but the main indices still tracked lower nonetheless. US equity market opened sharply lower as market participants shifted their focus from earnings releases.
The rand had a volatile session as managed to strengthen in earlier trading to a session high of R14.27/$, before it erased all gains in the afternoon session to reach a session low of R14.41/$. At 17.00 CAT, the rand was trading 0.53% weaker at R14.40/$.
On the JSE, Kumba Iron Ore [JSE:KIO] traded under considerable pressure following the release of a production and sales report for the last trading quarter, as well as a trading statement. The stock eventually closed 1.26% weaker at R412.75. Sappi [JSE:SAP] struggled on the day as it closed 5.73% lower while its industry peer Nampak [JSE:NPK] lost 4.54% to close at R5.05. Clicks [JSE:CLS] was buoyed by the release of trading update for the 20 weeks ended 12 January which showed a healthy increase in sales. The stock eventually closed 4.05% lower at R254.76. Anglo American Platinum [JSE:AMS] lost 3.76% to close at R1200.00 despite reporting decent production volumes in its 4th quarter production update. Northam Platinum [JSE:NHM] also came under pressure as it lost 4.95% to close at R124.99, while Anglo American PLC [JSE:AGL] closed at R401.43 after losing 3.06%.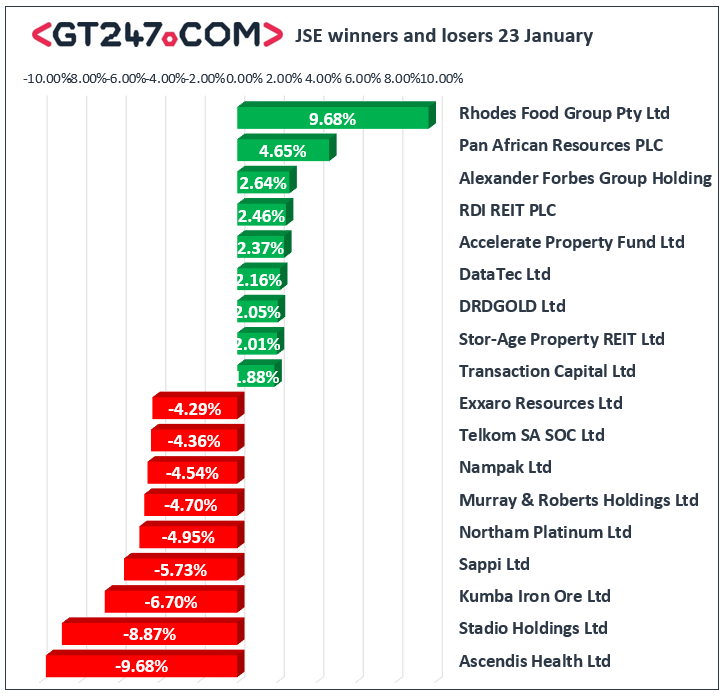 Rhodes Food Group [JSE:RFG] closed as one of the day's biggest gainers after the stock surged 9.68% to close at R17.00. Pan African Resources [JSE:PAN] rallied 4.65% to close at R2.25, while DRD Gold [JSE:DRD] gained 2.05% to close at R8.98. Shoprite [JSE:SHP] advanced 1.71% to close at R120.10 while Reinet Investments [JSE:RNI] added 1.27% to close at R297.07. Gains were also recorded for Transaction Capital [JSE:TCP] which gained 1.88% to close at R24.45, RDI REIT [JSE:RPL] which added 2.46% to close at R25.00, and Tsogo Sun Hotels [JSE:TGO] which closed at R3.91 after gaining 1.03%.
The JSE Top-40 index closed 1.85% weaker while the broader JSE All-Share index lost 1.77%. All the major indices recorded losses on the day. Financials lost 0.88%, Industrials fell 1.71% while Resources plummeted 2.57%.
At 17.00 CAT, Gold was up 0.29% at $1563.12/Oz, Platinum was down 0.19% at $1009.89/Oz, and Palladium had tumbled 2.61% to trade at $2407.50/Oz.
Brent crude fell on the back of the virus concerns in today's session as it was recorded trading 2.91% lower at $61.37/barrel just after the JSE close.
---
Disclaimer:
Any opinions, news, research, reports, analyses, prices, or other information contained within this research is provided by GT247.com at GT247 (Pty) Ltd t/a GT247.com ("GT247.com") as general market commentary, and does not constitute investment advice for the purposes of the Financial Advisory and Intermediary Services Act, 2002. GT247.com does not warrant the correctness, accuracy, timeliness, reliability or completeness of any information which we receive from third party data providers. You must rely solely upon your own judgment in all aspects of your trading decisions and all trades are made at your own risk. GT247.com and any of its employees will not accept any liability for any direct or indirect loss or damage, including without limitation, any loss of profit, which may arise directly or indirectly from use of or reliance on the market commentary. The content contained within is subject to change at any time without notice.