Local stocks advanced on Friday as blue-chips led the gains mainly on the back of positive sentiment from Asia and Europe.
With President Donald Trump scheduled to meet a high-level negotiation team from China later on Friday, markets are upbeat that a deal will be reached before the March 1st deadline for tariff escalations. The Shanghai Composite Index closed 2.25% higher while the Hang Seng managed to add 0.65%. The Japanese Nikkei was weaker as it shed 0.18%. In Europe, all the major equity bourses were trading in the green.
Retailers sparked in today's session which saw Truworths [JSE:TRU] gain 5.44% to end the day at R76.02, Mr Price [JSE:MRP] added 3.13% to close at R218.00, and The Foschini Group [JSE:TFG] closed 2.75% higher at R168.00. Pan African Resources [JSE:PAN] was also buoyant as it picked up 4.44% at R1.88, while Clicks [JSE:CLS] firmed by 3.98% to close at R184.51. Telecoms provider, Blue Label Telecoms [JSE:BLU] managed to close 3.81% firmer at R5.45, while Vodacom [JSE:VOD] closed at R119.89 after adding 3.25%. Diversified miner, Anglo American PLC [JSE:AGL] closed 1.84% stronger at R373.70., and its sector peer BHP Group [JSE:BHP] added 1.66% to close at R331.82.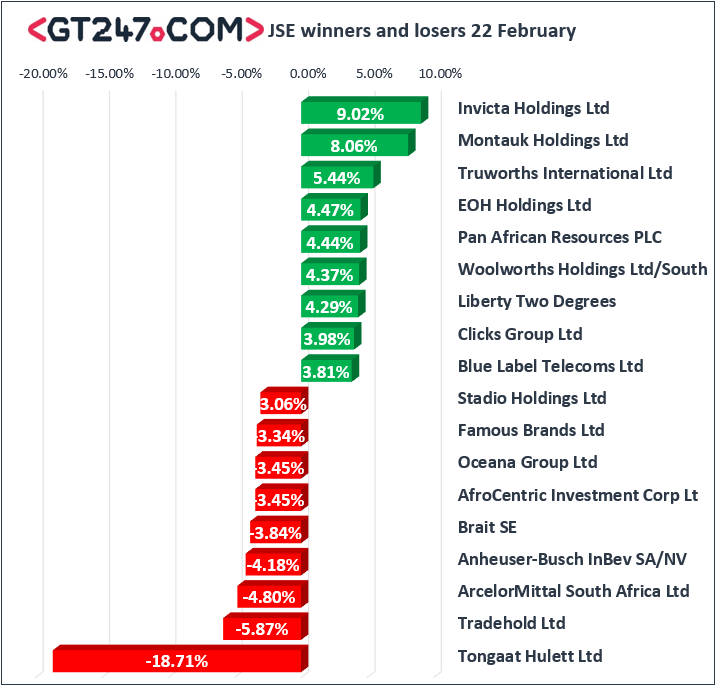 Tongaat Hulett [JSE:TON] plummeted following the release of a trading statement indicating that the company was expecting its headlines earnings to decrease by at 250% compared to the prior period. The stock lost 18.71% to close at R37.80. Northam Platinum [JSE:NHM] retreated as it reported a smaller loss in its half-year results compared to the prior corresponding period. The miner lost 0.58% to end the day at R51.85. Most of the miners also traded softer on the day which saw AngloGold Ashanti [JSE:ANG] close at R207.07 after dropping 3.02%, Gold Fields [JSE:GFI] dropped 0.92% to close at R57.27, and Sibanye Stillwater [JSE:SGL] added lost 0.33% to close at R15.00.
The JSE All-Share index held on to its gains to close 1.08% higher, while the JSE Top-40 index also managed to gain 1.08%. All the major indices recorded gains on the day with the biggest climber being the Industrials index which added 1.42%. The Resources and Financials indices gained 0.99% and 0.41% respectively.
The rand was trading mostly firmer on the day as it peaked at a session high of R13.95/$. At 17.00 CAT, it had retraced to trade 0.22% firmer at R13.99/$.
Brent crude resumed its surge as it rallied to a peak at a session high of $67.73/barrel. It pulled back marginally to trade 0.57% firmer at $67.45/barrel just after the JSE close.
At 17.00 CAT, Palladium was up 0.72% to trade at $1484.34, Gold was 0.42% firmer at $1329.18, and Platinum had gained 1.87% to trade at $838.57.
Bitcoin was up 1.25% at $4057.80/coin, and Ethereum was trading 2.36% firmer at $150.69.