Trading on the JSE got off to a lukewarm start as the local bourse traded mostly flat on Monday.
Global markets retreated as investors shifted their focus to corporate earnings from China and the USA. Some of the USA's biggest banks are expected to release their earnings towards the end of the week, which could potentially set the market tone for the next couple of weeks. Sentiment in today's session was further hampered by the downgrading of General Electric's rating by JP Morgan which saw the stock tumble.

The US dollar pulled back in today's session as it broke below 97 points on the US dollar index to reach a session low of 96.982 points. This supported the rand which managed to post gains after starting the day on the back foot. The rand reached a session high of R14.06/$ before it retreated to trade 0.11% weaker at R14.12/$ at 17.00 CAT.
On the JSE, the Resources index recorded the most of the day's biggest gainers. Harmony Gold [JSE:HAR] had a significant rally as it climbed 7.5% to end the day at R28.37, while Anglo American Platinum [JSE:AMS] rallied 5.02% to close at R835.00. Kumba Iron Ore [JSE:KIO] rose 5.76% to R468.94, Anglo American PLC [JSE:AGL] added 1.28% to R404.78, and BHP Group [JSE:BHP] gained 1.27% to close at R357.17. Pick n Pay [JSE:PIK] bolted following the release of a positive trading statement for its full financial year. The stock gained 4% to end the day at R69.90. Accelerate Property Fund [JSE:APF] managed to post gains of 3.67% to close at R3.11, while Fortress REIT [JSE:FFB] added 4.02% to close at R10.35.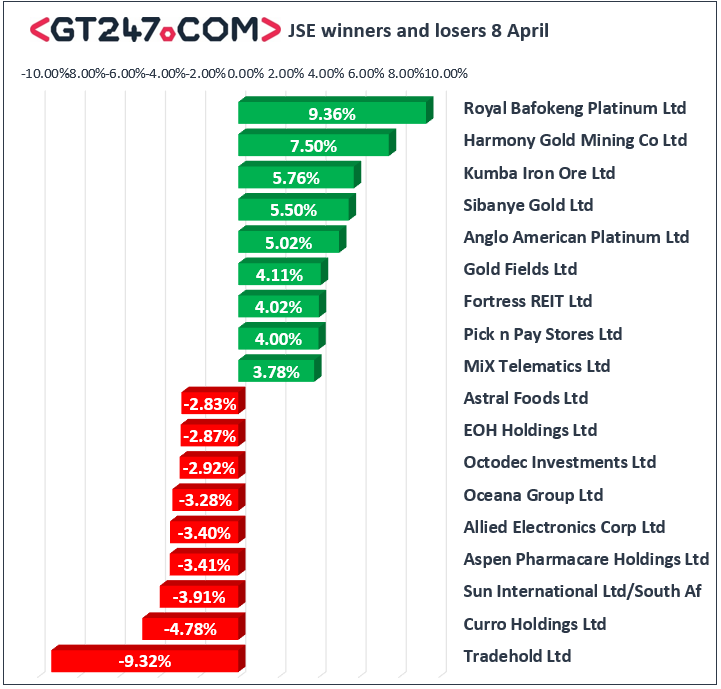 Aspen Pharmacare [JSE:APN] came under pressure in today's session as it lost 3.41% to close at R95.50, while Netcare [JSE:NTC] dropped 2.33% to end the day at R23.47. Retailers traded mostly weaker despite the rand being relatively stable. Mr Price [JSE:MRP] lost 2.58% to close at R191.01, Woolworths [JSE:WHL] closed 1.72% weaker at R45.60, and Massmart [JSE:MSM] closed at R79.91 after dropping 1.35%. Discovery [JSE:DSY] also wobbled as it eventually closed the day 1.64% weaker at R140.00, while ABSA Group [JSE:ABG] lost 1.12% to close at R163.99.
The JSE All-Share index eventually closed 0.22% firmer while the JSE Top-40 index managed to add 0.21%. The Industrials index closed flat as it only added 0.01% while the Resources index managed to gain 1.15%. The Financials index came under mild pressure as it dropped 0.26%.
Brent crude breached $70/barrel as data continues to show a decline in global output levels from oil producers. The commodity was trading at $70.81/barrel just after the JSE close.
At 17.00 CAT, Platinum was up 1.03% to trade at $910.46/Oz, Palladium was 1.09% firmer at $1387.20/Oz, and Gold had lost 0.61% to trade at $1299.59/Oz.