JSE inches higher as global equities remain mixed
The JSE inched higher on Monday as global equities were relatively mixed following Donald Trump's statement on Chinese tariffs on Friday.
US equities responded positively when Donald Trump made a statement that he would not be imposing more tariffs on Chinese goods, as the former responded with a list of measures that they were prepared to take to resolve the trade war. Asian equities inched higher on Monday with the Shanghai Composite Index gaining 1.13% while the Hang Seng and Nikkei added 0.72% and 0.65% respectively.
On the currency market, the US dollar recorded a fifth consecutive session of weakness as speculators try to gauge the probability of a rate hike from the US Fed at the next policy meeting. The rand was buoyed by this weakness which saw it breach below R14/$ to reach a session high of R13.92/$. At 17.00 it had retraced to trade at R14.01/$.
Pioneer Foods [JSE:PNR] recorded a decent increase in earnings in its full-year earnings results released earlier on. Resultantly, the stock managed to gain 1.02% to close at R78.29. Platinum miners were among the day's biggest gainers as Impala Platinum [JSE:IMP] rose by 8.13% to close at R33.50, while Anglo American Platinum [JSE:AMS] added 2.74% to close at R479.28. Retailers were also buoyant due to the firmer rand which resulted in Truworths [JSE:TRU] firming by 2.62% to end the day at R83.77, while Shoprite [JSE:SHP] closed at R191.05 after gaining 2.17%.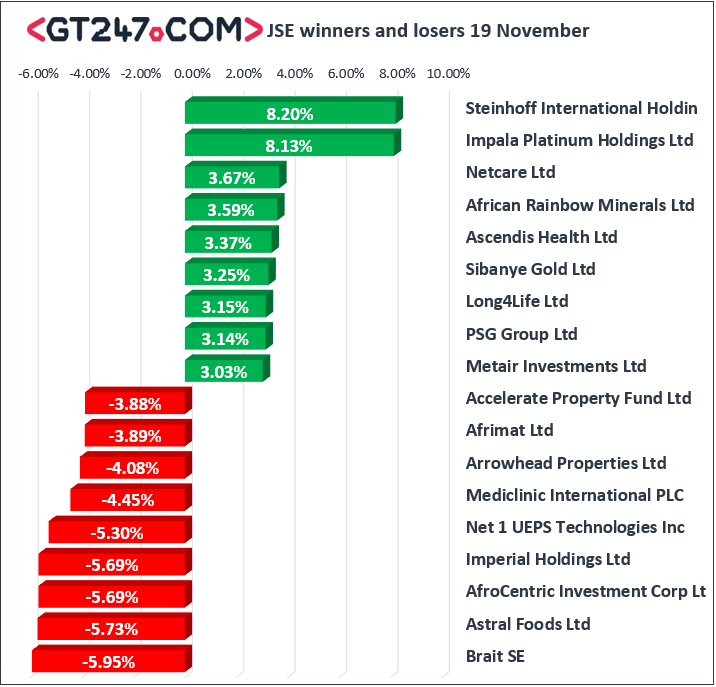 Naspers [JSE:NPN] released a trading statement towards the JSE close indicating that they were expecting a significant increase in their earnings for the half-year ended September 2018. The stock eventually closed the day up 1.67% at R2825.00. Ascendis Health [JSE:ASC] recorded another session of gains as it closed at R4.91 after adding 3.37%.
Astral Foods [JSE:ASR] came under pressure despite reporting a healthy increase in profit and revenue for the full-year, as traders price in the volatile industry the business operates in. The stock closed 5.73% weaker at R185.64. Barloworld [JSE:BAW] retreated by 0.81% to close at R114.96 as the company reported a decline in operating margin in its full-year results. Imperial Holdings [JSE:IPL] lost 5.69% to close at R143.00, while Mediclinic [JSE:MEI] fell 4.45% to R61.59.
The JSE All-Share index eventually closed the day up 0.63% while the JSE Top-40 index added 0.74%. The Financials index gained 1.07%, while the Industrials and Resources index gained 0.49% and 0.59% respectively.
At 17.00 CAT, Gold was flat at $1222.83/Oz, Platinum was down 0.13% at $845.10/Oz and Palladium was down 1.01% at $1165.15/Oz.
Brent crude resumed its downtrend which saw it trading 1.62% weaker at $65.68/barrel just after the JSE close.
At 17.00 CAT, Bitcoin was down 7.91% at $5198.30/coin while Ethereum was down 12.06% at $156.02/coin.