The JSE closed off a difficult trading week by closing flat on Friday as sentiment remains mostly bearish for local stocks.
The trend on the JSE was in contrast to other global indices which tracked mostly higher in what could be termed a relief bounce given how much they have fallen this week. This relief could be temporary given that the fundamentals which caused the downtrend this week are still in play. Investors will continue to look for fresh clues on the trade war, and they will also be keeping a close eye on the US 2-year and 10-year Treasury bond yield spread.
On the JSE, Sasol [JSE:SOL] tumbled after the open following the release of a statement indicating that they were going to delay the release of their financial results to the 19th of September. Initial panic saw the stock fall as low as R233.93 before it rebounded to close 4.73% lower at R265.00.
Grindrod [JSE:GND] fell on the back of the release of its trading statement which highlighted that the group was going to take significant losses from its impairments. The stock eventually closed the day 16.1% weaker at R4.90. Retailers also struggled despite the rand holding steady in today's session. Truworths [JSE:TRU] fell 7.48% to close at R53.57, while The Foschini Group [JSE:TFG] dropped 3.26% to close at R145.00. Steinhoff International [JSE:SNH] lost further ground as it fell to R1.04 after losing 11.86%. Capitec Holdings [JSE:CPI] also struggled as it fell 2.56% to close at R1095.43, while its sector peer Nedbank [JSE:NED] lost 2.68% to close at R217.54.
African Rainbow Minerals [JSE:ARI] was one of the day's biggest gainers after it advanced 5.42% to close at R106.48. Rand hedge Sappi [JSE:SAP] managed to rally 5.22% to close at R44.91, while Discovery Limited [JSE:DSY] continued on its recovery as it gained 4.41% to close at R110.66 following the release of a statement on the proposed National Health Insurance bill. Other significant gainers on the day included Bidvest [JSE:BVT] which gained 3.16% to close at R178.97, Kumba Iron Ore [JSE:KIO] which added 2.23% to close at R413.13, and Imperial Logistics [JSE:IPL] advanced 3.24% to close at R48.76.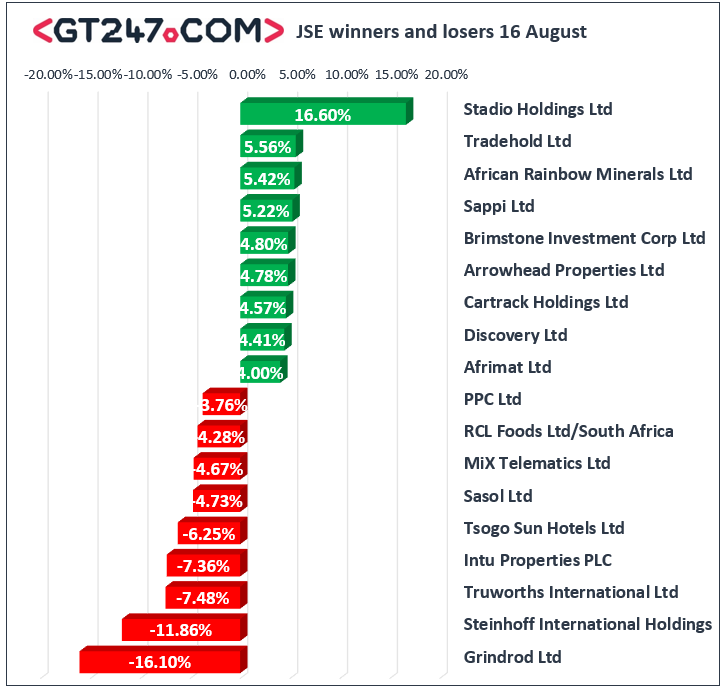 The JSE All-Share index eventually closed 0.08% firmer while the JSE Top-40 index added 0.11%. The Industrials index managed to squeeze in gains towards the close to end the day 0.25% firmer. The Resources and Financials indices shed 0.38% and 0.05% respectively.
The rand held steady for most of the day's session as it traded relatively firmer on the day. At 17.00 CAT, the rand was trading 0.17% firmer at R15.23/$.
Brent crude managed to recoup some of the prior session's losses as it advanced on Friday. The commodity was trading 0.98% firmer at $58.83/barrel just after the JSE close.
At 17.00 CAT, Gold was down 1.12% to trade at $1506.22/Oz, Platinum was 0.06% firmer at $841.65/Oz, and Palladium had gained 0.34% to trade at $1452.90/Oz.
---
Disclaimer:
Any opinions, news, research, reports, analyses, prices, or other information contained within this research is provided by GT247.com at GT247 (Pty) Ltd t/a GT247.com ("GT247.com") as general market commentary, and does not constitute investment advice for the purposes of the Financial Advisory and Intermediary Services Act, 2002. GT247.com does not warrant the correctness, accuracy, timeliness, reliability or completeness of any information which we receive from third party data providers. You must rely solely upon your own judgment in all aspects of your trading decisions and all trades are made at your own risk. GT247.com and any of its employees will not accept any liability for any direct or indirect loss or damage, including without limitation, any loss of profit, which may arise directly or indirectly from use of or reliance on the market commentary. The content contained within is subject to change at any time without notice.