The JSE inched higher on Tuesday as global equity indices gave a mixed reaction to the proceedings in the UK parliament.
The British parliament is expected to vote in what has been termed the "meaningful vote" in which Prime Minister, Theresa May hopes to get lawmakers to back her latest Brexit deal which now has further legal assurances from the European Union. The sterling pound surged overnight mainly on the back of the EU assurances, but the ultimate decision lies with the UK parliament and more volatility could ensue if the MPs reject the deal.
On the local bourse, Aspen Pharmacare [JSE:APN] continues to claw back its recent losses as the stock managed to gain 10.28% to close at R113.03 in today's session. Another positive trading session ensued for MMI Holdings [JSE:MMI] as it gained 6.02% to close at R17.60, while Quilter [JSE:QLT] managed to add 5.05% to close at R26.00. The firmer rand lifted retailers such as Pick n Pay [JSE:PIK] which gained 3.22% to close at R70.19, as well as Truworths [JSE:TRU] which rose 3.14% to end the day at R74.00. Packaging firm, Nampak [JSE:NPK] rallied 4.19% to close at R11.68, and EOH Holdings [JSE:EOH] closed 4.46% firmer at R16.40. FirstRand [JSE:FSR] advanced on the back of the firmer rand as well as the release of a decent set of half-year financial results. The stock closed 2.04% stronger at R63.39.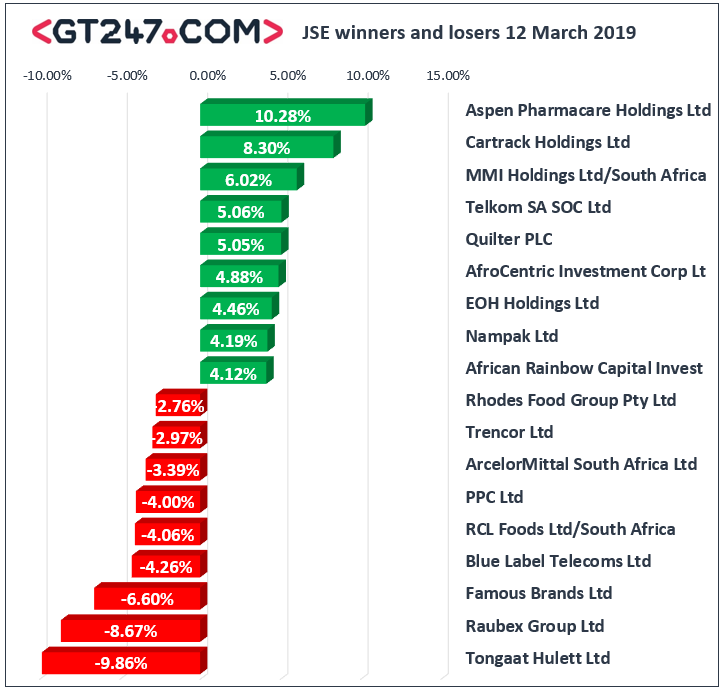 Tongaat Hulett [JSE:TON] was one of the day's biggest losers after the stock lost 9.86% to close at R16.00, while Famous Brands [JSE:FBR] also came under pressure to close 6.6% lower at R80.01. Ascendis Health [JSE:ASC] dropped 1.41% to close at R4.89, while telecoms provider Blue Label Telecoms [JSE:BLU] shed 4.26% to close at R3.60. Platinum miner, Anglo American Platinum [JSE:AMS] closed 2.43% weaker at R736.73, Impala Platinum dropped 1.35% to R58.50, and Northam Platinum [JSE:NHM] lost 1.67% to close at R57.80. Rand hedge, Richemont [JSE:CFR] pulled back to close at R101.16 after shedding 1.37%, while Bid Corporation [JSE:BID] closed at R288.03 after dropping 1.59%.
The JSE All-Share index eventually closed 0.21% firmer while the blue-chip JSE Top-40 index added 0.16%. The Financials index advanced to close 0.91% firmer, while the Industrials index was flat as it only shed 0.02%. The Resources index was unchanged on the day.
The rand has remained resilient against the greenback as it continues to score small gains. The local currency peaked at a session high of R14.22/$ before it retraced to trade 0.22% firmer at R14.28/$ at 17.00 CAT.
Brent crude continued to ride the positive wave which started in the previous session due to pledges of deeper output cuts by the world's biggest crude oil producer, Saudi Arabia. Brent crude was trading 0.59% firmer at $66.97/barrel just after the JSE close.
At 17.00 CAT, Palladium was up 0.36% to trade at $1542.18/Oz, Gold was 0.26% firmer at $1296.69/Oz, and Platinum had rallied 1.71% to trade at $832.33/Oz.