The JSE closed firmer on Wednesday as it tracked other global equity benchmarks higher mainly on the back of positive comments on trade from Donald Trump.
The US president struck a positive tone on the potential of a trade deal being reached with China, as he said that he would not raise tariffs on Chinese goods until a deal was concluded. Global stocks rose on the back of this news which saw both Asian and European equities trading mostly firmer on the day.
Locally, market participants were anticipating the release of November inflation and October retail sales data by Statistics SA. CPI YoY rose to 5.2% from a prior recording of 5.1%, initial estimates had suggested the reading would come in at 5.1%. CPI MoM was recorded at 0.2% which was a decrease from the prior recording of 0.4%. Retail Sales YoY beat the forecast of 1.8% to be recorded at 2.2%, which is a significant change from the previous recording of 0.7%. Retail Sales MoM came in 0.6% from a prior reading of -0.6%.
The US dollar retreated from its overnight highs which gave way for the rand to strengthen as it rallied to a session high of R14.14 against the US dollar. At 17.00 CAT, the rand was trading at R14.16/$.
On the JSE, retailers were bolstered by the firmer rand which saw Shoprite [JSE:SHP] end the day 3.44% firmer at R187.53, while Truworths [JSE:TRU] managed to gain 2.81% to close at R90.02. Financials also recorded decent gains on the day as FirstRand [JSE:FSR] rose 1.87% to close at R65.81, while Standard Bank [JSE:SBK] closed 2.73% firmer at R171.69. Gold Fields [JSE:GFI] added 5.63% to close at R45.05, and Anglo American Platinum [JSE:AMS] maintained its momentum as it climbed 4.02% to close at R519.84. Telkom [JSE:TKG] closed amongst the day's biggest gainers after rallying 5.73% to close at R61.26.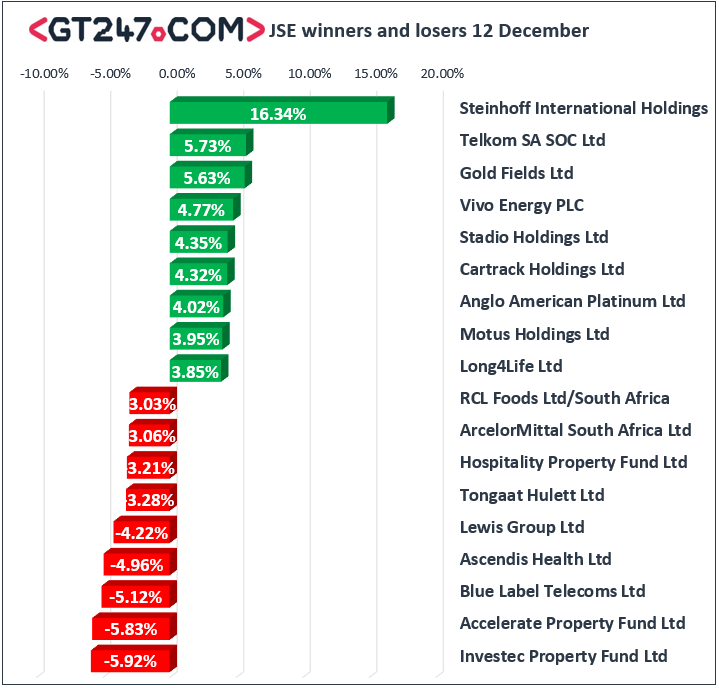 Of the day's losers, Investec Property Fund [JSE:IPF] came under pressure which saw the stock drop 5.92% to close at R14.30. Accelerate Property Fund also struggled as it fell 5.83% to R3.39. Ascendis Health [JSE:ASC] slid further in today's session as it lost 4.96% to end the day at R3.26, while Tongaat Hulett [JSE:TON] weakened by 3.28% to R62.58. Cement maker, PPC Limited [JSE:PPC] closed at R5.76 after losing 2.37%, and Reinet Investments [JSE:RNI] lost 2.3% to close at R220.95.
Gains on the local bourse were unperturbed as the JSE All-Share index closed 0.98% firmer, while the JSE Top-40 index gained 0.82%. All the major indices recorded gains on the day with the Resources and Financials indices rising 1.13% and 1.56% respectively, while the Industrials index inched up 0.43%.
With OPEC's stance on output cuts getting stronger, brent crude traded mostly firmer on the day. The commodity was trading at $60.96/barrel just after the JSE close.
At 17.00 CAT, Gold was up 0.22% at $1246.03/Oz, Platinum was 1.34% firmer at $796.09/Oz, and Palladium had rallied 1.43% to trade at $1264.66/Oz.
Bitcoin was 2.48% to trade at $3502.60/coin while Ethereum had gained 3.14% to trade at $91.32/coin.