The JSE erased earlier gains to close weaker on Tuesday as index heavyweight Naspers dragged the blue chips lower.
Naspers [JSE:NPN] traded softer after its Hang Seng listed associate, Tencent Holdings, traded under pressure in today's session. The weakness was a result of the significant pressure on US indices overnight which saw the tech-heavy Nasdaq shed 0.3%.
Global markets were mixed on Tuesday however, the JSE had quickly retreated from its highs by midday to trade lower. Naspers lost 3.38% to close the day at R3098.50 per share. Banks, Standard Bank [JSE:SBK] and Nedbank [JSE:NED] closed at R184.85 and R250.93 per share after dropping 1.64% and 2.28% respectively. British American Tobacco [JSE:BTI] which will be trading ex-dividend from Wednesday lost 1.1% to end the day at R676.05 per share.
Sibanye Stillwater [JSE:SGL] slipped by 11.19% to close at R8.33 per share, while Zeder Investments [JSE:ZED] lost 5.84% to end the day at R5.32 per share. Steinhoff Africa Retail [JSE:SRR] closed 4.61% weaker at R16.57 per share following news of the resignation of senior management from the firm. Impala Platinum [JSE:IMP] and Royal Bafokeng Platinum [JSE:RBP] lost 3.69% and 5.45% respectively.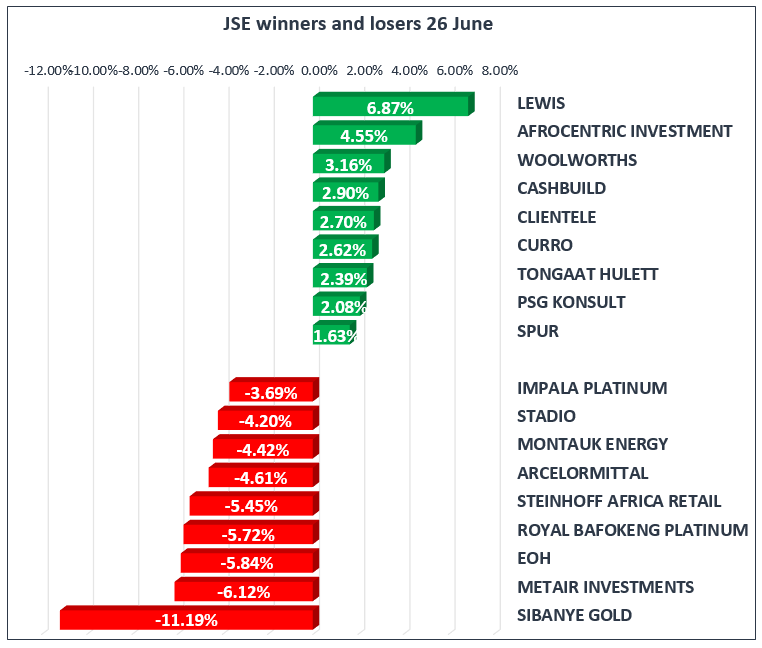 On the broader index Lewis Group [JSE:LEW] jumped 6.87% to close at R30.35 per share. On the blue chip index, Woolworths [JSE:WHL] gained 3.16% to close at R55.21 per share while Discovery Limited [JSE:DSY] managed to firm by 0.85%. Curro Holdings [JSE:COH] closed at R28.94 per share after adding 2.62% and Imperial Holdings [JSE:IPL] added 1.04% to close at R201.03 per share.
The JSE Top-40 index eventually closed the day down 1.74% while the JSE All-Share index lost 1.63%. All the major indices closed in the red which saw the Resources and Industrials indices weaken by 2.05% and 1.99% respectively. The Financials index lost 0.72%.
The Rand traded relatively flat as it peaked at a session high of R13.47/$ before retracing to trade at R13.53/$ at 17.00 CAT.
Brent crude was advancing for most of today's trading session but this move was abruptly curtailed following news of Saudi Arabia's planned record output. The commodity was trading only 0.13% firmer just after the JSE close at $74.83/barrel.
At 17.00 CAT, Gold was trading at $1260.90/Oz, up 0.27% on the day. Platinum was 0.25% firmer at $870.14/Oz and Palladium was only 0.03% firmer at $944.28/Oz.
Bitcoin was 1.97% weaker at $6176.80/coin and Ethereum was down 5.41% at $442.59/coin.