JSE erases earlier gains to close weaker
The JSE erased earlier gains to close weaker on Friday as blue-chips lost momentum in the afternoon session.
The local bourse opened firmer mainly on the back of mixed trading sessions in Asia where the Hang Seng and Shanghai Composite Index gained 0.31% and 0.47% respectively, while in Japan the Nikkei traded mostly weaker eventually closing the day down 0.57%. Focus was also on Britain as the UK Prime Minister continues to face headwinds following the resignation of six ministers and increasing disapprovals to her leadership.
On the currency market the weaker US dollar provided a catalyst for rand strength which saw the local currency rally to a session high R14.00/$. At 17.00 CAT the rand was trading at R14.03/$.
British American Tobacco [JSE:BTI] slumped by another 5.91% to close at R486.91 as the negative sentiment from the impending ban of menthol cigarettes by US regulators continues to scare investors. Reinet Investments [JSE:RNI] dropped 6.7% to close at R206.19 after reporting a decrease in net asset value for the six months ended 30 September 2018. Imperial Holdings [JSE:IMP] lost 4.03% to close at R151.63, while Bid Corporation [JSE:BID] dropped 3.36% to end the day at R282.06.
Retailers also came under pressure despite the rand advancing. Truworths [JSE:TRU] lost 1.57% to close at R81.63, Shoprite [JSE:SHP] shed 1.7% to end the day at R187.00, and Massmart [JSE:MSM] retreated to close at R99.03 after dropping 1.36%. Diversified miner, South32 [JSE:S32] dropped 1.47% to close at R34.20.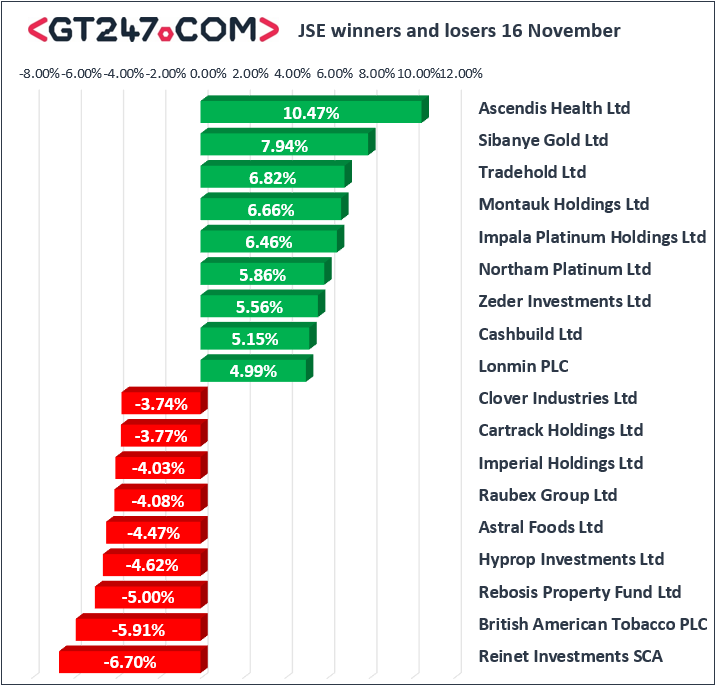 Ascendis Health [JSE:ASC] continued on its rebound as it gained 12.04% to end the day at R4.75. Miners traded mostly firmer which saw stocks such as Sibanye Stillwater [JSE:SGL] gain 7.94% to close at R9.24. Impala Platinum [JSE:IMP] added 6.46% to close at R30.98, while Anglo American Platinum [JSE:AMS] rose 3.57% to R466.50. Assore [JSE:ASR] managed to post gains of 4.35% to close at R310.00, while Investec Limited [JSE:INL] recouped some of Thursday's losses to end the day 1.96% firmer at R90.96.
The JSE All-Share index closed the day 0.1% lower, while the blue-chip Top-40 index shed 0.17%. The Resources index was the only major index to close in the green after it gained 0.61%. The Industrials and Financials indices lost 0.43% and 0.22% respectively.
Brent crude continued on its recovery which saw it trading 2.18% firmer at $68.07/barrel just after the JSE close.
At 17.00 CAT, Gold was up 0.79% to trade at $1223.00/Oz, Palladium was up 2.12% at $1182.55/Oz, and Platinum was up 0.63% to trade at $847.53/Oz.
Bitcoin was up 0.25% at $5684.10/coin, while Ethereum was down 1.06% at $179.81/coin.