Local
JSE edges up slightly, in cautious trade, as the market waits in anticipation for President Jacob Zuma to resign by midnight or be removed by Parliament tomorrow in a vote of no confidence.
The All-Share was up 0.33%, with the blue-chip Top40 up 0.30%, industrials up by 0.80% and financials up 0.07%. This was countered by the resource stocks where we saw a drop of 0.62% with the gold miners giving adding 0.25% on the day.
We saw good moves for Harmony Gold [JSE:HAR], up 10.51%, Nampak [JSE:NPK] up 6.44% and Bid Corp [JSE:BID] up 5.47%, while Resilient [JSE:] and Greenbay Properties [JSE:GRP] continued to feel the pressure, down 5.88% and 3.68% respectively.
Elsewhere, the rand is continues to trade stronger against major currencies, buoyed by the renewed political optimism, trading at R11.82 to the dollar, R16.43 to the pound and R14.62 to the euro.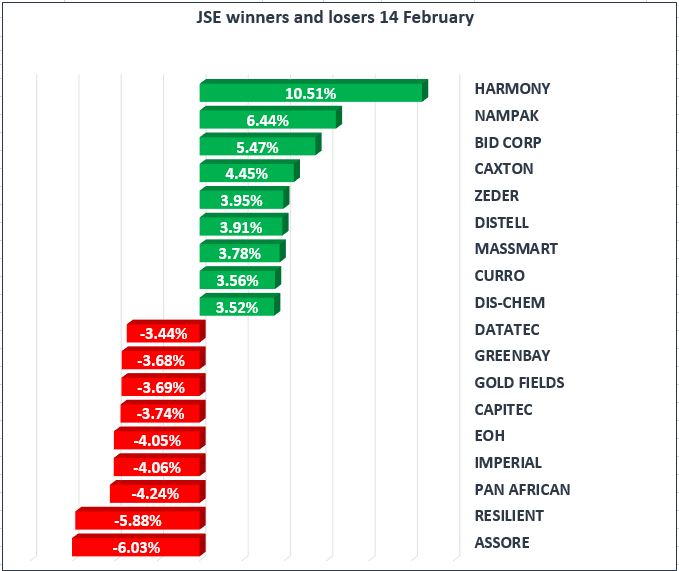 Commodities
Precious metals rose for a second day, gold was trading higher, at $1338.50 per ounce, silver up at $16.61 per troy ounce and platinum trading at $982.30 per troy ounce.
Oil prices rose, after U.S. Crude Oil Inventories came in below the analysts forecast. Brent Crude is currently trading at $63.20/bbl and WTI trading at $59.77/bbl.
Global Stocks
Asian markets closed mixed, after the U.S. indexes recorded a third straight day of gains overnight. Hong Kong's Hang Seng led the way up by 2.27%, with China's Shanghai Composite also up by 0.46% ahead of tomorrow's Lunar New Year holidays, while Japan's Nikkei slipped as much as 0.43% on the firmer yen.
European stocks reversed earlier gains, after U.S. inflation data beat expectations, re-igniting fears over inflation and increased volatility, but managed to close higher on the day. The DAX was up by 0.46%, the CAC-40 by 0.36% and the FTSE by 0.04%.
U.S. equities followed suit, opening lower, the Dow, the S&P 500 and Nasdaq fell by roughly 0.50% amid renewed fears of faster-than-expected increases in interest rates.
Cryptocurrencies
Bitcoin rallies, steadily clawing back some of losses despite the negative press around its future, and potential regulatory headwinds. The world's largest cryptocurrency is up 7.00% on the day, trading at $9,187 while, Ethereum, was down roughly 5.50% trading at $887.