The JSE recorded gains on Wednesday as it tracked other global markets higher, which were buoyant on the back of signs of progress with the US-China trade talks.
Significant gains were recorded across the major Asian equity indices. The Shanghai Composite Index rallied to end the day 2% higher, while the Hang Seng and Nikkei climbed 1.16% and 1.34% respectively. In Europe, the all the major indices also traded mostly firmer as investors sought equities instead of safer assets such as bonds.
Locally, the December readings for South Africa's Retail Sales were released. Retail Sales MoM slumped 4.8% which missed the estimated expansion of 2.8%. YoY Retail Sales were recorded at -1.4% which missed the forecasted growth of 2.9%.
This data resulted in weakness across most of the JSE listed retailers. Shoprite [JSE:SHP] lost 1.32% to close at R162.14, Mr Price [JSE:MRP] dropped 1.62% to R206.92, and Woolworths [JSE:WHL] closed 0.82% weaker at R46.12. Hyprop Investments [JSE:HYP] traded under considerable pressure after Moody's lowered its credit rating primarily citing an increase in the firm's debt-to-asset ratio. The stock fell 5.3% to end the day at R83.70. Miner, Harmony Gold retreated by 4.25% to end the day at R28.61, while Anglo American Platinum [JSE:AMS] lost 1.76% to close at R639.52. Index giant, Naspers [JSE:NPN] weakened by 1.79% to close at R3010.00.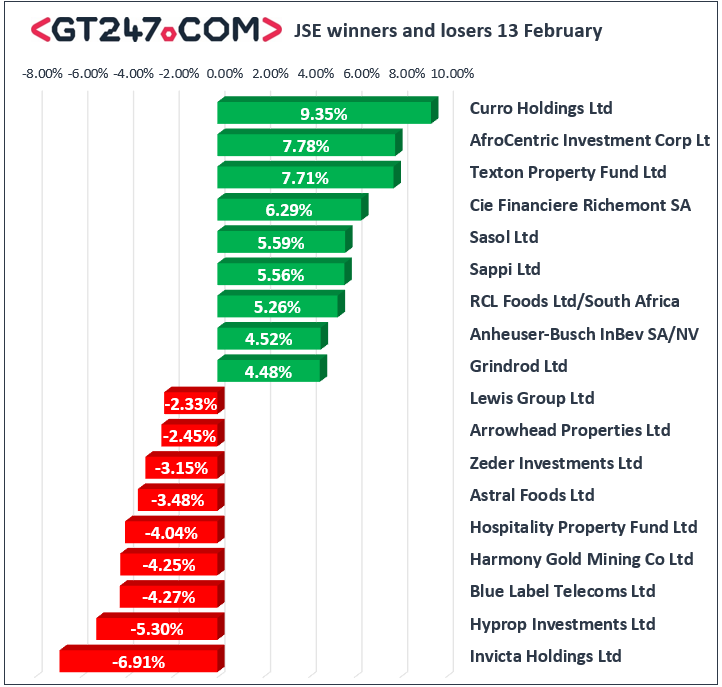 Richemont [JSE:CFR] was one of the biggest gainers amongst the blue-chips as it climbed 6.29% to end the day at R100.95. An update on the Lake Charles Chemicals Project resulted in Sasol [JSE:SOL] advancing 5.59% to close at R411.90, while Curro Holdings [JSE:COH] was buoyed by the release of its full-year results which saw the stock added 9.35% to close at R27.12. Grindrod Ltd [JSE:GND] managed to post gains of 4.48% to close at R8.62, while Sappi [JSE:SAP] firmed by 5.56% to R76.00. British American Tobacco [JSE:BTI] added 4% to R506.26, Glencore [JSE:GLN] gained 3.44% to R53.54, and BHP Group [JSE:BHP] closed at R316.27 after gaining 2.98%.
The JSE Top-40 index eventually closed 1.25% firmer, while the JSE All-Share index gained 1.11%. All the major indices managed to close in the green. The Industrials index gained 0.54%, while the Financials and Resources indices firmed by 0.67% and 3.18% respectively.
At 17.00 CAT, Gold was up 0.19% at $1313.33/oz, Platinum had gained 0.08% to trade at $792.27/Oz, and Palladium was up 0.3% at $1409.90/Oz.
Brent crude extended its gains on the back of the Saudi pledge to deepen crude output cuts. The commodity had gained 1.75% to trade at $63.51/barrel just after the JSE close.
At 17.00 CAT, Ethereum was up 1.05% to trade at $123.38/coin, while Bitcoin was down 0.54% at $3661.90/coin.