The JSE closed firmer on Thursday led by a rebound in resources which slumped in the prior session.
Asian markets closed lower as they took a leaf from the overnight weakness that was recorded in the US markets. The Japanese Nikkei dropped 0.84% while the Hang Seng and Shanghai Composite lost 0.54% and 0.37% respectively. US markets found some momentum following the release of better than expected retail sales and weekly initial jobless claims data.
The rand retreated in today's session as it fell to a session low of R14.12/$ mainly due to the greenback rebounding against a basket of major currencies. At 17.00 CAT, the rand was trading 0.63% weaker at R14.05/$.
Retailers surged ahead despite the rand trading softer. Massmart [JSE:MSM] rose 4.31% to close at R89.50, Truworths [JSE:TRU] added 3.76% to R74.98, while Mr Price [JSE:MRP] gained 3.35% to close at R215.96. Mediclinic [JSE:MEI] climbed 5.61% to end the day at R62.86, while Clicks [JSE:CLS] gained 5.84% to climb to R194.82.Telecoms provider Blue Label Telecoms [JSE:BLU] advanced 5.63% to close at R3.94, while its industry peer MTN Group [JSE:MTN] closed at R105.30 after gaining 2.71%. Diversified miner, Anglo American PLC [JSE:AGL] managed to add 0.83% as it closed at R396.79, while BHP Group [JSE:BHP] inched up 0.56% to close at R341.38.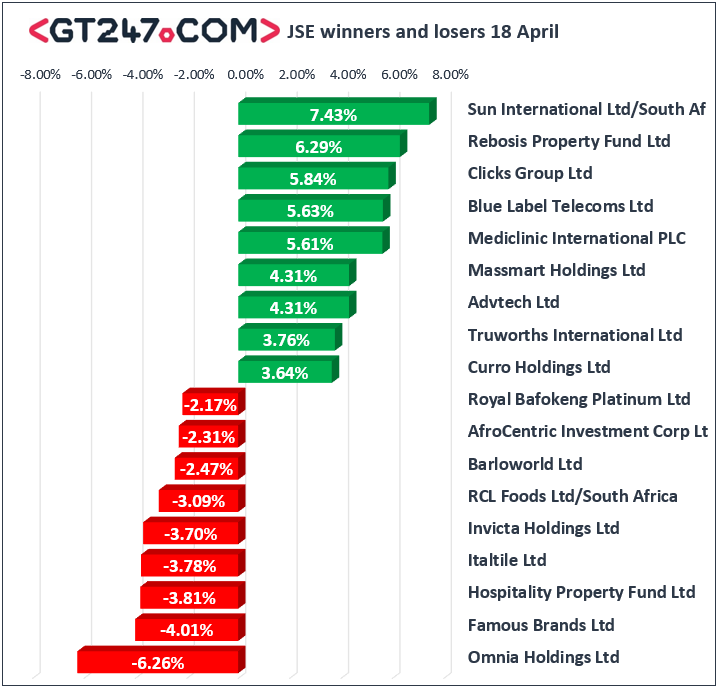 Rand hedge British American Tobacco [JSE:BTI] weakened by 1% to close at R561.02, while oil and gas producer Sasol [JSE:SOL] retreated to close at R467.81 after dropping 1.39%. EOH Holdings [JSE:EOH] had a much more stable trading session compared to the trend recorded since the release of its full-year results earlier this week. The stock eventually closed 1.84% weaker at R22.38. Pick n Pay [JSE:[PIK] bucked the trend in other retailers as it lost 1.69% to close at R72.54, while platinum miner Impala Platinum [JSE:IMP] lost 0.57% to close at R62.59.
The JSE All-Share index eventually closed 0.34% firmer while the JSE Top-40 index inched up 0.37%. All the major indices managed to record gains on the day. Industrials added 0.31%, Resources gained 0.43%, and Financials closed 0.77% higher.
At 17.00 CAT, Gold was up 0.11% at $1275.47/Oz, Platinum had gained 0.46% to trade at $893.10/Oz, and Palladium was 1.53% higher at $1416.90/Oz.
Brent crude had a mixed session as it swung between gains and losses. Brent crude peaked at a session high of $72.03/barrel before it retraced to trade 0.06% firmer at $71.66/barrel.