The local bourse edged higher on Friday mainly on the back of a minor rebound across all the major indices.
The JSE rose despite a weaker close in Asian counters which fell mainly on the back of worries over that the trade talks between the leaders of the USA and China would fail to materialize. Stocks in Europe and the USA advanced albeit marginally as investors took a positive stance towards the G20 summit.
Emerging market currencies remained resilient as they advanced against the greenback. The US dollar also retreated against a basket of major currencies as indicated by the US dollar index which almost broke below 96 index points. The rand peaked at a session high of R14.09/$ which is where it was trading at 17.00 CAT.
In Johannesburg, Glencore [JSE:GLN] recorded another session of gains as it closed 6.9% to close at R49.28. Diversified mining giant Anglo American PLC [JSE:AGL] managed to gain 1.6% to end the day at R402.60, while tech giant Naspers [JSE:NPN] rose 1.48% to close at R3419.52. Listed property stock RDI REIT [JSE:RPL] advanced 2.58% to close at R19.50, while SA Corporate Real Estate [JSE:SAC] managed to gain 2.97% to close at R3.12. Barloworld [JSE:BAW] eventually closed at R128.00 after posting gains of 1.51%.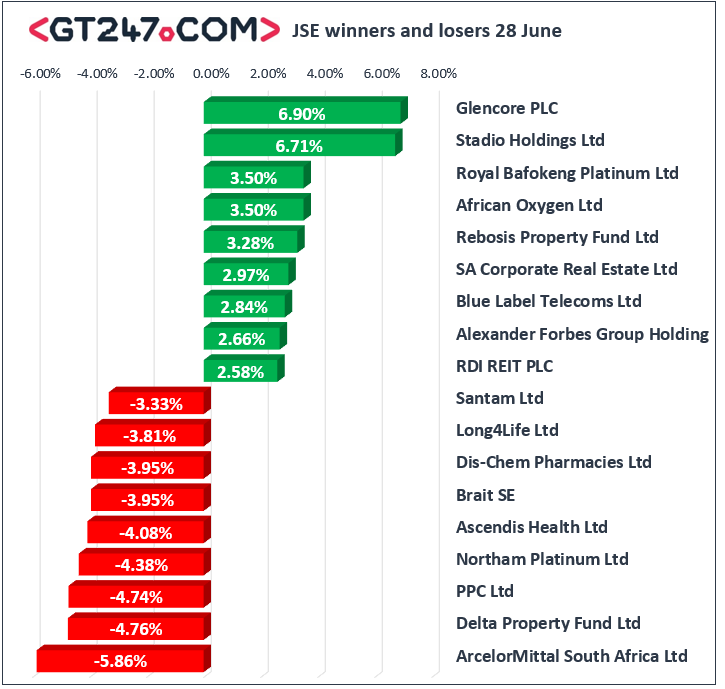 Cement maker PPC Limited [JSE:PPC] struggled in today's session as it fell 4.74% to close at R4.62, while platinum miner Northam Platinum [JSE:NHM] lost 4.38% to close at R59.00. ArcelorMittal [JSE:ACL] settled amongst the day's biggest losers after the stock closed 5.86% lower at R2.41. Losses amongst the blue-chips were milder with stocks such as Bid Corporation [JSE:BID] dropping 1.29% to close at R306.99, FirstRand [JSE:FSR] lost 1.27% to end the day at R68.55, while Bidvest Group [JSE:BVT] fell 1.85% to close at R189.35. Other significant losses were recorded Delta Property Fund [JSE:DLT] which closed at R2.00 after losing 4.76% , as well as Dis-Chem Pharmacies [JSE:DCP] which lost 3.95% to close at R25.26.
The JSE All-Share index closed 0.16% firmer while the blue-chip JSE All-Share index added 0.27%. The Financials index retreated despite the rand firming as it closed 0.38% lower. The Industrials and Resources indices added 0.38% and 0.47% respectively.
Brent crude was mostly unchanged from the prior session as it was recorded trading 0.65% weaker at $65.28/barrel just after the JSE close.
At 17.00 CAT, Gold was up 0.13% to trade at $1411.76/Oz, Palladium was 0.2% firmer at $1548.95/Oz, and Platinum had rallied 1.93% to trade at $830.10/Oz.
---
Disclaimer:
Any opinions, news, research, reports, analyses, prices, or other information contained within this research is provided by GT247.com at GT247 (Pty) Ltd t/a GT247.com ("GT247.com") as general market commentary, and does not constitute investment advice for the purposes of the Financial Advisory and Intermediary Services Act, 2002. GT247.com does not warrant the correctness, accuracy, timeliness, reliability or completeness of any information which we receive from third party data providers. You must rely solely upon your own judgment in all aspects of your trading decisions and all trades are made at your own risk. GT247.com and any of its employees will not accept any liability for any direct or indirect loss or damage, including without limitation, any loss of profit, which may arise directly or indirectly from use of or reliance on the market commentary. The content contained within is subject to change at any time without notice.